How to Set Up Nintendo Switch
The Nintendo Switch is unlike any video game console you've ever used. That being said, it's not so different that there isn't a set up process involved. You'll need to tell the console what language you'd like it to present its menus in. You'll need to configure your Nintendo Account and add a time zone. Most importantly, you'll need to configure your Joy-Cons as you set up Nintendo Switch.
One thing that you won't need to do is to tether the console to a television set. Rather than create a living room console dependent on an external display and speakers, Nintendo decided that the Switch would play to the company's strengths. The device is both a living room and portable gaming console. Players can remove those Joy-Cons from their rails and use them independently of the console. They can also pair the console with a Switch Pro Controller.
Read: 9 Exciting Things the Nintendo Switch Can Do
You'll want to add that Nintendo Account for sure. Without it, you won't be able to link your games to your account and take them to any Nintendo Switch that you log into. As you set up Nintendo Switch, you'll need to provide your internet password so that you can get the very first update and unlock all of its online features.
Read: 9 Nintendo Switch Problems & Fixes
Here's how to set up Nintendo Switch and get your new console running smoothly.
How to Set Up Nintendo Switch: Before We Begin
Before you set up Nintendo Switch, you'll need a few things. First, be sure that you're near a power outlet. As with any device you're setting up for the first time, you want to connect it to an outlet to make sure you don't lose power during the set up process. Second, you'll want to have access to a decent internet connection, and don't use a tethered phone to create one. If you don't have internet access at home, try heading to a library or a restaurant that offers Wi-Fi to patrons. You'll need this to download the console's first software update.
Lastly, you'll need the username and password for your Nintendo Account. If you don't have one, take the time to create one online using a phone, notebook or tablet you have nearby. Head to Account.Nintendo.com.
How to Set Up Nintendo Switch: A Walk Through
Unpackage your Nintendo Switch, then begin piecing it together. Add the Joy-Con controllers to both sides of your device, being careful to put the Joy-Con that corresponds to each side in its proper place. They are not interchangeable. Plug your Nintendo Switch into a power outlet using the included USB Type-C cable. Now power on your console.
Begin by selecting your chosen language using the left thumbstick and the A button.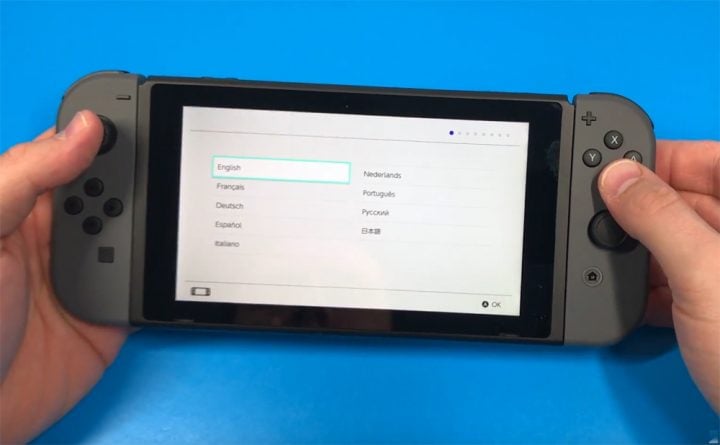 Before you can continue, you'll need to agree to Nintendo's End-User License Agreement. Tap Accept. Tap Next.
Now the system will begin looking for your wireless network. Let it scan for a bit, then choose the Wi-Fi network that you have access to.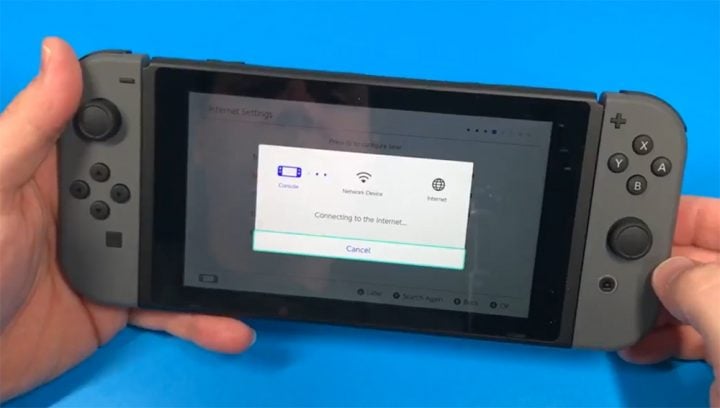 Wait while the console verifies the internet connection. Then tap Next.
Select your Time Zone using the joysticks and the A button.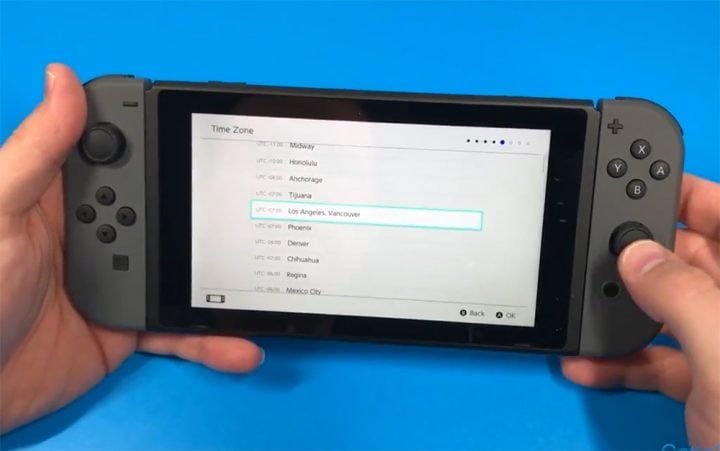 Now you can decide to connect your Nintendo Switch to a television using the included dock or skip it entirely. Use the joystick and A button to make your selection. For the purposes of this how to, we're skipping Connect to TV.
Now you'll need to configure the Joy-Con controllers on the left and right side of your device. Flip the device over.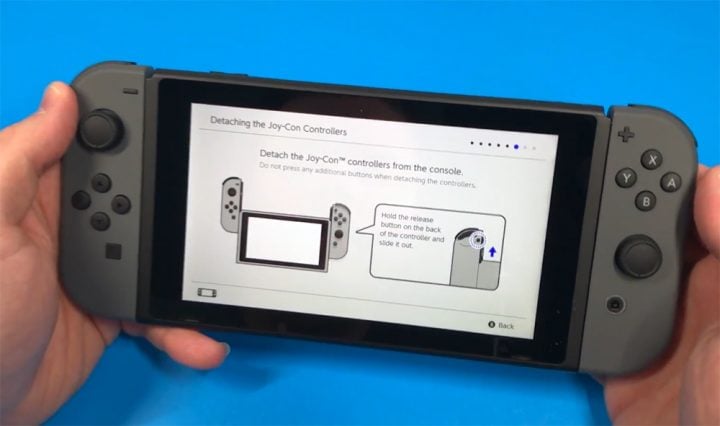 Press the release button just below the lower bumper to release the lock on each Joy-Con. Simply slide it upwards to remove it from the device. Now use the left Joy-Con to select Next and the A button on the right Joy-Con to confirm your choice.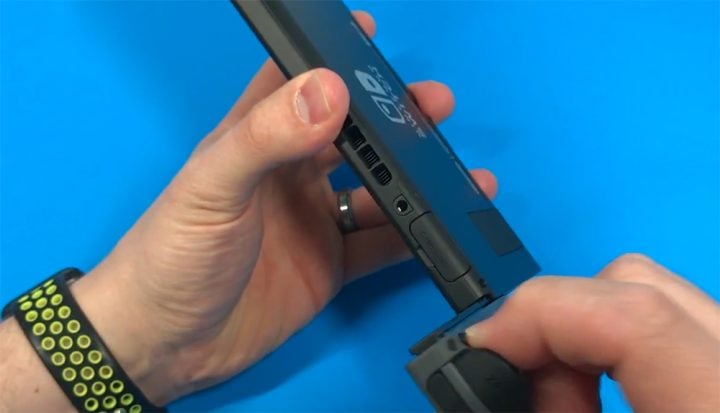 Select Ok. This screen guides you through all the different ways you can use the Nintendo Joy-Con Controllers. Modes include by themselves and slotted into their rails. A kickstand on the back of the console lets you prop the device up on a flat surface. Unfortunately, it has only one angle.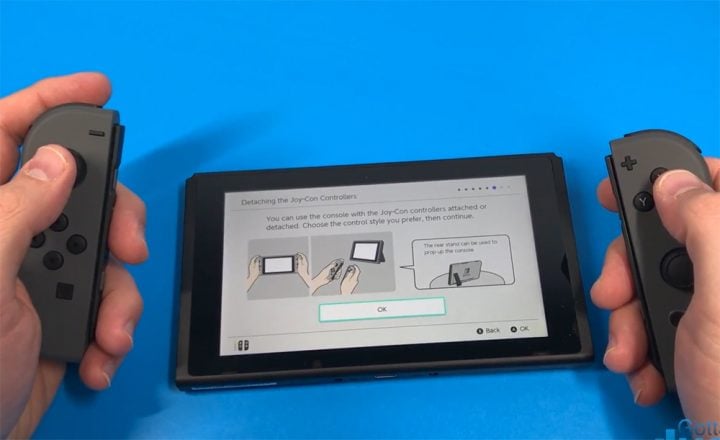 Use the A button to select Next.
Select a picture you'd like to represent your profile. Tap Next.
Make your selection then press A.

Use the touchscreen to type in your display name.
Press A or tap Ok.
Tap Skip if you don't have any other users that you'd like to add to your Nintendo Switch.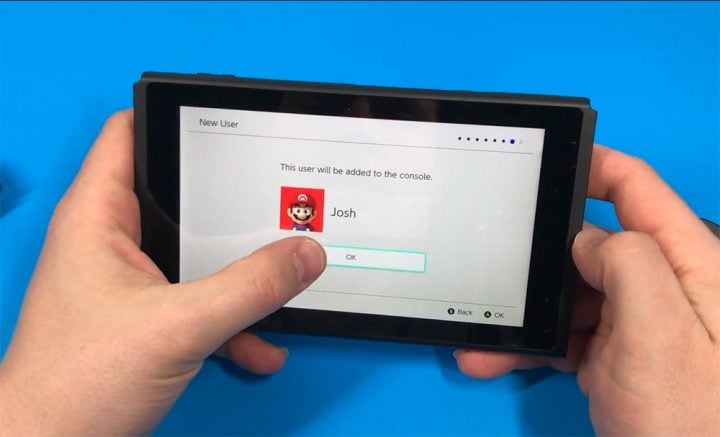 Now, you can decide whether to configure parental controls.
Once you've made your selection, the Switch will ask you to press the Home button on the right Joy-Con.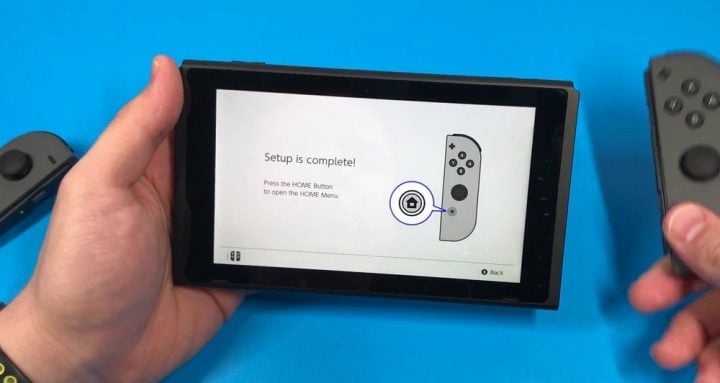 You've made it through the set up process. Your set up Nintendo Switch journey doesn't have to end there. From the System Settings area, you can customize the software color scheme. You can also add the Nintendo Account to your user account, which is oddly missing from the set up process when you first get the console.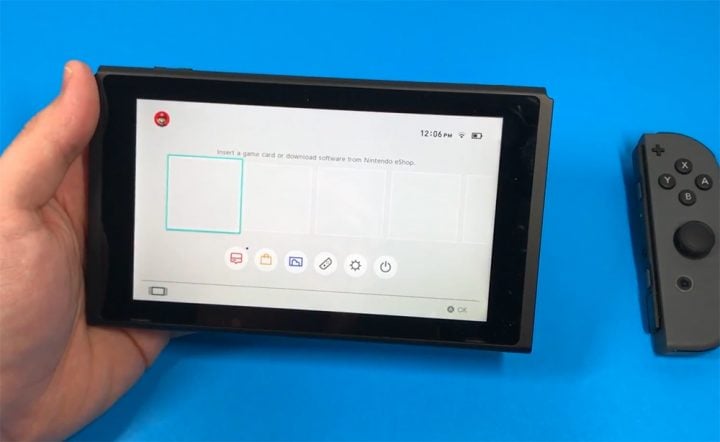 The Nintendo Switch is available on store shelves everywhere for $299.99. Happy gaming.
The Best Nintendo Switch Cases & Covers
Hori Tough Pouch for Nintendo Switch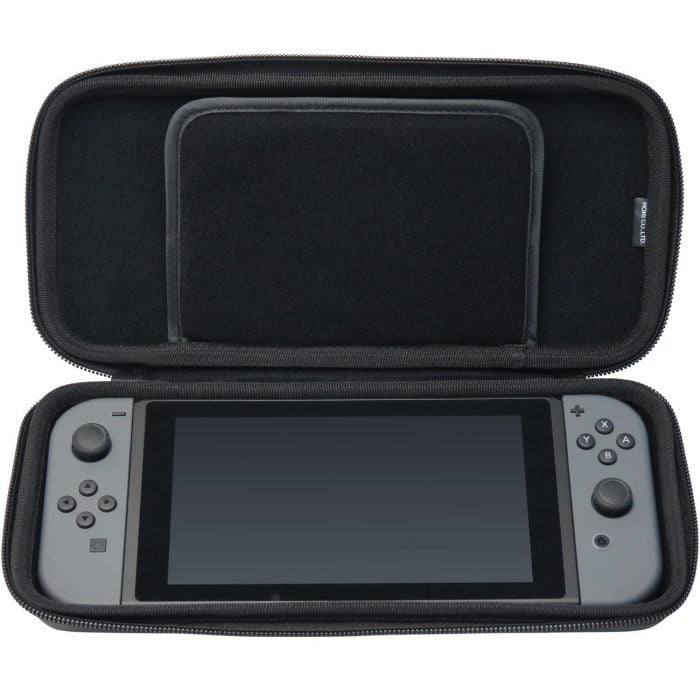 The Hori Tough Pouch for Nintendo Switch protects your device between gaming sessions without much effort. A flap inside shields the console's touchscreen. Its shell is reinforced to handle impacts from other things in your bag,
Also, unlike some other cases, the Hori Tough Pouch strikes a gentle balance between protection and convenience. Because you only put your Switch into it when you're done playing, it doesn't change how you grip the console or its Joy-Con controllers.
Amazon has the Hori Tough Pouch for Nintendo Switch available for $17.99. Because it's an officially licensed accessory, the front is embossed with the Nintendo Switch logo.

As an Amazon Associate I earn from qualifying purchases.