Sign Up for PS4 Beta Software Updates Now
You can sign up to get PS4 beta software updates on your console that allow you to try out new PS4 features before anyone else, and you don't need to spend any money to get into the program.
We know that this is for the Sony PS4 3.5 update, but we don't know the exact details about what's new in the PlayStation 4 System Update 3.5 yet.
Starting last year Sony offered access to beta PS4 software updates through a special program that allowed users to test PS4 updates before the final release. The company is back at it with another chance to sign up for the PS4 beta updates.
The next PS4 beta update release is scheduled for March, with new features and likely stability updates available to beta testers well before the general public.
PS4 owners can sign up for the PS4 beta program starting today, and Sony will send out emails to users later this month or at the start of March with the details to download PS4 beta updates to the console.
If you try the software out you will be able to talk to other players to discuss the features and share information with Sony so that they know what you think about the changes. It is possible to downgrade from the PS4 beta update to the latest shipping version of the PS4 software if you run into any issues.
In order to participate in the PS4 software beta program you need a PS4, Internet connection and a master account on the console.
You can sign up to be in the PS4 software beta using this link in the U.S. and using this link in Europe. You need to enter your PSN ID and choose if you want to get emails from Sony.
Signing up does not guarantee access to the PS4 beta program. If you were a part of the previous beta program you will still need to sign up for this program again.
If Sony selects you they will send a download code to redeem on the PS4 and they may be sent a survey after the update is made available to see what they think of the new features.
There are only a limited number of spots, so you should sign up sooner rather than later if this is something you want.
Sony includes access to a beta section of the Sony PlayStation Forums to members who are part of the service, which will allow you to discuss the changes with other users of the PS4 3.5 update beta.
15 Exciting 2016 PS4 Games
No Man's Sky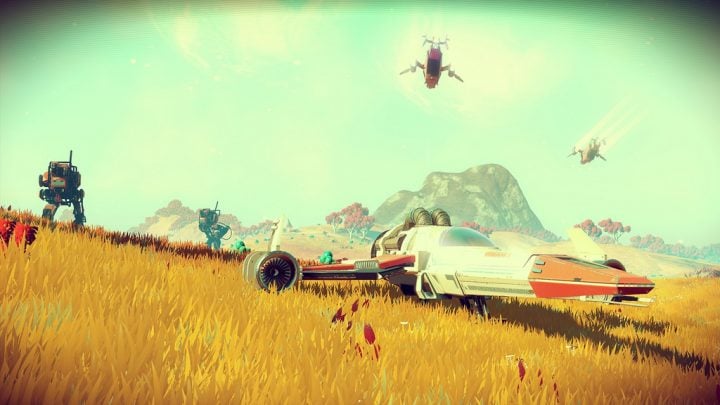 No Man's Sky Release Date: August 9, 2016, PS4 & Windows
No Man's Sky is a constantly generating open galaxy game with space exploration, world exploration and more as you work through an ever-expanding solar system of planets. Each of these planets is filled with new species and a new landscape.
Your goal is to find ancient artifacts that will help you understand the universe. As you make discoveries you can share with other players or keep it all a secret. As you explore and interact with worlds you can leave a trace of yourself behind.
In addition to the digital release there is now a Blu-Ray release of the game.