How to Stop an iCloud Restore That is Stuck
We will show you how to stop an iCloud restore that is stuck or still going after 24 to 48 hours — or even just all afternoon.
This can happen when an app installation hangs up or another restore problem happens, and it will prevent you from installing an iOS update and may deliver poor battery life as the backup and restore keeps churning through the process.
One of the best features of the iPhone is the ability to backup to iCloud and restore from iCloud to get your iPhone back to the exact same setup it was before you switched phones or ran into trouble.
While this works most of the time, sometimes the iPhone or iPad will say iCloud Restore in Progress days after you started. This may come with apps that refuse to install or you may not see any specific reasons.
This guide will show you how to stop an iCloud Restore that is stuck so you can get better battery life, install updates and stop seeing that message on your lock screen.
An iCloud Restore should take an hour or two depending on the content, maybe up to a day on a slow connection and an almost full iPhone, but if it drags on after that you will need to manually stop the iCloud Restore. The downside to this process is that you can't tell what wasn't restored with a checklist or error message.
If you need to, you can factory reset the iPhone and then restore from iCloud to start the process over and hope that it works, but you may end up in the same situation.
It is not clear why this happens, but so far it is not a common problem for us. Here is how you can stop the iCloud Restore in less than a minute. This works on the iPhone, iPad and on iOS 7 up through iOS 11.
How to Stop iCloud Restore
You don't need a computer to do this, and you don't need to do a new iCloud Restore from backup unless you notice things are missing. Here are the short steps you will need to take.
Step 1. Go to Settings on the iPhone.
Step 2. Now go to the iCloud settings.
Step 3. On this screen, you need to go to Backup.
Step 4. On the next screen tap on Stop Restoring iPhone.
Step 5. A pop-up will ask if you want to stop the Restore, with a warning. Tap on Stop.
After you finish this step you will no longer see warnings about an iCloud restore in progress and you will be able to use your phone like normal. This is not a process you can reverse, but you can always restore from the old iCloud backup before you make a new one.
If you're running into other iCloud restore or iCloud backup problems, you can use this video and guide to help solve those problems in minutes.
iOS 12 vs iOS 11: What's New in iOS 12.4.1
iOS 12.4.1 Features and Fixes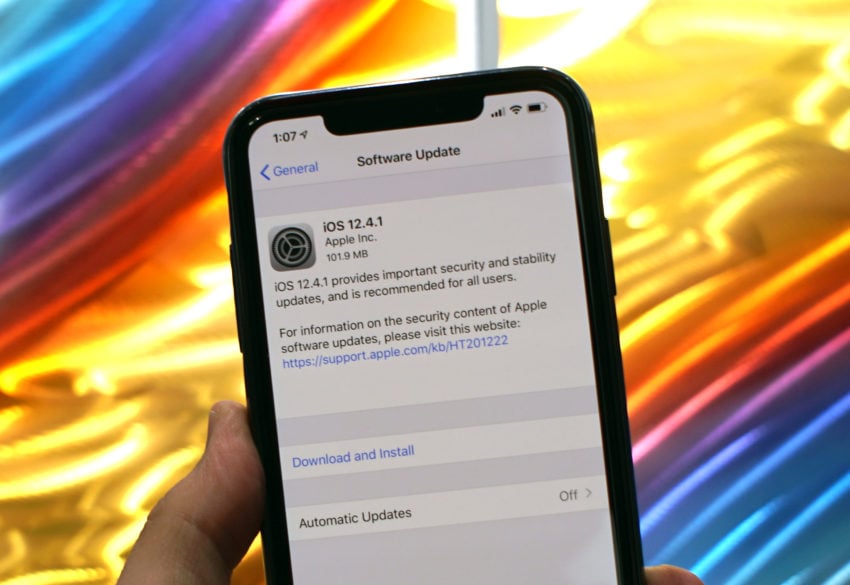 The iOS 12.4.1 update focuses on security fixes for a major bug that Apple fixed once before, but that is back in iOS 12.4. This security issue would allow an app to essentially gain full control over your phone.

Available for: iPhone 5s and later, iPad Air and later, and iPod touch 6th generation
Impact: A malicious application may be able to execute arbitrary code with system privileges
Description: A use after free issue was addressed with improved memory management
This is what allows people to jailbreak iOS 12.4, which is a plus for some users, but most users will want the security that comes from iOS 12.4.1.