How to Stop Windows Updates in Windows 10
Some say that for a single thing that Microsoft gives it takes something away. With Windows 8, the most controversial thing Microsoft did was remove the Start Menu for a Start Screen that was better for touch users. Windows 10, the latest operating system from the company, added the Start Screen back and arguably did something more controversial. You may have noticed that your Windows 10 PC feels like it is always installing updates and patches. There's no way to stop Windows updates in Windows 10. At least, there wasn't until recently.
Microsoft plans to begin rolling out the Windows 10 Creators Update soon. There are a few nice-to-have features that are tucked inside the software refresh. Some of the apps have new options and features. Cortana voice commands can be used to shut down your PC or start listening to music. Arguably, the most important new feature tucked into the Windows 10 Creators Update is the ability to stop Windows updates in Windows 10.
Eager to keep as many PCs running the current version of Windows as possible, this feature won't stop you from getting new updates forever, but it will help you avoid big updates when working on a project or in situations where you just can't be bothered to worry about Windows updates.
Read: 36 Epic Windows 10 Features to Upgrade For
Here's how to stop Windows updates in Windows 10.
How to Stop Windows Updates in Windows 10: What is a Windows Update?
Before you set out to stop Windows updates in Windows 10, you should understand perfectly what Windows Updates are. You need to understand exactly what you're preventing from making it to your machine.
Windows Updates range from small code changes to big code changes that get installed on your PC after you set up Windows. Sometimes these updates are so small that they can be downloaded in a few minutes. These are usually security updates and patches. Microsoft makes these available at regular intervals. Sometimes you'll get driver updates as part of a set of Windows Updates. These driver updates are designed to help the hardware inside your PC run better. Sometimes they fix issues that are caused by other updates.
Read: 10 Things You'll Hate in Windows 10
Then there are the bigger updates. These are probably why you are interested in trying to stop Windows updates in Windows 10. These larger updates can add features and remove features. They can give your PC new capabilities and introduce options that make it more power efficient. In some instances, they can also break your PC or a specific feature that you enjoy.
Generally speaking, It's a bad idea to stop Windows updates because you may miss a security patch or driver update that makes your computer more secure or reliable. That being said, sometimes you're comfortable with what you have. There are times where finding a power outlet and stopping what you're doing to handle Windows updates just isn't convenient.
How to Stop Windows Updates in Windows 10: The Creators Update
The Windows 10 Creators Update is the third major upgrade to Windows 10 since 2015. It gives everyone – not just businesses – the option to stop Windows updates in Windows 10. From the moment you use the button though, you're on borrowed time. Microsoft will allow you to pause Windows updates in Windows 10, but not completely stop them.
Once flipped, the switch to stop Windows updates in Windows 10 will stay flipped for an entire week. You have the option to go back and turn them back on anytime during that hiatus. After a week, Windows 10 will turn Windows updates back on again. It will force you to do any pending updates before you can disable them again for another week.
Read: 27 Coming Windows 10 Creators Update Features
To be clear, Microsoft is trying to provide a feature that users clearly want while also meeting its goal of keeping most users on the latest version.
How to Stop Windows Updates in Windows 10
Open the Start Screen or Start Menu on your device by tapping or clicking on the Windows button in the taskbar. You can also press the Windows button on your keyboard.
From the Start Screen or Start Menu, tap or click on the Settings cog in the bottom-left corner of your screen. This shortcut opens the Settings app. You can also search for the Settings app in the search bar that's built into the taskbar.
Tap or click on Update & Security.
The first thing you should see is the Windows Update area. On the right is a list of updates that need to be installed, if there are any. You'll also see a notice here if it's time to restart your PC because of a pending update that has already been installed. If you're fine with the updates you already see in the list, let them finish installing and come back here after your PC has restarted.
When you're ready to stop Windows Updates in Windows 10, tap or click on the Advanced Options link.
Now look for the switch in the center of your screen that's labeled Pause Updates. If you're sure that you want to stop Windows updates in Windows 10 for a full week, tap or click on the switch. Take note of the date that listed under the switch. This is the day that your Windows 10 PC will automatically turn updates back on.
Good luck with trying to stop Windows updates in Windows 10. It's a temporary band-aid, but hopefully, this gives you the opportunity to delay updates until they're more convenient for you and your device.
6 Best Windows 10 Laptops in 2018
Razer Blade Stealth - $1,499.99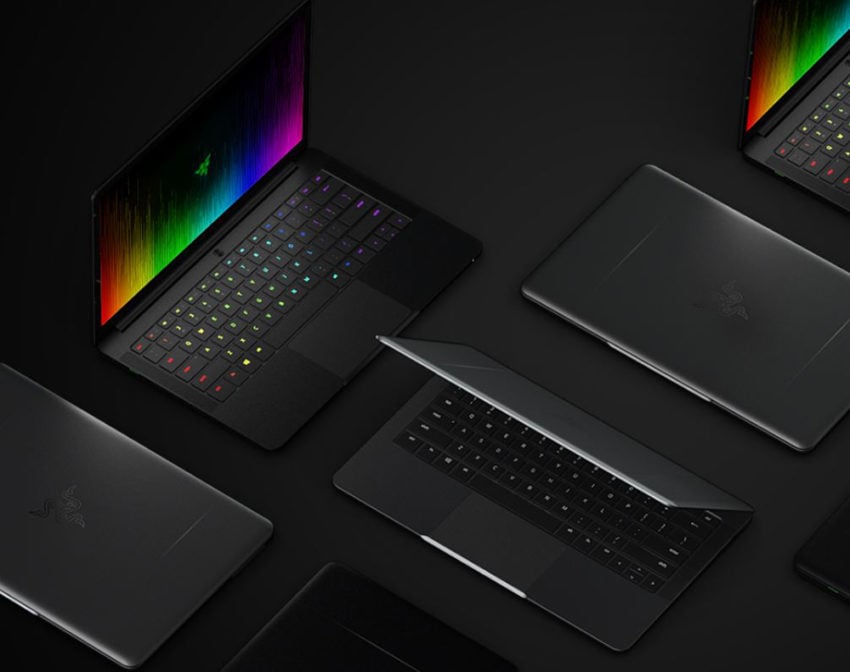 The Razer Blade Stealth is a high-end laptop that transforms into a gaming powerhouse with the right accessory.

The laptop takes its name from its black or gunmetal aluminum chassis. At 0.52 inches thin and 2.98-pounds, you won't have a hard time stuffing it in a bag. Despite that thin profile, it lasts 10 hours between charges and has a Chroma keyboard that highlights the keys you need to play your favorite games. Intel graphics are inside, but connect it to a graphics card using the Razer Core add-on and you can expect full resolution gaming even on the model with a 13.3-inch 4K display with touch.

You can order a Razer Blade Stealth with as little or as much power as you need. It supports up to a quad-core 8th Generation Intel Core i7 processor, 1TB solid state drive and 16GB of RAM. It has a 3.5mm headset jack, 2 USB 3.0 ports, an HDMI port and a Thunderbolt 3 port. That Thunderbolt 3 port communicates with the Razer Core add-on.


Read: Razer Project Valerie is a Badass Triple Monitor Gaming Laptop


The Razer Blade Stealth starts at $1499.99. A Razer Core v2, which uses the graphics cards you already own, costs $499.99.