How to Take a Screenshot on the Galaxy Note 10
Samsung's Galaxy Note 10 is a powerful phone with a ton of neat features. However, if you just want to do the basics, here's how to take a screenshot with the Galaxy Note 10. There are a few ways to do this on Samsung's latest phone, and we'll show you all of them.
Even if you know the typical button press combo, that changed on the Note 10, plus it's not the only way to do it. You can capture the screen with your palm, the nifty S-Pen stylus, or have Bixby do it. Plus, Samsung added a lot of extra features for after you take a screengrab, too. Here's what you need to know.
How to Take a Screenshot on the Galaxy Note 10
Quickly press the volume down and side buttons
Use the S-Pen
Ask Bixby to take a screenshot
Use your Palm
If you want to take a screenshot of something important in an email or save a photo, here's the easiest way. All owners need to do is quickly tap both the power and volume down buttons at the same time. Tap both and let go. On almost every other Android device you push and hold down and wait for the screenshot. With the Note 10, if you do a long-press you'll just get the reboot/power off menu, since the power button got integrated with the Bixby key.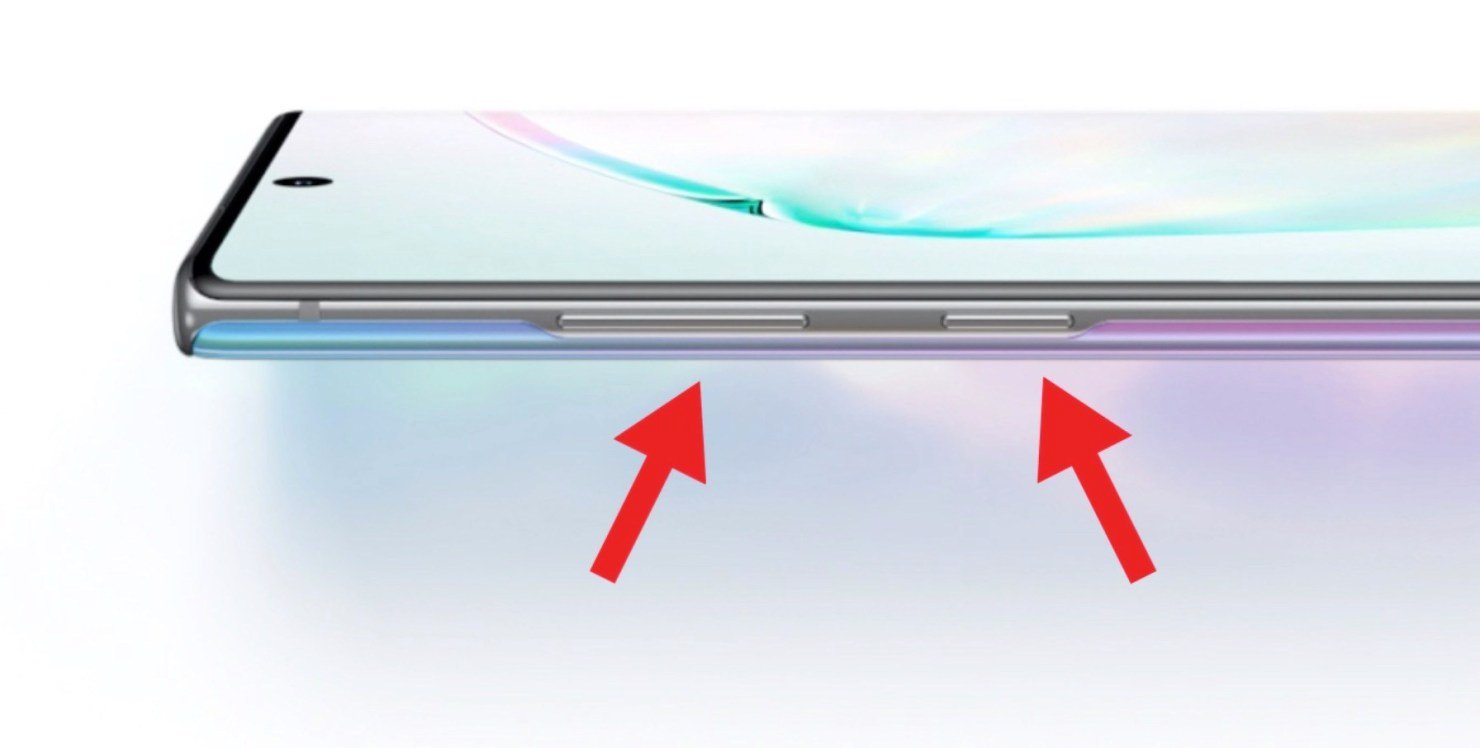 How to Take a Screenshot with the S-Pen
If you're a huge fan of the S-Pen or use it often, you might as well take screenshots with it too. When you pull the S-Pen out tap "Screen Write" or "Smart Select" from the popup of commands to instantly capture a screenshot. Plus, you'll be able to edit or draw on the capture with your pen immediately too. Perfect for taking notes, circling something in a photo and more.
Pull out the S-Pen, select Screen Write, wait for the phone to capture your screenshot and you're all set. You can change the colors, pen size and other customization options while you edit the image. Then, save, crop or share your new screenshot.
Ask Bixby to Take a Screenshot on the Galaxy Note 10
Samsung's virtual assistant Bixby isn't as popular as the Google Assistant, Alexa, or Siri, even if Samsung forces us to use her by taking away the power button. That said, some people really enjoy all Bixby can do, and that includes taking a screenshot. Simply ask Bixby to take a screenshot with your voice, or by tapping the side key button and choosing it from the options.
Use Your Palm to Take a Screenshot on the Galaxy Note 10
Next, we'll show you the palm swipe, which you've probably done by accident trying to clean off your screen and didn't even realize it. You can take a screenshot just by swiping your hand across the screen of your phone.
Open what you want to capture, then hold the edge of your hand (wrist & the edge of your palm and pinky finger) on the screen. Then just slide the edge of your hand across the entire display from left to right. This is the palm swipe screenshot gesture on Samsung phones. Similar to the image you see on the right.
It works in either direction and may take a few tries before you master the technique. Once figured out you can quickly swipe to take a screenshot and then share or save it as desired. Again, the button combo is easier for me, but the gesture is faster and works without picking up your phone.
Smart Capture on Galaxy Note 10 (Scrolling Screenshot)
And finally, we want to show or remind you about the scrolling screenshot feature, which is actually super helpful. Out of the box "Smart Capture" should be turned on, which is all those extra controls and options on the screen after you take a screenshot. One of those is the scrolling screenshot, as shown below.
With this feature, you can easily take multiple screenshots of an entire website, a long email, or entire text message conversation. Allowing you to capture one long image instead of taking several different screenshots.
Take a screenshot with the button combination, palm swipe, or the S-Pen, then you'll see something similar to our image above.
Hit "Capture more" and the Galaxy Note 10 will keep taking screenshots until you stop. Scrolling for you and taking one after another. It's really great if you take a lot of screenshots. If the popup of these options is too slow for you, disable it in Settings > Advanced Options > by turning "Smart Capture" to off.
Now, simply go to your photo gallery and all of your screenshots are in a folder under the same name, screenshots. You can edit these with ease, turn something into a GIF, then share them with the world. Enjoy your Galaxy Note 10 and don't forget to protect it with one of our recommended cases.