How To Turn Off Adaptive Brightness in Windows 10
If you've ever struggled to get your Windows PC's display to shine as brightly as you know it can, you need to know how to turn off Adaptive Brightness in Windows 10. It could be the feature keeping you from seeing what your display can really do. Use this tutorial to learn how.
You need to know how to turn off Adaptive Brightness in Windows 10 because the feature acts as a failsafe for your battery. Your PC allows you to adjust screen brightness, however, a sensor hidden beside the display measures the amount of light in the room and compensates for that. The darker a room is, the lower the brightness is. The brighter the room, the more your PC will brighten its display.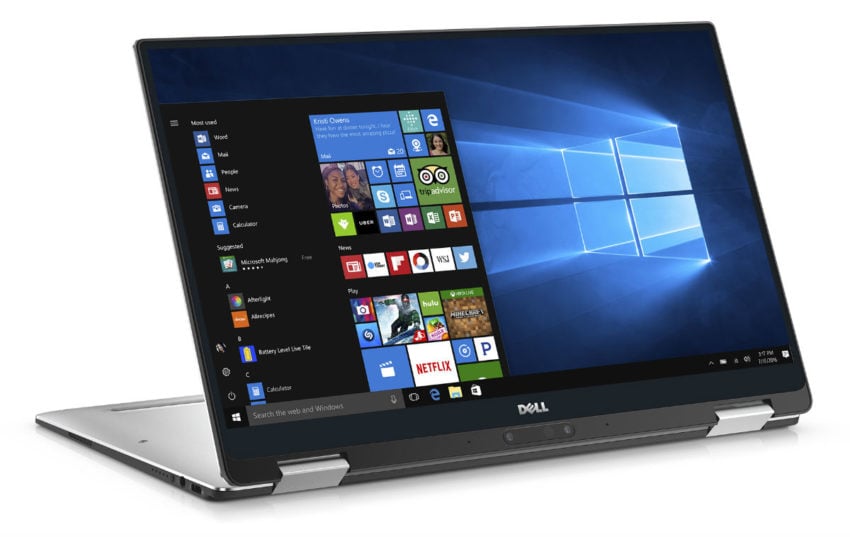 Read: 16 Common Windows 10 Problems & How to Fix Them
Adaptive Brightness in Windows 10 helps your notebook or tablet last longer between charges. That being said, you should disable it if you want ultimate control over how bright your device's display gets.
Press the Start key on your keyboard or click on the Start button in the bottom-left corner of your display to open the Start Menu.
Don't click on anything in the Start Menu. Instead, type Edit Power Plan into the search box. Click on Edit Power Plan once it surfaces in your search results.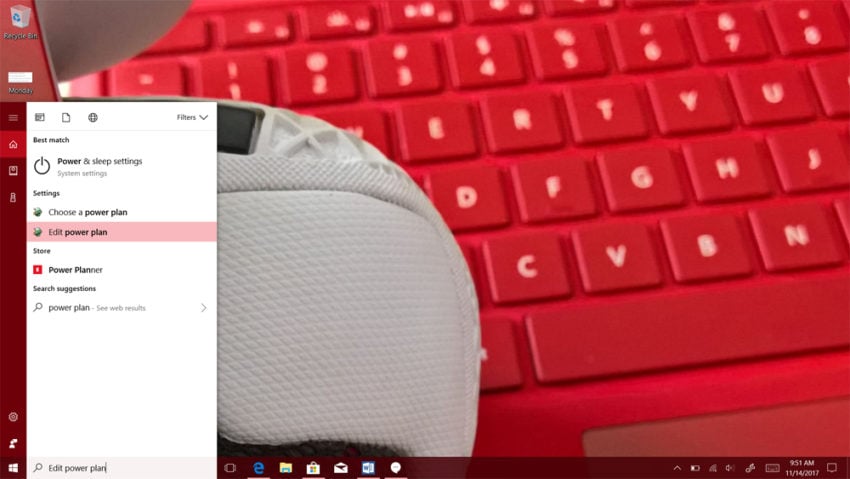 Click on the Change Power Plan link at the bottom of the Power Plan management screen.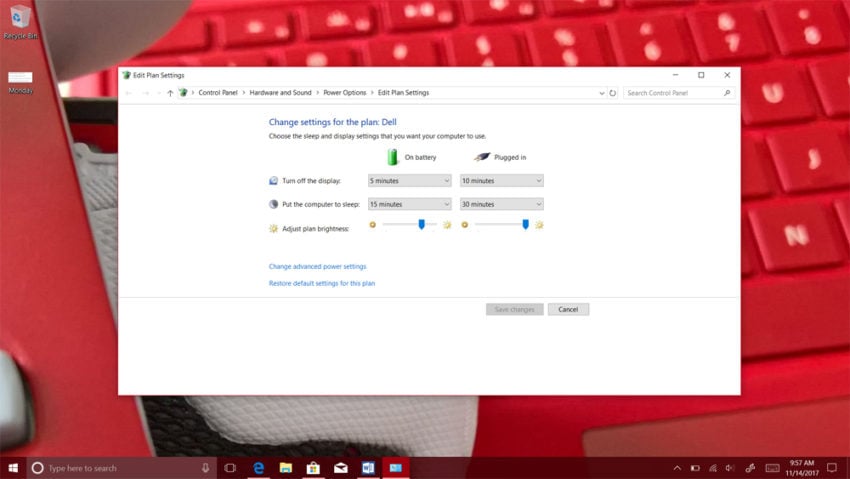 Scroll down until you see Display. Click or tap on the + next to Display.
Click on Enable Adaptive Brightness.
Adaptive Brightness in Windows 10 has just two modes. Either it's on or off. It's up to you whether the feature is on when you're connected to a power outlet or running on battery power.
Again, only change either of these settings if you're comfortable managing your device's screen brightness manually. If you don't carefully manage it, you can expect a big drop in battery life. Displays are a big draw on a device's battery. Leaving your display on its highest settings can cut battery life by half or more.
Choose the Off button in the drop-down menu and click on Ok.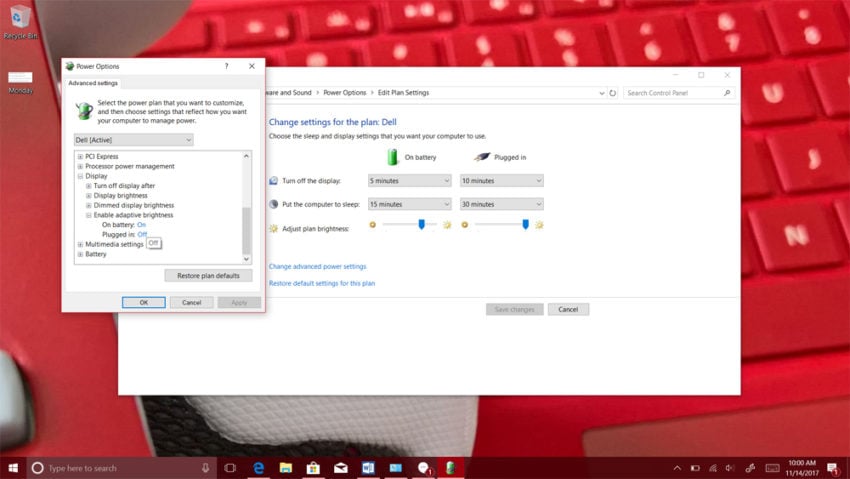 Once you've turned off Adaptive Screen Brightness in Windows 10, you need to know all the different ways there are to change how bright your display is.
Every laptop maker includes a keyboard shortcut for changing how bright your display is. Look for symbols like the ones on the F11 and F12 keys below somewhere on your keyboard. They could be in a different position in the function row. Read through the guide that came with your laptop if you're having trouble identifying which keys are your brightness shortcuts. Some Windows 2-in-1s, like the Surface Pro 4 and 2017 Surface Pro, don't have brightness shortcuts.
Read: 20 Windows 10 Tips & Tricks from a Fanatic
Windows 10's Action Center provides another easy way to manage brightness after you've turned Adaptive Brightness in Windows 10 off.
Click on the Action Center button in the bottom-right corner of your display. A brightness button there allows you to quickly change how bright your display is in increments of 25%. Placing your finger on the right edge of the display and swiping to the left opens the Action Center on devices with a touch display.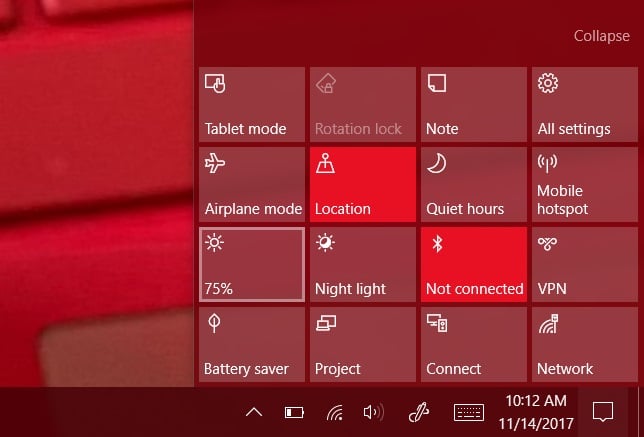 If you prefer a brightness slider for more granular control, there's one in the Settings app. Open Settings. Now select System. Use the Change Brightness slider at the top of your screen to fine tune how bright your device's display is. You can also turn on Night Light from here. This feature changes the temperature of your display to emit less blue light on a schedule. Some studies show that blue light disrupts your sleeping patterns.
5 Best Windows 10 Laptops Under $500 in 2018
Dell Inspiron 15 3000 - $429.99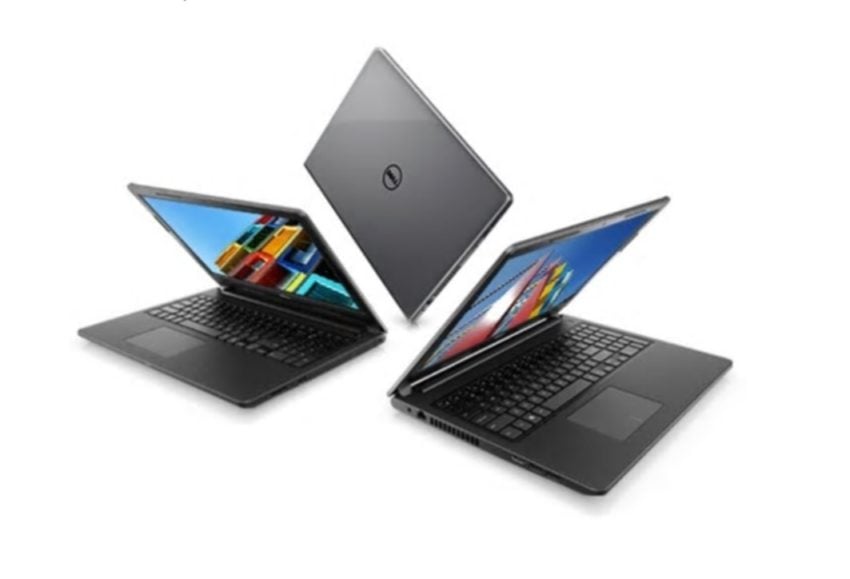 One of Dell's cheapest Windows laptops ever, the Dell Inspiron 15 3000 is for classic laptop lovers. Its 15-inch screen will never leave you wanting to connect an external display and it has plenty of ports and an all-too-rare DVD drive.
You get to choose whether you want the lowest possible price or a more well-balanced machine that costs a little more. The $299 model has 4GB of DDR3 RAM, a 500GB hard drive and an Intel Celeron Processor. Exchanging those for a more performance friendly Intel Core i3 processor, 6GB of RAM and 1TB of internal storage for photos, videos documents and videos brings the price to $429. The $499.99 model has an Intel Core i5 processor and 8GB of RAM.
Every Dell Inspiron 15 3000 has an SD card reader, headset jack, USB 2.0 port, lock slot, Ethernet port USB 3.0 port and a HDMI port. At 8 hours between charges, they should all last through a day of classes or casual browsing at your favorite coffee shop.