How to Turn Your Surface Pro 4 Into A Desktop PC
If you are a Surface Pro 4 owner, don't waste money buying a second PC to use at your desk. You can save both time and cash by turning your Surface Pro 4 into a desktop PC.
Getting the right accessories makes all the difference. Surface docks add more USB ports and Mini DisplayPorts. An external monitor gives you the extra screen real-estate required to have three or four apps running side by side. Bluetooth keyboards and mice are more comfortable at your desk than Surface Type Covers.
Using your Surface Pro 4 as desktop PC saves you money in two ways. You don't need a subscription to sync pictures, music and documents between your PCs. The accessories you purchase won't top the amount of money you'd need to spend on a new desktop and software to run on it.
Here's how to turn your Surface Pro 4 into a desktop PC.
Buy a Surface Pro 4 Dock
Assuming you already have a Surface Pro 4, the first thing you need is a dock. With them, you can connect your Surface Pro 4 to a monitor, wired internet, keyboard, mouse and hard drive with a single cable.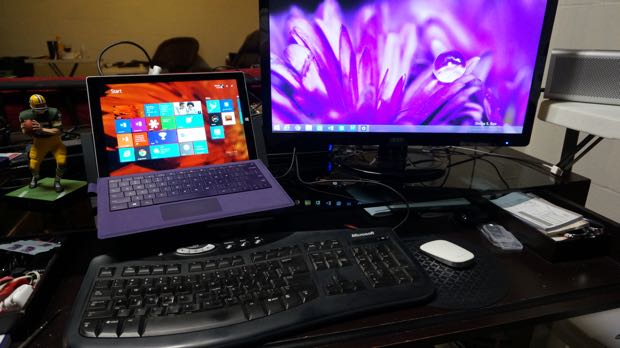 The Microsoft Surface Dock costs $199. It has two front-facing USB 3.0 ports, a power port, Gigabit Ethernet, two rear-facing USB 3.0 ports and 2 Mini DisplayPorts on its rear. Rather than take up your Surface Pro 4's only built-in USB port, this dock uses the Surface Connect port. That's the small fin-like port that the Surface Pro 4's charger uses. Because it's an all-in-one solution, you don't need to connect another cable to your Surface Pro 4 for power.
Pluggable's Universal Laptop Docking Station works with the Surface Pro 4 and any other Windows device. There are 2 USB 3.0 ports, a headphone jack and microphone jack on the front. The rear has Gigabit Ethernet, 4 USB 2.0 ports, DVI and HDMI.  This dock costs $94. You need to connect your Surface Pro 4 to a wall outlet with this dock.
Buy a Keyboard and Mouse
Once you have a dock, you need the accessories themselves. You can reuse any keyboard, monitor or speakers you have already. Buying new accessories isn't a bad idea either.
The Surface Pro 4 has two speakers, but you may want better sound quality than they can offer. External speakers like the $149.99 Edifier R17000BT Bluetooth Bookshelf Speakers can enhance your desktop experience. The 2Boom Bluetooth 3.1 Stereo Sound System with Subwoofer set sells at Amazon for $39.99.
You don't need speakers with Bluetooth, necessarily. The Pluggable Universal Laptop Dock and Surface Dock have headphone jacks for speaker systems that don't have wireless.
Next, you'll need a keyboard. Microsoft makes the entry-level Wireless Keyboard 850. It has a USB receiver that works even when Bluetooth connectivity is a problem. It costs $24.95. Microsoft also makes the thin Wedge Wireless Mobile Keyboard. At $79.95, it's not cheap. Microsoft's Surface Keyboard has the same key caps as the Surface Pro 4's Type Cover and connects through Bluetooth. It costs $99 from the Microsoft Store.
I use Logitech's K380 Multi-Device Bluetooth Keyboard in my desktop setup. It connects to 3 PCs, smartphones or tablets. You just press a button to switch between them. This keyboard costs $29.99 on Amazon.
A mouse is essential to any desktop setup. Logitech's MK270 Keyboard + Mouse Combo costs $21.99 and connects with a USB receiver. The Microsoft Surface Mouse sells for $49.99. It is painted silver to match the Surface Keyboard and is also Bluetooth. Logitech's $35.99 M720 Triathlon Mouse connects to more than one device at a time through Bluetooth or a USB receiver.
Buy a Stand and Monitor
Next, you need a stand to sit your Surface Pro 4 on. For the best experience, you'll want a tablet stand with an adjustable angle. This Oenbopo Tablet Stand costs $13.99 at Amazon. A hole lets docking cables run right through it.
Desktops offer lots of screen real estate to get things done on. You'll need one to truly turn your Surface Pro 4 into a desktop PC. You're free to use any monitor with your Surface Pro 4. Just remember you'll need a Mini DisplayPort adapter to connect those monitors to the Surface Dock. Amazon has a high-definition HP Pavilion 21.5-inch LED Monitor for $99. The Dell S2240T 21.5-inch Touch Monitor costs $249.99.
Change Your Settings
Disable Tablet Mode
Once you have all your accessories, it's time to change some of your Surface Pro 4's settings.
Remember to disable Tablet Mode when your Surface Pro 4 is docked. This shrinks the size of apps on your screen and reduces the size of the Start Menu. Place your finger on the right edge of the device's screen and swipe left to see the Tablet Mode toggle.
Your Surface Pro 4 should switch between Battery Saver and Performance Mode automatically. You can override this setting by tapping or clicking on the battery icon in the Taskbar. Change your performance profile using the toggle.
Once you have everything assembled, try your new setup for a few days. It may take some time to get comfortable with the setup. If successful, you should feel a little more productive with your Surface at your desk, eliminating the need for a desktop PC.
10 Best Surface Pro Alternatives in 2020
ThinkPad X1 Tablet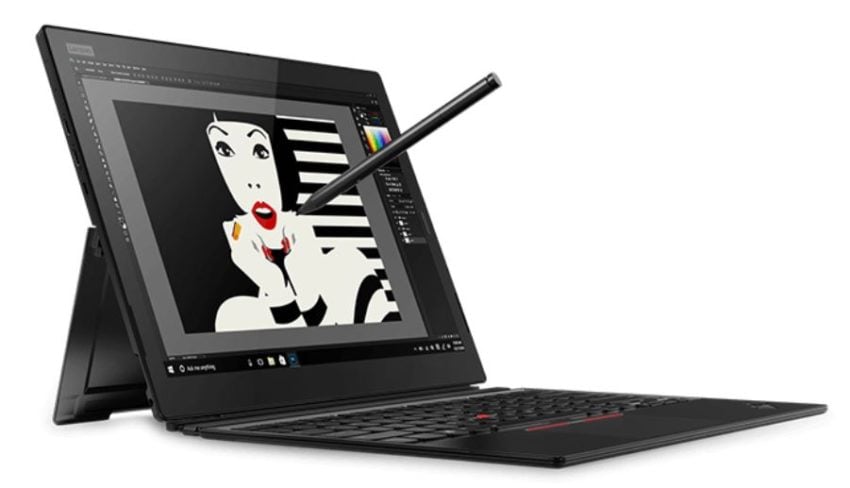 The ThinkPad X1 Tablet offers a lot of great features: a durable shell, an amazing display and Amazon's Alexa personal assistant.

The ThinkPad X1 Tablet has a 13-inch display. And, despite its good looks, the device has passed 12 military torture tests to ensure it can survive dust storms, cold temperatures, drops and spills. Finally, If you don't find Microsoft's Cortana personal assistant useful, the ThinkPad X1 Tablet has the same Alexa personal assistant your Echo smart speakers do. A Surface Pro won't survive a drop or spilled liquid and Cortana isn't as useful as Alexa is.


Read: ThinkPad X1 Carbon, X1 Yoga and X1 Tablet Have Stunning Display and Alexa


The third-generation ThinkPad X1 Tablet has powerful processors, plenty of RAM and other options. Models come with up to an 8th generation Intel Core i7 processor and 16GB of RAM. You won't get stuck waiting for web pages to load or your photo editor to process your touch-ups. If you don't like passwords, use the IR camera on the front of the ThinkPad X1 Tablet to sign into Windows. This 2-in-1 also has a fingerprint reader.

The ThinkPad X1 Tablet's screen detects 4,096 different levels of pressure from its digital pen. Besides that, it's a really detailed display. Windows, your videos and everything else you do on it looks crisp and detailed. Again, it's three times as sharp as an HD display.

Like other Surface Pro 4 alternatives, this Windows 2-in-1 connects to its included keyboard cover using a special slot on its bottom edge. It has Thunderbolt 3 ports for fast data transfers, a MicroSD card reader and a headset jack. With LTE connectivity, you can add the ThinkPad X1 Tablet to your smartphone data plan. You can't do that with a Surface Pro 4.