Which Amazon Echo Should You Buy?
Deciding to buy an Amazon Echo is easy. The Alexa personal assistant can turn off lightbulbs, brief you on the news of the day and control your thermostat. Deciding which Echo is the best for you is the hard part.
There's an Amazon Echo for every kind of person and every room in your house. The Echo Dot is cheap and compact, making it the perfect device for a hallway, laundry room or living area where you only care about getting alerts and giving a voice command. For music lovers, there's the full-size Echo. Its 2.5-inch speaker lets it fill an entire room with sound easily. Amazon even has alarm clocks and web cameras with Alexa built-in.
Read: What is Amazon Echo & What Can Alexa Do?
Which Amazon Echo is the best for you depends on what it's designed to do and how much you're willing to spend. Here's a break down so that you can find the right one for your home.
Which Amazon Echo Should You Buy?
Echo First-Generation $89.99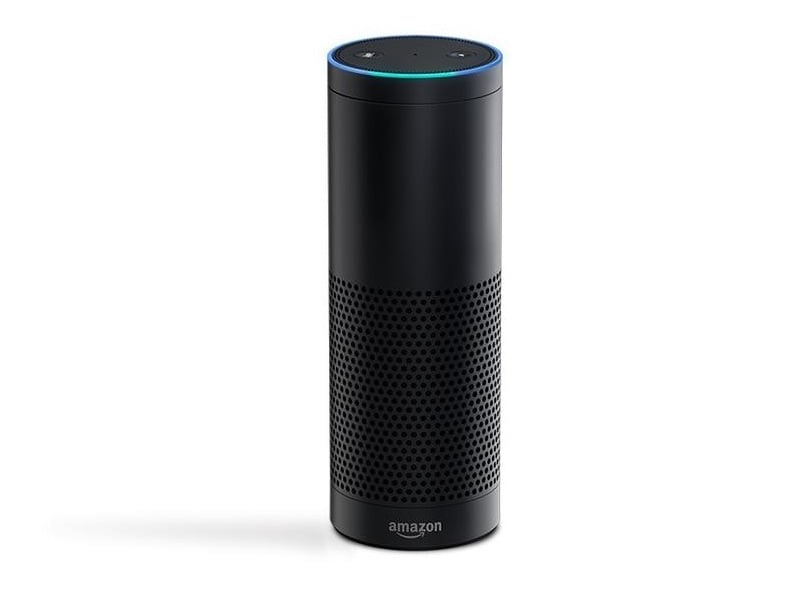 The first-generation Amazon Echo is a speaker before anything else. It blasts sound out in 360 degrees through a 2.5-inch woofer and a 2-inch tweeter, which is why Amazon recommends placing it in the center of your room. Through Bluetooth, you can connect the first-generation Amazon Echo to a smartphone or tablet.
This is the Amazon Echo to buy if you just want a speaker that can provide a lot of sound on a small budget. It's not the Echo to buy if you have a small space or want something that blends in with your home's décor. It stands a little over 9-inches tall, so it sticks out in a room. Also, Amazon only sells it in white and black.
Read: Amazon Echo Review: Great Proof of Concept
You can buy a refurbished Amazon Echo First Generation for $89.99.
Buy the Amazon Echo First Generation for $89.99
Echo – $99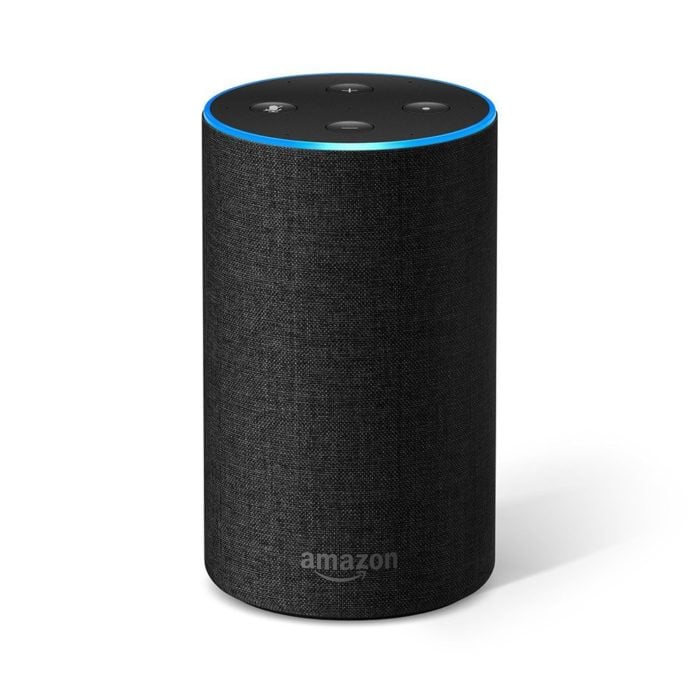 This new Amazon Echo is the original speaker's replacement. It costs $99 and launches on October 31st.
This Echo blends in with your home's décor better than the original Amazon Echo did. You can buy it in black fabric, gray fabric and sandstone fabric. If these fabrics don't fit in with your home's décor, you can opt for a black, silver or oak finish instead. Its smaller size also helps it blend in; it's just 5.9-inches tall.
Expect great sound from this Echo. Inside the speaker are a 2.5-inch subwoofer and a tweeter. Amazon says that having them face each other creates better sound. Dolby sound technology helps with that, too.
Read: 5 Things to Know About the New Amazon Echo for 2017
It also has some tricks the original Echo didn't. This Amazon Echo's upgraded microphones help it detect your voice commands easily when you're listening to music already. That's something that first-generation Amazon Echo owners complained about a lot. An audio port in the back of the new Amazon Echo lets it connect to other speakers and audio systems so that you can use them with Alexa voice commands.
Buy the Amazon Echo for $99
Echo Plus – $149.99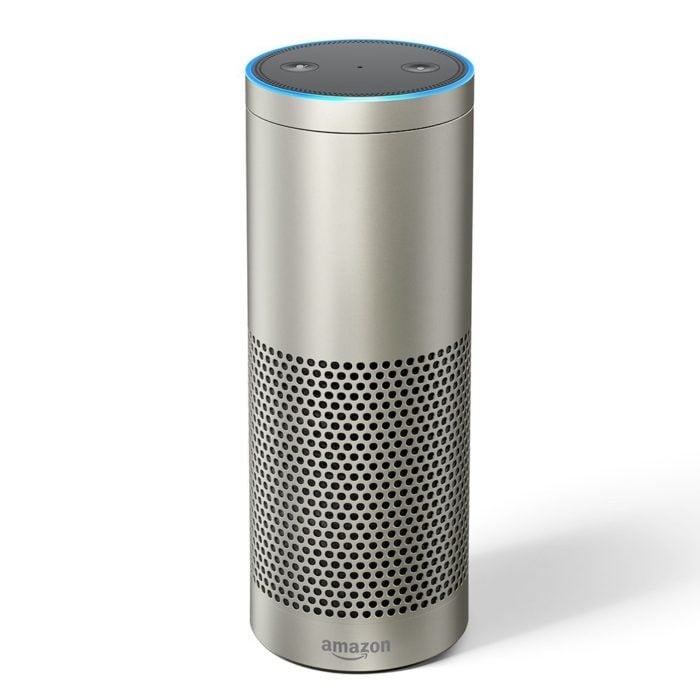 The Amazon Echo Plus looks a lot like the original Echo and it only comes in silver, white and black. It's made for anyone that wants great sound and has plenty of smart home accessories they want to control.
In most ways, this Echo is just like every other. Inside the Echo Plus is a 2.5-inch subwoofer and a 0.8-inch tweeter. You can use it to fill an entire room with sound and an audio port on the back lets you turn your existing speaker system into an Amazon Echo.
However, this is the only Echo you can buy that doesn't need to rely on Amazon's cloud service or a hub to control your smart home accessories. It can talk to Zigbee compatible Hue light bulbs, door locks, switches and blinds directly.
Read: Philips Hue Tips & Tricks
That added smart home hub functionality does come at a steep cost. The Amazon Echo Plus is $149.99 and it launches on October 31st. If you're planning a smart home or already have some smart home accessories you'd like to control with your voice, the Amazon Echo Plus is the best Amazon Echo you can buy, and you still get quality sound.
Buy the Amazon Echo Plus for $149.99
Echo Dot – $49.99
When you have a hallway or small room that you'd like to use Alexa in, you buy the Amazon Echo Dot. At $49.99, it's the cheapest of all Echo devices, and it still has a lot of functionality.
You can ask Alexa questions, stream music or set reminders with the Echo Dot. It stands just 1.3-inches tall though, allowing it to almost disappear in any home. It's perfect for a bedside table or a small bathroom. Tan leather, merlot leather, midnight leather, indigo fabric, charcoal fabric and sandstone fabric cases help Echo Dot blend with the rest of your room's décor.
Read: How to Use Amazon Echo Multiroom Audio
Its small size does mean you don't get the best sound quality from it. There's only a 0.6-inch speaker inside and it doesn't have a tweeter. It does have an audio jack and Bluetooth audio.
Buy the Amazon Echo Dot for $49.99
Echo Show – $229.99
If you want an Echo that can also show you videos, weather and footage from security cameras around your home, the Echo Show is the right device for you.
The Echo Show has two, 2-inch speaker systems and a 7-inch display that lets you watch movies and television shows from Amazon Prime Video. You can also use this screen to check in with cameras around your home, provided they have an Alexa skill available. Also, a built-in web camera lets you video chat with other Echo Show users in seconds. With Bluetooth, you can use the Echo Show's speaker system to boost sound from your smartphone or tablet.
Read: Echo Show: 5 Things You Need to Know
At $229, the Echo Show is the most expensive Echo you can buy. It only comes in black and white.
Buy the Amazon Echo Show for $229.99
Echo Spot – $129.99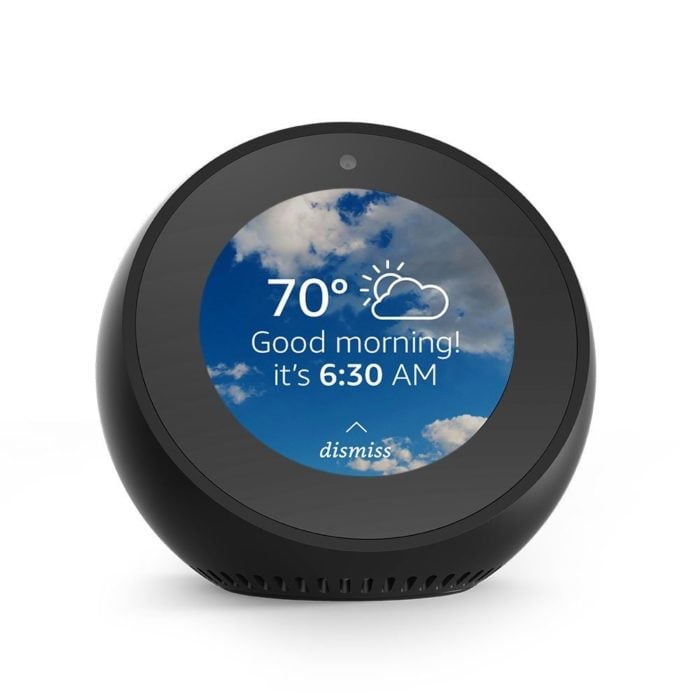 The Echo Spot is the more reasonably priced alternative to the Echo Show. It costs just $129.99. That's $100 less than the cost of an Echo Show.
As with the Echo Show, the Echo Spot lets you place video calls to other Alexa owners. You can watch television shows and movies from Amazon Prime, just don't expect its 1.4-inch speaker and 2.5-inch round display to impress you. An audio out jack lets you connect it to a larger speaker if you ever need to and built-in Bluetooth lets it act as a speaker for your smartphone.
Unfortunately, you can only pre-order the Echo Spot now. Its official release date isn't until December 19th. It only comes in black and white.
Buy the Amazon Echo Spot for $129.99
Amazon Tap – $129.99
There aren't too many portable speakers with Alexa support and that's why the Amazon Tap stands out.
You can take the Amazon Tap anywhere. A built-in battery keeps music, podcasts and audiobooks playing for up to 9 hours. When you're near a Wi-Fi connection, the microphone button on the front of the device lets you ask Alexa questions and give voice commands. It connects to your smartphone or tablet through a built-in audio port and Bluetooth. There are two 1.5-inch woofers inside the speaker.
Read: Amazon Tap Review: Take Alexa On the Road
The Amazon Tap costs $129.99. It only comes in black, but Amazon's sling protectors come in blue, black, green, magenta and tangerine.
If you need a Bluetooth speaker for park visits, camping trips and the hours you spend away from home, buy the Amazon Tap.
Buy the Amazon Echo Tap for $129.99
Echo Look – $199.99
The Echo Look isn't a speaker at all. It's a web camera that uses Alexa and Amazon's other services to give you fashion tips.
This Echo helps you dress better. With a voice command, you can capture screenshots of the outfit you're wearing. Alexa will compare your favorite colors and styles, then suggest new outfits. Using a companion app, you can look through your personal lookbook and photos. Alexa will also tell you what colors you wear the most and recommend new brands and styles that you might like. You can shut off the device's microphone and camera with just a button press.
In addition to its fashion features, Echo Look still acts a small smart speaker. There's a 1.6-inch driver inside of its white body.
The Echo Look costs $199, but you can only purchase one with an invitation from Amazon today.
Buy the Amazon Echo Look for $199.99
Which Amazon Echo Is the Best?
You should buy the Echo that works best for the room you're going to put it in. In smaller rooms, hallways and bedrooms, the Echo Dot is best. If you want a way to watch television shows and flash media briefings in your kitchen, the Amazon Echo Show is better for your needs.
Read: 50 Exciting Things You Can Do with Alexa
As your making your decision, keep features in mind too. For example, if you want to video chat with friends and family, you need the Echo Show or the Echo Spot. They're the only models that have both a camera and display.
Think about your room and what you'll use your new Echo for, then make your decision

This article may contain affiliate links. Click here for more details.