How to Use Smart Lock and Skip Fingerprints on the Galaxy Note 8
With Smart Lock on the Galaxy Note 8, you can skip the fingerprint scanner in most situations. This feature recognizes trusted environments so the phone can unlock itself. You won't need a fingerprint, face scan or PIN to use your phone. This works at home, connected to your car stereo and there's even an option to set it up to trust your voice.
Smart Lock enables the Galaxy Note 8 to unlock itself most of the time. You will still have to use a PIN, fingerprint scanner, or Iris eye scanner on occasion.
Read: 20 Best Galaxy Note 8 Cases
If you're getting frustrated trying to scan your eyes or reach the fingerprint scanner we recommend using Smart Lock. Below we go over what you need to know and how to use this feature today.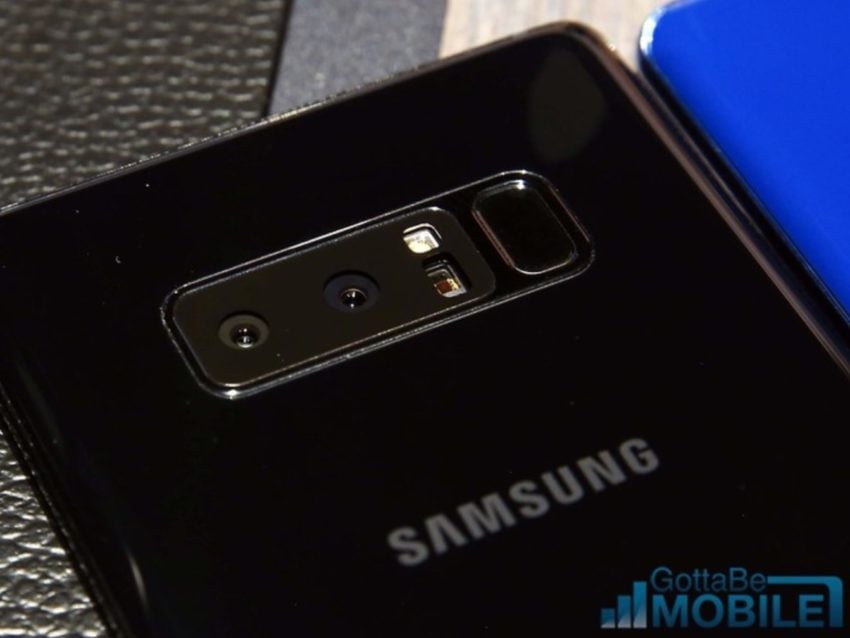 How to Use Smart Lock on the Galaxy Note 8
To get started find Smart Lock on the Lock screen and security menu in Settings. This feature gives you several options for fast device access: On-body detection, Trusted places, Trusted devices, and Trusted voice.
Tap the gear-shaped Settings button in the notification bar (or find Settings in the app tray)
Select Lock screen and security
Tap Smart Lock
Enter your PIN or password to continue
You'll see four different modes to choose from, pick whichever works best for you. I'm using Trusted devices and Bluetooth, so when I connect the Note 8 to my car stereo or it's near a smartwatch I don't need to unlock it. The software recognizes I'm near a trusted device and bypasses the lock screen method temporarily. Smart Lock works with any NFC or Bluetooth device.
Click Trusted devices
Tap + Add trusted device
Select from Bluetooth or NFC (it will search and find any nearby connected device)
Choose which accessory and then select Add as trusted device
Now the Galaxy Note 8 will stay unlocked when it's connected and near that device. If you disconnect from the stereo or leave a trusted place Smart Lock turns off. Then, your PIN or fingerprint lock screen method kicks back into place. If it gets lost or stolen and the connection drops it will instantly lock itself.
This makes it easier to use the Galaxy Note 8 each and every day, only requiring a fingerprint scanner when it's truly needed.
More Details
Another option is "On-body detection". This will unlock the Galaxy Note 8 as long as it's in motion, like when you're holding it and walking. The phone will lock and require your PIN or fingerprint when it stops moving, or you set it down. Just tap On-body detection and flip the switch to on to enable this feature.
Set your home as a trusted place and only unlock it once while you're home. As long as you stay home, you won't need to unlock the screen. You'll need to use a security method once you leave that trusted area. This uses GPS, WiFi and Google Maps for an accurate location reading. It's extremely useful, although some might want to skip the home feature if they have kids.
Read: How to Turn Off the Note 8 Always-On Display
Last but not least, you can set up a trusted voice to quickly unlock the Note 8. To try this out, enable "Trusted voice" in the Smart Lock menu, then follow the prompts to train it to recognize your individual voice. Now just say, "Ok Google" and the phone will instantly unlock. See, no fingerprint scanner or Iris scan is necessary.
Is Smart Lock Worth Using?
So, is smart lock worth using? Absolutely. It's extremely easy to set up, works great, and cuts down on how often you need to use a fingerprint scanner or alternative lock screen methods. With the fingerprint scanner being so hard to reach, this is almost a must-use feature.
In closing, Trusted Places may drain battery life because it uses GPS. Then, On-body detection may not lock the device immediately, like in cases of theft, because it takes a few seconds to register and kick into place. This is a very useful feature but it's not perfect. Just keep that in mind.
While you're here, consider getting a Galaxy Note 8 screen protector from our roundup below.
10 Best Galaxy Note 8 Screen Protectors
Whitestone Dome Glass (Easy Install)
Now that the Galaxy Note 8 has been available for more than a few months we've had a chance to test and try multiple screen protectors.
Our first recommendation is the Whitestone Dome Glass kit. Now don't be overwhelmed by all of this, as the process is actually extremely easy. This company sends you a screen protector, easy installation tray, a liquid for the application, and a UV light that cures the liquid. It sounds more "involved" than other screen protectors, but it's actually incredibly easy. You set it up, let the tray do the work, and use the light to cure the screen protector to your Galaxy Note 8.
This ensures a perfect fit, no gaps, and no touchscreen responsiveness issues like we've seen on the Galaxy S8 or Galaxy S7 Edge from prior years. These protectors are extremely popular because they work great, and they're easy to install. Try this first, then keep reading for a few more recommendations.

As an Amazon Associate I earn from qualifying purchases.