How to Setup the Galaxy Note 8 Fingerprint Scanner
In this guide we'll explain how to setup and use the Galaxy Note 8 fingerprint scanner. Samsung's new phone has a biometric Iris eye scanner, facial recognition and more, but most will stick to the fingerprint sensor. This is what you need to know as you set up protection for the Note 8.
This is the first Galaxy Note phablet that doesn't have a physical home button. Thanks to slim bezels and a huge 6.3-inch Infinity Display, Samsung moved the fingerprint scanner to the back of the phone.
Read: 10 Neat Things the Galaxy Note 8 Can Do
And while the rear-mounted fingerprint scanner isn't in an ideal location, it still works great. Samsung's sensor is fast, accurate and easy to use — as long as you can reach it. If you skipped the instructions during setup, here's how to take advantage of the Galaxy Note 8's fingerprint scanner.
How to Setup the Galaxy Note 8 Fingerprint Scanner
You can easily unlock your phone with a fingerprint, but that's not the only reason to use the fingerprint scanner. Use it to quickly sign into apps or websites without a password, or pay for goods with Samsung Pay.
To start we'll head into settings by finding the settings app or hitting the gear-shaped settings icon in the notification bar. Now, find the lock screen and security sub-menu. This has all the security options on the Note 8, and our instructions and screenshots below will help you get started.
Instructions
Step 1: Open the Settings app scroll down to "Lock screen and security" from the list
Step 2: Select the "Fingerprints" option, located halfway down the screen. (Input a pin code or pattern to proceed)
Step 3: Scan a fingerprint and enable this 

lock screen

 method. Just follow the on-screen prompts. Those who already have a fingerprint registered will need to select "+Add fingerprint" to add another
Step 4: Locate the fingerprint scanner the on the back and tap your finger, then tap with a different angle or direction. Do this multiple times until you reach 100%. Move your finger a little between each tap.
Step 5: Enter a "backup password or pin" for when your fingerprint is dirty or after device reboots. You'll need to enter this password or pin after any reboot, before using a fingerprint.
Step 6: Hit "Done" then go back and add another finger for the other hand, if you'd like.
Additionally, some users claim that adding the same finger twice improves accuracy and success rates. And while we haven't heard of any fingerprint scanner problems, it's worth trying if you're experiencing any.
If you have a hard time reaching the fingerprint scanner try using Smart Lock on the Galaxy Note 8. It allows you to skip using a fingerprint when you're in a trusted place or connected to accessories like a car stereo. It's one of our favorite Android security features.
Other Details
Once you're done and the Note 8 is secure, head back into that same settings menu for more options. As we said above, there are a few other reasons to use the fingerprint scanner. Sign into websites with the tap of a finger, verify and log into a Samsung account, or pay for things using Samsung Pay.
It's also worth noting that many 3rd party apps have fingerprint support for easy sign-in as well. Some of those include Bank of America, PayPal, or LastPass. Follow the steps above and enjoy an easier, safer, more convenient Galaxy Note 8 experience. While you're here, check out these 20 best Note 8 cases.
25 Best Samsung Galaxy Note 8 Cases
Samsung Protective Kickstand Case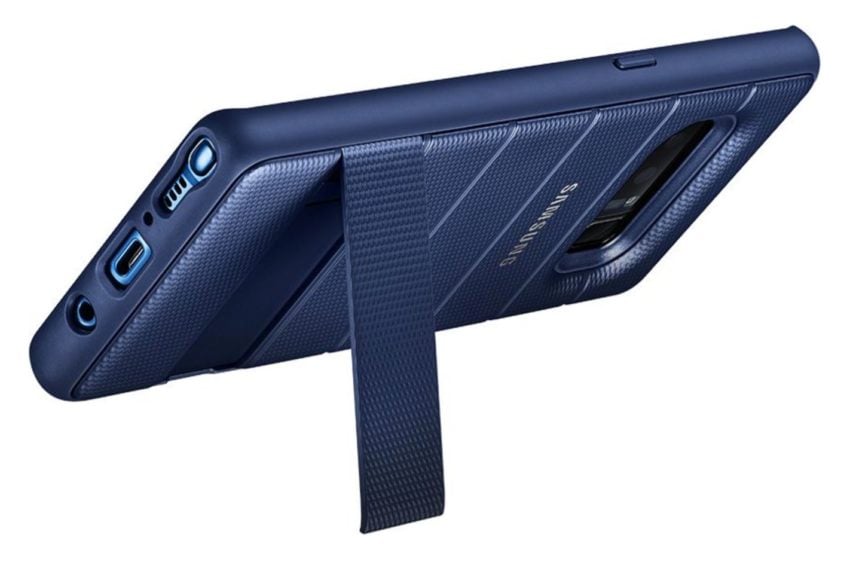 First up is a new case from Samsung themselves. The Rugged Protective Cover is Samsung's new military-grade case for the Note 8. Meaning it's certified for some serious tumbles like drops from 8-10 feet. Basically, this is one very durable case.
Then, to make things even better Samsung added a fold-out kickstand for hands-free viewing. The kickstand will also detach if you put too much pressure on it to prevent damage. Simply snap it back in and you're good to go. This is one of the first cases we recommend, as it's extremely durable and has extra features.

This article may contain affiliate links. Click here for more details.