How to Use the Galaxy Note 9 Camera: What to Know
In this guide we'll show you everything you need to know to master the Galaxy Note 9 camera. Helping you take better photos, videos or use the second lens. You'll learn all about the Note 9 camera settings, modes, quick launch tips, and its many advanced controls.
Samsung's Galaxy Note 9 has one of the best cameras on the market. Both lenses deliver a fast autofocus, great low-light performance, live focus controls and a powerful pro mode. This year the camera has some super useful options and helpful modes that'll help beginners and pros alike.
Read: These are the Best Galaxy Note 9 Cases
If you've owned any of Samsung's recent Galaxy phones you'll feel right at home with the camera, and that's a good thing. They have a clean, simple, easy-to-use yet powerful app for taking quality photos. So, shoot on auto or change modes with the tap of your finger by using our guide below.
How to Quick Launch the Galaxy Note 9 Camera
For starters, there are three different ways to open the camera on the Note 9.
Quickly double tap the power button on the side of the phone (even when the screen is off)
Swipe up on the camera icon from your lock screen
Tap the camera icon on the home screen or app tray
Simply double-tap the power button on the side of the phone to instantly launch the camera in under 0.7 seconds. This works in any situation, any app, even when the phone's off. It's the fastest and easiest way to never miss that perfect shot. You'll have to agree to the "Quick Launch" feature the first time you try it, so tap OK and enjoy.
Taking Photos on the Galaxy Note 9
Once the Galaxy camera app is open you'll see a familiar set of options, which we'll detail in a moment. As for taking photos and video, each year things change a little bit.
Hit the white circle shutter button to take a photo
Tap and hold to take a burst of multiple photos at once
Hold and drag the shutter button to zoom in and out instead of pinch to zoom (Great for one-handed use)
Tap the Red circle under the shutter button to record video
Tap the 2x button to instantly zoom in with the second lens (top right of screen)
It's worth noting that Samsung is using a neat "multi-frame image processing" system along with the second lens to make sure photos still look good when you zoom in. Basically, don't be afraid to zoom in or use that 2x button for a close-up shot.
Bonus tip: Don't forget to wipe off any fingerprints on the lens from trying to find the fingerprint scanner.
Galaxy Note 9 Camera Basics & Modes
Samsung's Galaxy Note 9 will launch in auto mode at first, which typically yields pretty great photos. You can find your usual settings, options or controls on the right side of the screen. Some of those are to control the flash, HDR, settings menu, switching to the front-facing camera, viewfinder, and the big shutter button.
Read: Best Wireless Charging Pads for the Galaxy Note 9
On the bottom right of the viewfinder is a new "eye" icon, which is Bixby vision. This uses Samsung's virtual assistant to scan images for shopping, image recognition, and even translation. It's pretty powerful when combined with everything else the camera has to offer.
And if you notice a little Portrait icon, landscape, sun, or other things flash on the screen and disappear, that's the intelligent software choosing the best mode for any particular photo.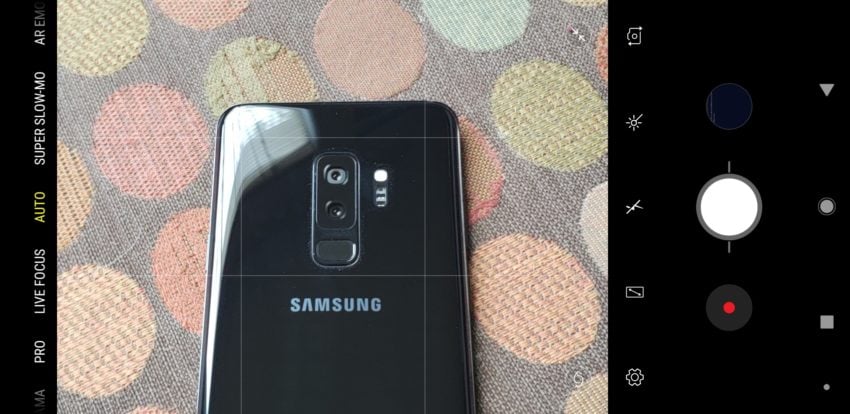 On the left edge, you'll see all the different shooting modes. Instead of swiping out to choose one, simply swipe up/down to scroll through the choices. If you can't find a mode you enjoyed on a previous phone, go to Settings and download more modes like virtual shot, beauty face, animated GIF, and sports mode for fast subjects, to name a few. Yes, you can make an animated GIF directly from the Galaxy Note 9 camera.
On the right side of the viewfinder you can access all the filters and effects. Tap the magic-wand icon above the flash button, then choose what suits your needs.
And while some of the options and modes will differ by carrier or model, here's a huge list of options you'll find in the Galaxy Note 9 camera settings.
Voice Control – With Voice Control turned on in the settings, you can say "Cheese", "Capture", "Smile" or "Shoot" to take a photo and "Record video" to record a video. I use this daily.

Volume Shutter –  Use the volume button to take a photo, record a video or zoom, depending on your choice in settings. 
Tracking Auto Focus – The Galaxy Note 9 camera includes a Tracking Auto Focus option that can keep an object in focus as it moves across the screen. You need to enable this in Settings. 
Shape Correction – Correct distortion in pictures automatically. (Face Shape Correction, too)
Flaw Detection – Get notified when someone blinks or looks blurry in images (or lens smudges)
Timer – Timer allows for a delay before the photo of 2, 5, or 10 seconds. Perfect for group photos.
Save Picture as Previewed – Save all photos you take as shown in the preview, not as flipped images (yes!)
Motion Photo – Record a short video clip of what happens before each photo, almost like a GIF for a more memorable photo experience.
Location Tags – Attach, embed, and store geographical location data of each photo and video.
Review Pictures – View pictures immediately after you take them.
Storage Location – Set camera to store photos on phone storage or a microSD card.
Floating Camera Button – Add a new floating camera button that you can move anywhere to take photos or selfies easier.
Shutter Sounds – Turn the shutter sound on or off.
Reset Settings – If anything is acting funny you can reset the camera to default controls
Galaxy Note 9 Camera Modes
Auto Mode – Let the camera intelligently choose everything for the best results
Pro Mode – Adjust the exposure value, shutter speed, ISO, white balance, focal length, and color tone manually while taking photos like a professional.
Live Focus – Take artistic pictures by adjusting the depth of field
Panorama – Create one huge panorama photo by taking consecutive pictures in either horizontal or vertical position to capture an entire sunset, park, football stadium and more.
Super Slow-mo  – Capture the action in your videos using super slow-motion up to 960 fps
AR Emoji – Spice up your shots with fun frames, stickers and emojis
Hyperlapse – Create time-lapse videos by recording at various frame rates. The frame rate will automatically change based on the scene and movement of your phone.
Virtual Shot – Create Multi-directional views of objects by taking multiple photos as you move around it from all angles. Like a 360 degree photo.
Food – Emphasize the vivid colors in your favorite foods (a bit overboard on color)
Sports – Take clearer pictures of fast-moving objects.
Download – In "Modes" owners can hit download to add many previous camera modes like GIF, Dual Camera (front and back at the same time), rear camera selfie, and more.
You can long-press on the left edge where all your modes are, which will take you to an edit page to add, remove, or rearrange modes from the main camera page.
Galaxy Note 9 Camera Tips & Tricks
Next, we'll share a few tips and tricks, or all the fun stuff that you can do with the Galaxy Note 9 camera aside from everything mentioned above.
Swipe up or down to toggle between front and rear camera instantly.
Take a selfie by holding your finger over the heart rate sensor near the camera flash.
Take a seflie by tapping the button on the S-Pen
Alternatively, hold your palm up towards the front camera to automatically set a timer.
Again, turn on voice controls to easily take a photo hands-free by saying "cheese", "smile", and other keywords.
Tap to focus, then use the slider on the right side to increase or decrease exposure for more or less light.
Use Bixby vision to find information about an image, scan barcodes for shopping, or translate text.
Galaxy Note 9 Camera Editor
While we recommend downloading a 3rd party photo editing app from the Google Play Store, Samsung's built-in option is decent. When you're reviewing your photos just tap the "edit" button for all the options. It's pretty extensive, although it isn't as powerful as some other alternatives.
Effects – Instagram style filters, Snapchat style augmented reality overlays, etc.
Decorations – Draw on images, add stickers and quotes, and a new "cover" option to blur and pixelate parts of a photo. Get artsy!
Auto Adjust – Automatically adds some brightness, saturation, and sharpness to photos in a subtle way. This works great if you're in a hurry.
Advanced – The main Edit button to crop and transform images, change the tone, and full advanced features for tone curve, color, and backlight.
and much more
Final Thoughts
The Galaxy Note 9 takes great photos, beautiful slo-mo videos, and has tons of useful features. Most of the time I shoot in auto, and in settings, I made sure to have HDR auto enabled also. With HDR the phone will combine a regular, low light and high exposure image into one quality shot. Similar to what Apple's new iPhone Xs finally does.
We recommend shooting in full auto mode or only taking advantage of the Pro modes if you are capable of fine-tuning the camera experience.
Read: 19 Best Galaxy Note 9 Cases
Our information above should help you get the most out of the Galaxy Note 9 camera. This phone can do some pretty amazing things, and now you know what to look for or what to expect. Before you go, buy one of these 15 official Galaxy Note 9 accessories.