Best Galaxy Note 9 Wireless Charging Pads
These are the best wireless charging pads for the Galaxy Note 9. Samsung's big phone has lots of neat features, and wireless charging is one of our favorites. Here's how it works and why you'll want one.
There are multiple different Galaxy Note 9 wireless charging pads, stands, or mounts you can buy. Whether that's an official Samsung accessory or a popular brand on Amazon. We have fast wireless chargers, or even portable wireless charging pads so you can leave your cables at home.
With a wireless charger, you can drop your phone on a pad or stand, without plugging it in, and it'll recharge. Plus, the Galaxy Note 9 supports 10w fast wireless charging so it's almost just as fast as the wall plug. You'll want to read the slideshow below to ensure you get the right charging pad with these speeds.

If you want a wireless charger you'll be happy to know we've found some as cheap as $9.99. Then, faster chargers or pads with multiple charging coils cost a few dollars more. Or, for the best and fastest charge, you can spend around $35-60 to get one made by Samsung themselves.
Read: 19 Best Samsung Galaxy Note 9 Cases
While wireless charging is convenient, it's not as fast as the wall plug that comes in the box. Thankfully, the Galaxy Note 9 supports "fast wireless charging" that draws 10-15 watts of power instead of just 5-7 watts. As an example, the iPhone Xs does 7w wireless charging, which is why it's a lot slower than Samsung's wireless charging technology.
In closing, if you want these fast wireless charging speeds on the Galaxy Note 9 you need a few things. Buy a fast wireless charger from our slideshow, and use the wall plug and cable that came in the box with your phone. It supplies the required power for "fast" wireless charging. So, buy one below and enjoy your phone to the fullest.
Samsung Wireless Charger Pad (2018)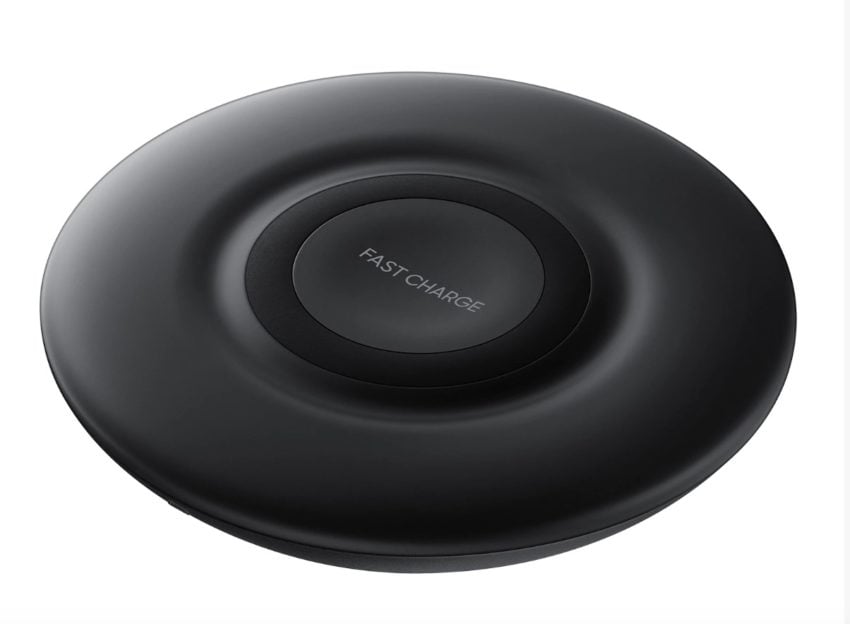 Our first recommendation is the official Samsung Fast Wireless Charging Pad for 2018. This is the same 10w fast charging pad Samsung's offered for several years, only now it'll recharge any Samsung smartwatch too.
Basically, this is a simple and cheap wireless charging pad for your Galaxy Note 9 or the new Samsung Galaxy Watch. The older pads only work with phones and Qi devices, not watches.
This charging pad has a built-in fan to keep things cool and charging speeds fast, and even works with the iPhone X or Xs/Max if you have friends on the other side. It's expensive, but it's the newest charger from Samsung.
If you don't plan on getting a smartwatch, you can find Samsung's older fast charging pad on Amazon for $24. They'll do the same thing for less money.

As an Amazon Associate I earn from qualifying purchases.