Amazon Black Friday 2015 Deal: $150 50-inch HDTV Only In App
One of the biggest Amazon Black Friday 2015 deals is only available in the Amazon app for iPhone, iPad or Android. That's right — if you want to buy a 50-inch HDTV for $150 on Amazon you will need to download and install the Amazon app to make sure you have access.
All we know about this 50-inch HDTV Black Friday 2015 deal is that it will be a limited quantity item on Thanksgiving Day and it will only be available to purchase within the app on your smartphone.
Update: At 3PM on Thanksgiving a new Amazon Black Friday 2015 App Only deal will appear for a 55-inch 4K TV at $448.
Over the weekend the Amazon Black Friday 2015 ads appeared on TV to announce the kickoff of Black Friday week at the retailer, and this deal is sure to be one of the most talked about options.
This is an insane deal, even if it is an older model with a lower refresh rate and limited ports. We don't know what brand this will be, but it looks like it will be the cheapest Black Friday HDTV 2015 deal on a 50-inch model.
Like many of the Amazon Black Friday 2015 deals this will go fast and it will likely be a lightning deal. Amazon Prime members may get early access to this deal, but we don't know for sure yet.
To prepare for this, you need to download the Amazon iPhone app or Amazon Android app for access to this deal.
After you download it, make sure you sign in to the app and make sure you are able to add items to your cart. This will simplify the process when the sale starts.
The 50-inch Amazon Black Friday 2015 deal will start on November 26th, but it isn't clear what time this will kick off.
Keep in mind that the Amazon Black Friday 2015 ad isn't the only one with big savings on HDTVs. The Best Buy Black Friday 2015 ad includes a 49-inch HDTV from Toshiba for $149. If you can get either of these deals, you can expect to save significantly.
Count on a 1080P resolution, a refresh rate of 60Hz and 2 or 3 HDMI ports. Like most HDTVs this should be wall mount compatible, but it may not include options for connecting a PC with a VGA cable.
There are many Amazon Black Friday 2015 deals live now, but the biggest savings will start on Thanksgiving Day. My Best Buy Elite and Elite Plus members can already shop many Best Buy Black Friday 2015 deals online today, but this 50-inch HDTV is not included.
Check out the Black Friday 2015 ads below and roundups for more on how you can save this week.
Best Black Friday 2015 Deals & Ads
Walmart Black Friday 2015 Ad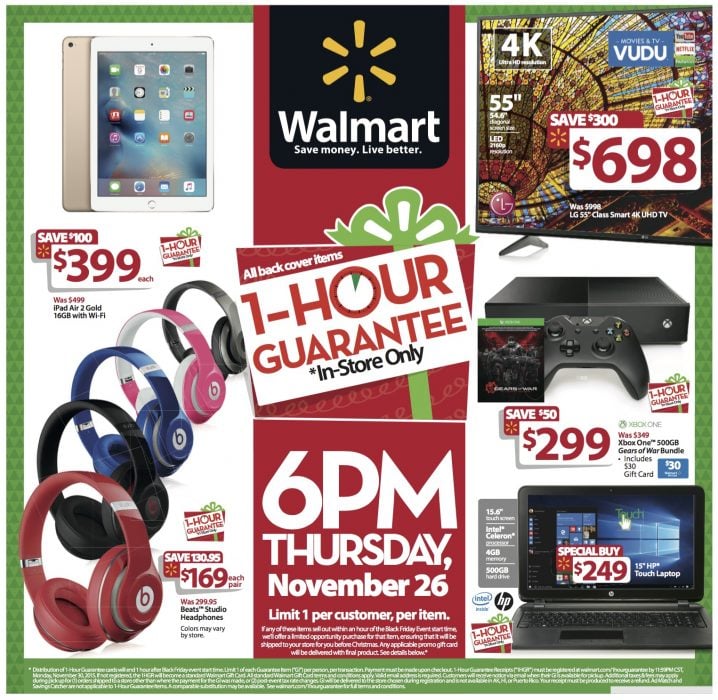 The Walmart Black Friday 2015 hours start online at 12:01 AM Pacific on Thanksgiving Day and in store at 6 PM local time on Thanksgiving. Make sure you check out the online Walmart Black Friday 2015 deals.
Today we are able to see the Walmart Black Friday 2015 ad, and it is available on the iPhone or Android before the general web. The ad includes over 300 Black Friday 2015 deals across a variety of categories.
Read: Are 1 Hour Guarantee Black Friday 2015 Deals Worth Buying?
Walmart confirmed the return of the 1 Hour Guarantee that promises availability of five big deals in the Walmart Black Friday 2015 ad. If Walmart runs out, shoppers who are in line at the right time will get an option to buy these items for delivery by Christmas. These deals include;

iPad Air 2 Gold 16GB Wi-Fi for $399 ($100 savings)
Beats Studio Headphones for $169 ($130.95 savings)
LG 55" Class Smart 4K UHD TV for $698 ($300 savings)
Xbox One 500GB Gears of War Bundle with a $30 Walmart Gift Card for $299 ($50 savings)
15" HP Touch Laptop for $249 (special buy)

Check out more about the Walmart Black Friday 2015 ad to see the deals.

As an Amazon Associate I earn from qualifying purchases.