Intuit TuboTax: 5 Apps You Need for 2016 Taxes
Intuit is perhaps the biggest name in tax software, with TurboTax and if you plan to do your own 2016 taxes, which many of us still think of as 2017 taxes, these are the apps you need to have on hand as you get to work. The TurboTax tax software is just the start as you can use other TurboTax apps to track and manage your return.
It's not hard to do your own taxes with Intuit tax software and other tax apps that allow you to answer simple questions on your iPhone or Android and even scan your tax documents in for faster input.
We're starting to see Intuit commercials for TurboTax with DJ Khaled, David Ortiz and Humpty Dumpty. This is only the start of the tax software commercials that we will see as interest in filing 2016 taxes picks up through February.
https://www.youtube.com/watch?v=GxaVu0ob_C8
The big thing that Intuit Tax software is trying to communicate with this ad and with Others including the, "Can I deduct this?", ads is that the software can walk users through much of the process and helpfully explain why something is the way it is on your taxes.
As January draws to a close you should start to receive your W-2, 10-99 and other tax documents that you need to file your own taxes using Intuit Turbotax software. The company now offers an Absolute Zero option that lets users file for free with Federal and State taxes if they file a 1040A/1040EZ and meet a few other simple requirements.
With TurboTax tax software on your iPhone or Android you can simplify doing your own taxes by streamlining much of the process. There are many other apps and pieces of tax software that you can use in 2017. Use this guide to compare the best tax prep software.
Here is a closer look at the five pieces of tax software you need on your iPhone or Android from Intuit, including TurboTax apps, to do your 2016 taxes in early 2017.
TurboTax 2017 Tax Software
The free TurboTax 2017 app on your iPhone or Android allows you to scan your W-2 with the camera and auto-fill in much of the information you need to enter to do your own 2016 taxes.
https://www.youtube.com/watch?v=wgh6K1TXw28
Some of the important TurboTax Tax Preparation software features include, The features vary slightly from iPhone to Android.
New: Touch ID and pin. Get secure access to your tax return on any device – seamlessly switch between your phone, tablet and computer and pick up right where you left off
New: Live on-screen video help with SmartLook™. Speak with an agent and get a second pair of expert eyes on your tax return.
New: Understand the "whys" behind your tax refund, in a tap with ExplainWhy™.
W-2 import – just snap a photo of your W-2 and we'll automatically fill in the right tax forms
Coverage for any tax situation with our full product lineup: Federal Free Edition, Deluxe, Premier, and Home & Business
Step-by-step guidance – answer simple questions and we'll double check as you go to help make sure there are no mistakes
Searches 350+ tax deductions and credits to maximize your refund (available in Deluxe, Premier and Home & Business)
Fastest tax refund possible with efile and direct deposit
Start for free-pay only when you file your tax return* or pay for TurboTax using your federal tax refund (online offer only, fees apply)
You can use the app for free and you may qualify to file your 2016 taxes free using the Absolute Zero option, or you may ned to buy some of the add-ons to fit your needs. Download TurboTax 2017 for iPhone or on Android where it is the TurboTax Tax Return App.
Intuit TaxCaster
With the Intuit TaxCaster tax software you can find out approximately how much you will get back in 2016 taxes by answering a few simple questions about your income and your situation. The software can also help recommend the best tax preparation software to use.
This is no longer an app that you can download, but you can use the online version to figure out how much you'll owe in taxes for 2016.
Try TaxCaster online for free at Intuit.
Intuit MyTaxRefund
After you file your 2016 taxes you can use the free MyTaxRefund app from Intuit to track the status of your 2016 tax refund to see when you will get it. To use the app you must e-file your taxes, and then you can use it to get the estimate of your federal tax refund delivery date.
You don't need to be a TurboTax customer to use the MyTaxRefund app on iPhone or Android.
Intuit ItsDeductible
The free Intuit ItsDeductible app is something you should be using throughout the year, but you can use it to quickly round-up your deductible donations in an easy to access format that you can then import to TurboTax.
While using Intuit ItsDeductible you can help figure out the right amount to put for donated items and time so that you have less risk of an audit. There is also an Apple Watch app.
Users can download the Intuit ItsDeductible app for iPhone now to collect last year's donations and to prepare for 2017 taxes. There is no Intuit ItsDeductible Android app at this time.
Intuit Mint
https://www.youtube.com/watch?v=bHg-xcsvq3Y
Mint is not tax preparation software from Intuit, but it is a very useful tool for budgeting and tracking where you spend money. If you need to track expenses to itemize your taxes it can be a useful tool.
This is an option you may need to start using now for your 2017 taxes. Small business owners may be better off using a tool like QuickBooks to track this information, but for the average user with a W-2 Mint is a useful tool. Download Mint for iPhone or Android.
The Best Budget Apps for 2020
Mint Budgeting App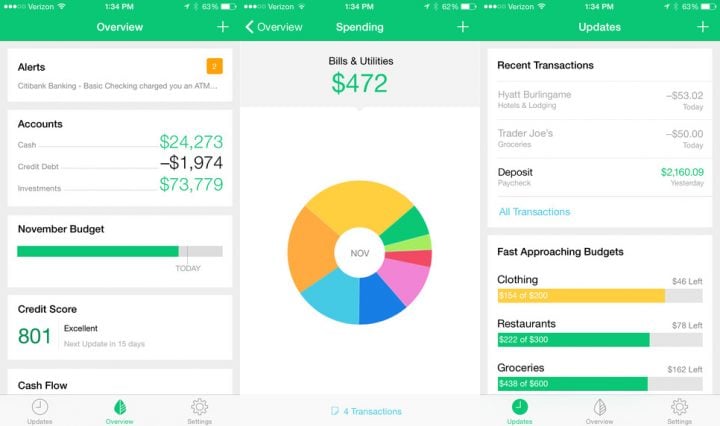 Mint is one of the best budget apps because it takes the hassle out of making a budget. You connect the Mint app to your bank and the app can use your details to help create a personalized budget. We love this budget app because it can help you quickly identify where you are spending your money, so you can see where to trim your current expenses as you make a budget.
It's a very easy app to get started with, so you can take the hassles out of starting a budget for 2020.
The Mint app uses the same security as banks and the team behind this service also makes TurboTax and Quicken, so you can trust that they take all possible steps to secure your accounts and your data.
Mint will send you alerts to unusual charges and helps identify tips customized to your spending that can help you reduce the money you spend on fees and on other bills. Mint also includes your credit score, so you can see a big-picture view of your budget and your personal finances. The base subscription is free, but there is an optional in-app purchase of Mint Live for $24.99.
With the Mint apps for iPhone, iPad and Android you can see your budget anywhere and there is also an online component to look at from your computer and a bill pay component to help you manage and pay your bills in one place.

As an Amazon Associate I earn from qualifying purchases.