iOS 8.4.1 on iPhone 6 Plus: Impressions & Performance
The iOS 8.4.1 update arrived yesterday with a ton of security updates and a focused set of fixes for Apple Music. This is likely the last update until the iOS 9 release that should arrive in September. After using the iOS 8.4.1 update on the iPhone 6 Plus for just under a day, here are our first impressions of overall performance, Apple Music and what you need to know.
This is a small update compared to iOS 8.4 that Apple released in late June, but it fixes some of the problems with Apple Music on the iPhone and iPad. While iOS 8.4 delivered lots of fixes across the system and updates to apps, this is a highly focused release.
While there are some reasons to skip iOS 8.4.1, most users will find a reason to install this latest iOS 8 update on the iPhone 6 Plus and on other devices. After extended use we will share a full iOS 8.4.1 review on the iPhone 6 Plus that will help you decide if it is worth installing on your device. Here are my early impressions.
iOS 8.4.1 Installation
On several devices the iOS 8.4.1 installation went smoothly and just like you would expect. You can use this guide to install iOS 8.4.1. For most users this will take less than 15 minutes to download the update and complete the installation.
For my iPhone 6 Plus the installation took about 30 minutes because I downgraded from the iOS 9 beta to iOS 8.4.1. This left me with a fresh install of iOS 8.4.1 on the iPhone 6 Plus and due to the larger download size the process took longer.
iOS 8.4.1 on iPhone 6 Plus Performance
This small iOS 8.4.1 update delivers over 40 security fixes and six specific fixes for Apple Music problems and bugs. A small update like this normally does not bring about changes that impact performance to great levels, but there is always a chance that a small update can wreak havoc. Fortunately this is not the case on our iPhone 6 Plus.
Here is an early look at the overall performance of iOS 8.4.1 on the iPhone 6 Plus and the changes to Apple Music.
iOS 8.4.1 Apps
After installing iOS 8.4.1 through a downgrade from iOS 9 I had to re-install some of my apps due to a backup issue, but for users with a normal upgrade path there is no need to re-install any apps.
Social media and entertainment apps like Facebook, Twitter, Netflix and HBO Go work great on iOS 8.4.1 on the iPhone 6 Plus, as do a variety of other apps like Gmail, Slack and MyFitnessPal.
The new Apple Music works well, and the fixes are actually fixed. It is possible to add songs to a playlist when you don't have one created, loving a song on Beats Radio works and iCloud Library turned on successfully the first time. The Apple Music experience is still lacking in some areas, but these bug fixes do help round out some problems.
iOS 8.4.1 Battery Life
The iPhone 6 Plus iOS 8.4.1 battery life is solid. Unlike the iPhone 6 that I sometimes need to charge up in the afternoon, the iPhone 6 Plus lasts all day on iOS 8.4. With iOS 8.4.1 installed the battery life is not dropping any faster than normal and it lasted the rest of the day after the installation without any problems and is doing great this morning.
iOS 8.4.1 Connectivity
After installing iOS 8.4.1 on the iPhone 6 Plus I tested connectivity, since we've seen a small update kill connectivity in the past. Good news. The iOS 8.4.1 update works as advertised with no changes to LTE, WiFi or Bluetooth.
iOS 8.4.1 Bugs
So far there are no noteworthy iOS 8.4.1 bugs and issues to share. This is relatively rare, even for a small and focused update like this one. I will continue to monitor the update for performance and hiccups, but at this time the iOS 8.4.1 update runs well on the iPhone 6 Plus.
iOS 8.4.1 Speed
The iOS 8.4.1 update is fast on the iPhone 6 Plus, which is what we expect from Apple on a device that is less than a year old. The last several iOS updates from Apple focused on delivering speed and performance that suffered on some devices during the late part of last year and early part of 2015.
Should You Install the iPhone 6 Plus iOS 8.4.1 Update?
Apple Music users should install the iOS 8.4.1 update today. These fixes are small, but they help with the basics of the service and will deliver a better experience. If you are concerned about security this update includes a lot of fixes and that may be another reason to upgrade.
For anyone with a jailbreak or who wants to use jailbreak tweaks and iOS 8 themes, this is an update to skip. Several of the iOS 8.4.1 security fixes focus on jailbreak exploits and it is very unlikely that we will see an iOS 8.4.1 jailbreak this close to a iOS 9 release and for such a small update. It is possible to downgrade from iOS 8.4.1 to iOS 8.4 for a limited time.
A full iPhone 6 Plus iOS 8.4.1 review will share more details on these topics next week.
What's New in iOS 8.4
Apple Music Streaming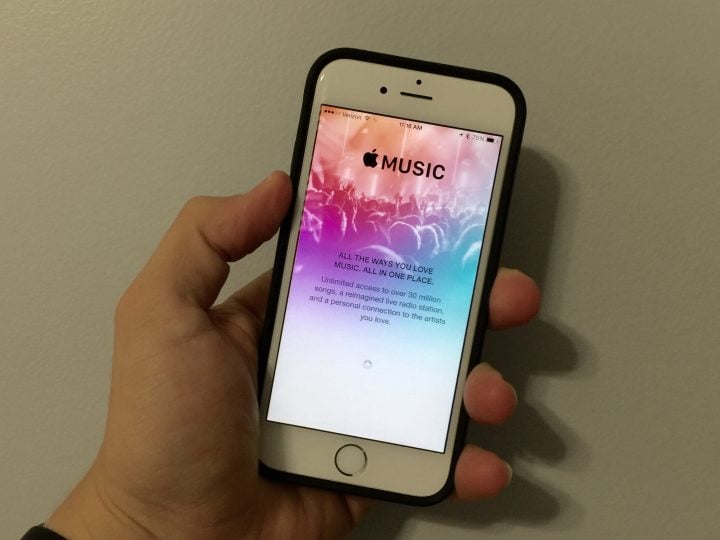 The new Apple Music app includes the new Apple Music streaming service designed to take on Spotify, Pandora and other services. The iOS 8.4 update enables this new app and includes a free three-month trial of the Apple Music service.
With Apple Music you can pay $9.99 a month for an individual or $14.99 a month for a family of up to six members and enjoy full albums on demand and save music for offline playback.
Apple Music uses your musical tastes to pick new music that you might enjoy listening to in a new For You section of the music app that will help you find new music to listen to. The video above shows how this works.
This new app replaces the Music app from iOS 8 and earlier. Apple is not adding another app you cannot install from the iPhone or iPad, just updating one that is already on your device.