iOS 8.4 iPhone 4s Reviews: Should You Install iOS 8.4?
The iOS 8.4 release is finally here with Apple Music and a collection of bug fixes leaving iPhone 4s owners asking, "Should I install iOS 8.4 on the iPhone 4s?" Apple Music is the biggest selling point for the update, and iPhone 4s owners are curious if the iOS 8.4 performance and battery life are good enough to justify the new feature.
After collecting early iOS 8.4 reviews from regular users and discovering a great comparison of iOS 8.4 vs iOS 8.3 performance on the iPhone 4s we can help you make the decision to upgrade to iOS 8.4 or to wait on your current version.
The iPhone 4s is the oldest iPhone getting the iOS 8.4 update, so users are rightfully concerned. So far the early reviews from users are positive, and this information should help you decide if it is worth installing.
Apple's major focus with iOS 8.4 is adding Apple Music to the iPhone. There is no long list of fixes and features like we saw with iOS 8.3 earlier this year. That's OK, considering the overall stability of iOS 8.3 and the plethora of fixes and new features that Apple added.
You can see what's new in iOS 8.4 for a closer look at the changes. The iPhone 4s also gets an iOS 9 update later this year, which may be the last major update for the aging phone.
iOS 8.4 Installation
The iOS 8.4 installation went smooth for most iPhone and iPad owners. We looked on Twitter and the Apple Support Forums and did not discover any major complaints from users who could not install the update.
iOS 8.4 is requiring for 158 MB of the storage space for iPhone 4S #Apple #iOS84

— Güven Abi ᵇʲᵏ (@ZenciiPsikiyatr) June 30, 2015
You can increase your chances for a smooth upgrade by taking steps before the update and using our iOS 8.4 update instructions.
iOS 8.4 iPhone 4s Performance
The performance of an iPhone can vary from one device to the next, even across the same model depending on the apps, use and other factors. Keep in mind that user reviews of iOS 8.4 may vary and may not be exactly the same on your device.
iOS 8.4 iPhone 4s Speed
The seven-minute video below shows off the performance of the iOS 8.4 update on the iPhone 4s compared to the iOS 8.3 update on the iPhone 4s. This offers a great example of how the speed is inside popular apps and for common activities.
User reviews of iOS 8.4 on the iPhone 4s are also positive, with multiple reports of good experiences on the update.
https://twitter.com/shadowbottle/status/616095399795789824
https://twitter.com/TomOdell/status/615896790047404034
On Reddit, bongoshafstburry shares a negative experience, writing, "crashing a bunch since i upgraded a few hours ago."
Apps
There are limited reports of apps on iOS 8.4 for the iPhone 4s, but we learn about some important feedback from users on Reddit who are helping an iPhone 4s owner on iOS 7.1.2 decide if he should upgrade. Reddit user Flafla2 writes about the Apple Music app on the iPhone 4s;
"It runs fine on my 4s. My only complaint is that the new music app is designed for larger screens and can feel cramped. Also some animations are slow in Music.

But as for the main OS you shouldn't have any problems. If iOS ran too slowly Apple wouldn't support it on the 4s."
We expect to see more detailed reports of app performance in the coming weeks, but as this is not a major upgrade like iOS 9, don't expect many app related issues.
iOS 8.4 Battery Life
There is an uptick in iOS 8.4 battery life complaints on many devices. Users we found complaining did not specifically mention the iPhone 4s, but it is a potential issue that you might face. Many users pinpoint the Apple Music app as a culprit. Streaming music on cellular or WiFi will use up battery life more than playing a local file, so this may simply be the root of the issue.
You can use these tips to fix bad iOS 8.4 battery life on your iPhone 4s.
WiFi, Bluetooth and Cellular
Although not widespread we are hearing about some iOS 8.4 WiFi problems with the iPhone 4S. On the Apple Support Forums Robert Developer writes,
"I had problems on iOS 8.3 where Wi-Fi worked at the beginning, but then stopped. Sometimes iPhone 4S attempted to connect, I saw wifi icon and then it disappeared. I tried Reset Network Settings, I managed to setup Wi-Fi connection again, but it worked for a few minutes and then again the same issue.

I was hoping that the issue will be fixed on 8.4, but now it's worse. After resetting network settings I cannot even join wifi network. After entering password, it says "Unable to Join the network. I have correct password, because I'm using it for other devices.

I tried to restore iphone through iTunes, but I cannot do that, because I'm getting error message "Find My iPhone" must be turned off. The problem is that I cannot turn Find My iPhone off in iCloud settings on the device, because Wi-Fi is not working. Now I cannot restore iPhone and I cannot setup Wi-Fi."
We did not discover complaints about iOS 8.4 cellular and Bluetooth connections on the iPhone 4s.
iOS 8.4 Bugs and Problems
There are some iOS 8.4 problems, but we aren't seeing a huge number of iPhone 4s specific problems at this point.
Anybody having issues with delayed text messages in iOS 8.4?

— Michael Kukielka (@DetroitBORG) July 1, 2015
Some users are seeing delayed text messages on iOS 8.4, and there are some small Apple Music bugs, but overall it looks like Apple continues the experience from iOS 8.3.
Should You Install iOS 8.4 on the iPhone 4s?
If you want to use Apple Music, the iOS 8.4 update looks like a good one for iPhone 4s owners. There are no major problems that users call to our attention.
For anyone already on iOS 8, there is an option to downgrade to iOS 8.3 for the next week or two, which makes this a risk free upgrade.
Unlike many earlier iOS 8 releases, there is also an iOS 8.4 jailbreak available that allows users to install tweaks and iOS 8 themes on the iPhone 4s.
Deciding to upgrade the iPhone 4s from iOS 7.1.2 to iOS 8.4 is a bigger step because you cannot go back. The video above shows the iOS 8.4 beta compared to iOS 7.1.2, which will help you decide.
Here's a look at what's new in iOS 8.4 in the slides below.
What's New in iOS 8.4
Apple Music Streaming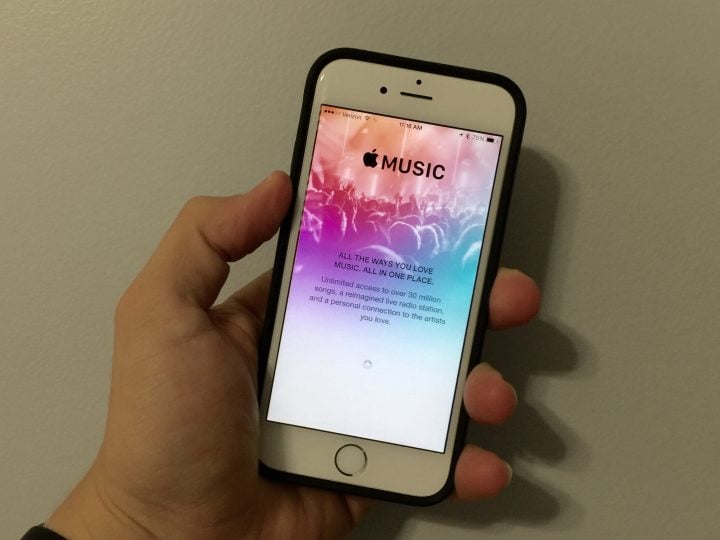 The new Apple Music app includes the new Apple Music streaming service designed to take on Spotify, Pandora and other services. The iOS 8.4 update enables this new app and includes a free three-month trial of the Apple Music service.
With Apple Music you can pay $9.99 a month for an individual or $14.99 a month for a family of up to six members and enjoy full albums on demand and save music for offline playback.
Apple Music uses your musical tastes to pick new music that you might enjoy listening to in a new For You section of the music app that will help you find new music to listen to. The video above shows how this works.
This new app replaces the Music app from iOS 8 and earlier. Apple is not adding another app you cannot install from the iPhone or iPad, just updating one that is already on your device.