iOS 8.4 on iPhone 6 Plus: Impressions & Performance
The iOS 8.4 release brings new features and bug fixes to the iPhone 6 Plus. The new Apple Music app and streaming service is the biggest addition to the large iPhone, but there are other changes that users should know about. After using iOS 8.4 on the iPhone 6 Plus for the morning, here is an early look at the performance and features.
Apple Music is a huge part of this update, and it is the biggest reason to upgrade to iOS 8.4. This will likely be the last big update before iOS 9 that arrives this fall with a plethora of features packed in.
The iOS 8.4 update is free and it includes a free three-month trial of Apple Music for all users. You don't need to use the trial, but it is a handy option to have.
After upgrading to iOS 8.4 on the iPhone 6 Plus, here is a look at the information you need to know before you install, or if you are dealing with any issues.
If you are on the fence we outline 7 reasons to upgrade to iOS 8.4 and five reasons you should wait, which can also help you choose if you should upgrade to iOS 8.4 today.
iOS 8.4 Installation
I was not able to go with a traditional iOS 8.4 installation on my iPhone 6 Plus as it was already on iOS 9 Beta 2. Instead I downgraded from iOS 9 to iOS 8.4 easily and installed iOS 8.4 with iTunes.
The process was smooth and it did not take much time at all to complete. After this alternative installation the iPhone 6 Plus was up and running iOS 8.4 in about 20 minutes including the download.
iOS 8.4 on iPhone 6 Plus Performance
On a new iPhone the performance should stay fairly solid during the first year, even with upgrades like iOS 8.4. There is a chance that performance will vary from device to device, so keep that in mind before you upgrade, especially if you use any special apps or services that are old and no longer updated regularly.
Apps
After spending the morning testing many of the best iPhone 6 Plus apps, there are not any that failed to work for me. Apple changed the location of audiobooks to iBooks, but I use the Audible app so this is not a major change for me.
The Apple Music app crashed once and the Beats 1 stream died one time, but overall things are working well in the app department.
iOS 8.4 Battery Life
The iOS 8.4 battery life is good on the iPhone 6 Plus, even with a good amount of Apple Music use and restoring form an iCloud backup. If you have any problems, use our guide to fix bad iOS 8.4 battery life to solve these issues. Keep in mind that streaming music uses more power than playing locally.
WiFi, Cellular Data & Bluetooth
The iPhone 6 Plus connects to WiFi, Bluetooth and LTE fine on iOS 8.4, though I am experiencing an odd behavior when the iPhone is connected to the car.
On iOS 8.4 the iPhone 6 Plus hotspot works and the speeds are great. I can connect to WiFi at home and to another personal hotspot without problems and the connection does not falter after time.
Bluetooth connectivity is good for headphones and speakers. When connected to my car, Siri tries to sometimes go over a dock connector, which does not work in my Ford Fusion with MyFord Touch.
Bugs & Issues
The only iOS 8.4 bugs so far in my use are limited to Siri trying to use the Dock Connector instead of Bluetooth, the Apple Music crash and streaming issues. These are minor problems that don't greatly impact my use, but I am looking for a solution Siri problems in my car.
Speed
The iOS 8.4 iPhone 6 Plus performance is solid. The update runs smoothly on this iPhone even without a fresh installation and there is no slowdown when switching apps, opening a new app and using even taxing apps like games on the iPhone 6 Plus.
Should You Install iOS 8.4?
Most iPhone 6 Plus owners can safely install iOS 8.4 right now and start enjoying Apple Music and other features. There are no show stopping problems at this point.
There is also an option to downgrade from iOS 8.4 to iOS 8.3 for a limited time if you do run into a problem. Users can also jailbreak iOS 8.4, which means access to themes and tweaks.
If you use your iPhone 6 Plus for work it is a good idea to wait until you have time to investigate specific use cases. We'll be back with a full iOS 8.4 review on the iPhone 6 Plus soon.
What's New in iOS 8.4
Apple Music Streaming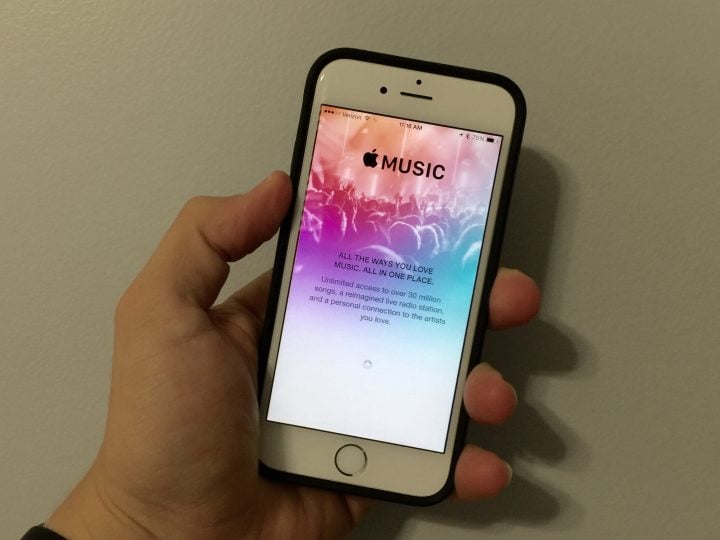 The new Apple Music app includes the new Apple Music streaming service designed to take on Spotify, Pandora and other services. The iOS 8.4 update enables this new app and includes a free three-month trial of the Apple Music service.
With Apple Music you can pay $9.99 a month for an individual or $14.99 a month for a family of up to six members and enjoy full albums on demand and save music for offline playback.
Apple Music uses your musical tastes to pick new music that you might enjoy listening to in a new For You section of the music app that will help you find new music to listen to. The video above shows how this works.
This new app replaces the Music app from iOS 8 and earlier. Apple is not adding another app you cannot install from the iPhone or iPad, just updating one that is already on your device.

As an Amazon Associate I earn from qualifying purchases.