Earlier this week, after a lengthy stint in beta, Apple released its iOS 8.4 update for iPhone, iPad and iPod touch. We've spent some quality time with the iPhone 5 iOS 8.4 update and today we want to take a look at how the update is holding up on the aging flagship. This is our iPhone 5 iOS 8.4 review.
Apple confirmed an iPhone 5 iOS 8.4 update all the way back in April. In the weeks that followed, developers and public beta testers with the iPhone 5 used the update in an effort to improve the software ahead of a public release date. That release date landed on Tuesday.
On Tuesday, Apple released the iOS 8.4 update and its new Apple Music platform to iPhone, iPad and iPod touch users around the globe. The update is substantial and it's probably the last big iOS 8 update before Apple releases its brand new iOS 9 update this fall.
iOS updates like iOS 8.4 have the potential to fix problems and improve performance but as many of you know, they also have the potential to wreck havoc on devices like the iPhone 5. And that's why I dig into these updates in the days, weeks and sometimes even months after their release.
iPhone 5 iOS 8.4 Review
On Tuesday, I relayed my initial impressions on the iOS 8.4 iPhone 5 update. Today, after almost a week with the update, I want to offer a definitive opinion on whether or not the update is worth installing on the iPhone 5 right now. I've been getting a ton of questions and I want to answer as many as I can today in this review.
Apps
After replacing the iPhone 5 with an iPhone 6, I've trimmed down the amount of apps I have on my iPhone 5. What was once 100+ applications is now down to about 50 or so.
I've been using them all over the past five days and the only problems I've seen are a few Twitter/Google Chrome/Facebook crashes. This isn't unusual.
None of my core applications (which include Asana, Slack, YouTube, Twitter, Instagram, Gmail, Hangouts, Dark Sky, Amazon, SoundCloud, Spotify, and Xbox One Smartglass) on the iPhone 5 have presented any major problems in the days since the iOS 8.4 release. None of the my secondary applications have presented problems either. At least not yet.
This is pretty much what I expected from the iOS 8.4 update. This is an update that went through an extensive beta process that included a public beta and it's one that comes on the heels of iOS 8.3, an update that I found to be Apple's most stable iOS 8 release.
App problems can surface at anytime so if you're worried about encountering issues, my advice is to keep your apps update to update assuming the latest reviews are good and reinstall problematic applications. You can also report bugs to the developer. While it might seem like your pleas go ignored, many developers incorporate user feedback into their upcoming updates.
iPhone 5 iOS 8.4 Battery
Over the past five days, I've heard from several iPhone 5 users who say that they're dealing with severe iOS 8.4 battery drain on their device. Many other iOS 8.4 users echo those sentiments though I'm still confident that these problems are products of rogue apps or user habits (you can't continuously stream Apple Music over LTE and expect the world) , not iOS 8.4 itself.
I've been using the iPhone 5 extensively over Wi-Fi and LTE for the past five days and I haven't noticed anything unusual. I'm still getting fantastic battery life and it's that battery life that's compelled me to hold onto the iPhone 5 for this long. I've owned the device since the day it came out in 2012.
If you're seeing bad iOS 8.4 battery life or if you're scared you might encounter problems after installing iOS 8.4, I advise you to take a look at the fixes and tips I put forth earlier this week. These have worked for me on other devices in the past (I've never had issues with the iPhone 5) and they might work for you.
Also, it's important not to forget that iOS 9 will be bringing tangible battery life enhancements and features along with it. So if you're nervous about iOS 8.4 and you're getting solid performance on iOS 8.3 or below, you have the option to skip to iOS 9 in the fall.
Connectivity
Some iPhone 5 users are dealing with Wi-Fi, Bluetooth and cellular data problems after making the move to iOS 8.4. Like the battery life issues, it appears that these problems are isolated rather than widespread. Like many others, I'm not experiencing any problems with my connections.
I've been testing iOS 8.4 and the iPhone 5 on a few different routers including routers from Belkin and my go-to Archer C9. I've had nothing but success and my upload and download speeds are still very solid.
Same goes for AT&T's LTE network and my Bluetooth connections. I've been able to pair the iPhone 5 with various Bluetooth devices including my Bose SoundLink Mini speaker.
Connectivity problems can pop up at anytime so I recommend committing some of these potential fixes to memory right now, especially if you haven't updated to iOS 8.4 yet. They will work for some of you.
iOS 8.4 Problems
Some iPhone users are dealing with iOS 8.4 problems. There's no denying this. That said, it looks like most if not all of these problems are isolated rather than widespread. I haven't seen any hero level bugs on my iPhone 5 and I haven't seen any big iPhone 5 problems strike other users.
I've been digging for smaller issues, they're a lot harder to spot, but I've come up empty. That doesn't mean that there aren't any bugs in iOS 8.4 it just means that I haven't run into them during my day-to-day use. Often times, bugs will pop up when you least expect it. Like, weeks after an iOS updates release. So even if you're not experiencing anything (like me), you're going to still want to keep an eye out.
iOS 8.4 is extremely stable on my iPhone 5 and that doesn't surprise me at all. iOS 8.4 was poked and prodded for two months and it arrives on the heels of iOS 8.3, an update that delivered a laundry list of bug fixes that wiped out most of the iOS 8 problems I had been dealing with on iPhone 5 and iPhone 6.
Speed
This is an area where iOS 8 has given me a ton of trouble. Everything was perfect leading up to the iOS 8.1 update and after installing it on the iPhone 5, things started to unravel.
Animations and transitions became slow. Opening up folders and apps became a hassle. And I noticed horrible lag and slowdown when traversing the home screen and using certain applications. It was bad. Over time, the UI has improved though it's still not where it once was.
iOS 8.4 is mostly good though I still run into the occasional stutter and certain folders and applications still take awhile to load. I've also had one random reboot this week though it appears to be an anomaly. It's not perfect but it's usable.
My hope is that the iPhone 5 truly benefits from the improvements that Apple is making in iOS 9. It really sounds like Apple's focused on enhancing performance on older devices.
So again, if you're enjoying solid performance on iOS 8.3 or below and you're not interested in Apple Music, the changes to iBooks or the security features and fixes found on iOS 8.4. you can stay put and wait for iOS 9 if you want.
Should You Install the iPhone 5 iOS 8.4 Update?
This is tough. Tough because iOS 8.4 is only mostly good on my iPhone 5. Tough because the iPhone 5 is old and iOS updates not called iOS 9 have a tendency to cause problems on older devices. What I'll say is this.
If you are having issues on iOS 8.3 or below that you can't fix yourself, give iOS 8.4 a try. iOS updates have been known to fix problems not listed on the change log and there's a chance you'll get lucky. It's a roll of the dice but if you're frustrated, you're probably willing to take some risks.
If you want to try Apple Music, like having the latest security updates, and are a huge iBooks user, iOS 8.4 might also be worth an install now or in the near future. There's a chance you'll see some problems but there's also a good chance that your performance will remain intact.
If you're on iOS 8.3 and below, you're having an excellent experience and you don't really care about any of those things, then you can wait. iOS 8.4 and Apple Music aren't going anywhere and you can kick back and gather feedback over the next few days/weeks before deciding.
How's the update treating you?
What's New in iOS 8.4
Apple Music Streaming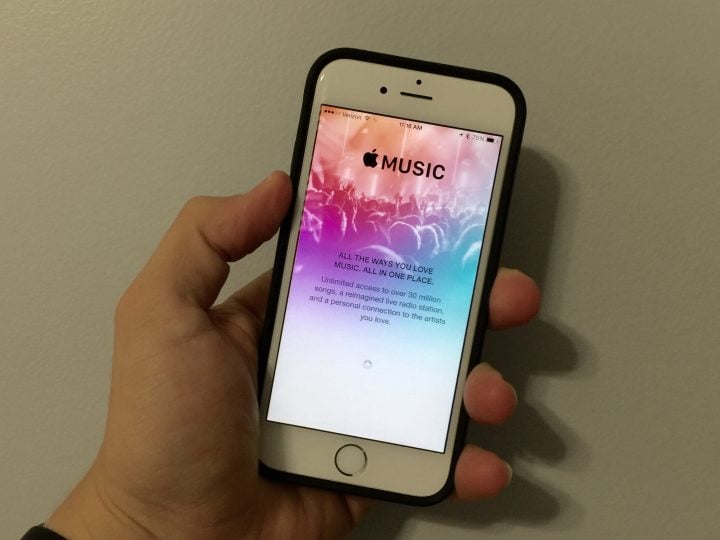 The new Apple Music app includes the new Apple Music streaming service designed to take on Spotify, Pandora and other services. The iOS 8.4 update enables this new app and includes a free three-month trial of the Apple Music service.
With Apple Music you can pay $9.99 a month for an individual or $14.99 a month for a family of up to six members and enjoy full albums on demand and save music for offline playback.
Apple Music uses your musical tastes to pick new music that you might enjoy listening to in a new For You section of the music app that will help you find new music to listen to. The video above shows how this works.
This new app replaces the Music app from iOS 8 and earlier. Apple is not adding another app you cannot install from the iPhone or iPad, just updating one that is already on your device.