iPhone 6 Design Sample Arrives Early, With Oddities
New photos show an iPhone 6 engineering sample used by case makers to test the fit and finish of cases next to an iPhone 5s, offering a size comparison of the iPhone 5s vs iPhone 6, but there are some oddities that suggest these may not be the final design.
Much like the iPhone 5 engineering sample we shared in 2012, which delivered a first look at the size and design of the iPhone 5 with a larger 4-inch display a new set of photos from a Japanese case maker illustrate the potential size and design of the iPhone 6 next to an iPhone 5s and iPhone 5. 
Read: iPhone 6 Rumor Roundup March
The iPhone 6 is a new iPhone for 2014 that many rumors suggest will feature a larger screen and come in two sizes with a 4.7-inch and a 5.5-inch device. Rumors suggest the iPhone 6 release is scheduled for fall 2014 and will bring a new screen cover that is harder to scratch and an improved camera experience.
A 9to5Mac reader shares what the case maker calls iPhone 6 "prototype pictures" of at least one size of a larger iPhone. We typically see case makers share information like this as new device launches approach, but this is very early, even for smaller case makers that can sometimes use the wrong information to make cases that are laughably big for the actual device.
One of the first odd things about these iPhone 6 design photos is the inclusion of a circular flash on the back. After using this as a selling point for the iPhone 5s, it would be odd to see a dual-LED flash disappear on an iPhone 6. There are specific measurements from Apple regarding the space to leave open around the camera and flash to prevent a case from getting in the way of either, which even a small third-party manufacturer should be paying attention to.
The timing is also suspect given the likelihood of a fall iPhone 6 release date. After the iPad mIni release Marware shared the role that rumors and leaks play in the development of cases. Ronald Khadaran Director of Marketing at Marware told Gotta Be Mobile, "Usually at least a couple months before a rumored launch, there's a certain point where you start to get a pretty good idea of the basic rumored elements." Once the designers have a good idea about the actual look of a device, they can start working on concepts, and engineering samples may be ordered to test the fit and design of new cases. The key is that this happens in the last months leading up to a release, not half a year ahead of time.
The Bling My Thing case company shares these two photos as well as a rundown of specs that appear to be pulled from various iPhone 6 rumors.
Two sizes – 4.7 inches and 5.5 inches
Screens made entirely out of sapphire crystal

Pixel density of 441 pixels per inch, from the current 326 ppi display

There will be optical image stabilisation for the 8 megapixel camera
f/1.8 aperture lens – an improvement over the iPhone 5s' current f/2.2 lens
New 802.11ac Wi-Fi standard
Pressure, temperature and humidity sensors
Possibly a solar power charger built into the screen
Some of the rumors, like a solar charging display panel are already debunked. It would also be odd to see a case making company know all of these details about screen resolution, camera features and sensors this far in advance.
While these photos show what an iPhone 6 might look like next to an iPhone 5s or iPhone 5, and offer a nice comparison of a 4-inch iPhone and a 5.5-inch iPhone, there is only a small chance that these photos show the final iPhone 6 design. We share them to illustrate the size difference of an iPhone 5s and an iPhone 6, similar to the iPhone 6 concepts we regularly share.
10 Amazing iPhone 6 Concepts (Videos)
iPhone 6 Concept Shows Small, Medium and Large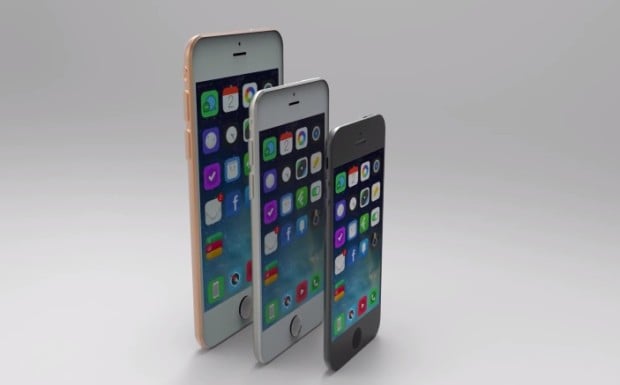 iPhone 6 rumors point to a larger display and this iPhone 6 concept is one of the first to show us what the iPhone 6 might look like with three sizes. If Apple introduces two new iPhone 6 models, it is likely that one smaller iPhone 5s type device will remain at a cheaper price.
This iPhone 6 concept from ConceptsiPhone on YouTube shows us what two larger iPhone 6 models could look like next to a mini model that offers a 3.5-inch display. We typically see Samsung and HTC offer three sizes with different versions of a similar phone, so it would not be out of the question. Still, it is more likely that Apple would stick with a 4-inch display on the smallest iPhone they sell in 2014.
Check out more about this iPhone 6 concept.

As an Amazon Associate I earn from qualifying purchases.