iPhone 6, iOS 8 Rumored as Part of Best Apple Products in 25 Years
Apple is ready to announce the best products in 25 years, that is since the first Macintosh Portable, according to a new interview with Apple SVP Eddy Cue, who boasted that Steve Jobs would be, "extremely proud," of the new products the company is building.
During a recent interview Cue did not specify what products he is talking about, but rumors suggest Apple is planning a blockbuster year with two new iPhone 6 models, iOS 8, a MacBook Air Retina, a new Apple TV and a cheaper iMac — as well as an iWatch that will track health and fitness.
Although Cue teased new Apple products for 2014 he did not mention what they would be. Jimmy Iovine, co-founder of Beats claimed Apple is ready to show him the new products, shortly before Apple announced the purchase of Beats Music and Beats Electronics late yesterday.
"Later this year, we've got the best product pipeline that I've seen at Apple in my 25 years at Apple," teased Cue in an interview with Walt Mossberg and Kara Swisher during the Re/code Code Conference, going on to call the upcoming products, "great."
Saying that Apple is ready to announce the "best" products in 25 years is a very bold statement. In the last quarter of a century Apple announced the following industry changing products;
Macintosh Portable
PowerBook
iMac
iBook
iPod
iPhone
iPad
and many more.
Apple's mobile products arguably moved the entire industry forward in terms of design and usability, which led to a major spike in Apple stock when the iPhone 5 arrived in 2012. Apple's stock AAPL dropped below $400 last year but investors are excited about what Apple is ready to offer in 2014. Ahead of a 7-to-1 stock split AAPL is up to $630 today.
After leaving shoppers wanting more in the first half of 2014 there are nearly a dozen Apple products that are due for a refresh or rumored for a new introduction later this year. These are the products Cue is talking about, even if he won't name specific products.
Although we expect to see Apple expand the product lineup in 2014 to include a wearable iWatch and home automation, Cue re-iterrated the Apple mantra of focusing on a key set of products and executing on them ahead of the competition.
On June 2nd Apple will share details about iOS 8 and OS X 10.10 with the world during the WWDC 2014 keynote. This developer focused event deals mainly with software, but it may include some new Apple product in the hardware space according to rumors. This is also where Apple will likely announce a home automation initiative that will turn the iPhone into a remote control for your entire home and possibly even trigger lights or other actions when your iPhone arrives at home.
The iPhone 6 will reportedly include two larger screens, a new design and a better camera. We are also hearing that it could act as a mobile wallet to make payments in physical stores with a tap. The new Apple TV will "evolve" in 2014 to offer a new experience according to Apple and analysts predict a MacBook Air Retina as well as a cheaper iMac this year.
The iPhone connects to many fitness bands and accessories, but there is still no official Apple wearable. That could change this year with the introduction of an iWatch. Rumors suggest Apple plans to bundle sensors into this watch that can collect and store information in an iOS 8 healthbook app.
Many of these new Apple products for 2014 are expected this fall, starting in September and running through the holiday season. The slideshow below includes links to more information on each of these products.
Top 7 Apple Products for 2014: iPhone 6, iPad Air 2 & More
iPhone 6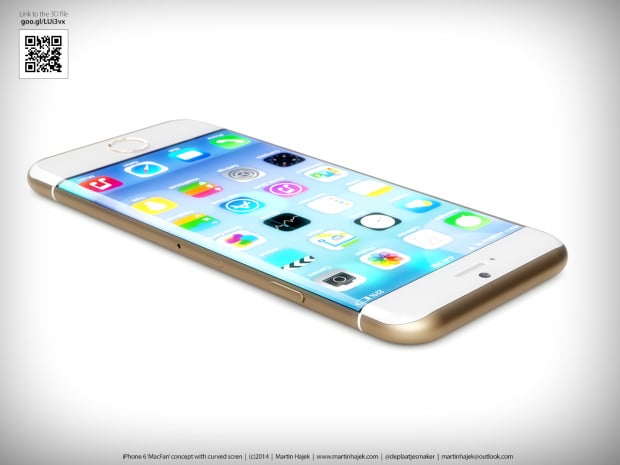 Demand for the iPhone 6 is the highest in years according to a recent survey, thanks to consumer interest in a new design and a larger screen.
iPhone 6 rumors started back in 2012, exploded in 2013 and as we move within six months of a rumored iPhone 6 release the rumors are starting to align and show a better picture of what consumers can expect from the most anticipated Apple product of 2014.

Two Models with Bigger Screens

iPhone 6 rumors, reports and analyst notes all point to an iPhone with a larger screen and many of the reports suggest Apple is planning to release two iPhone 6 models in 2014.

General consensus is Apple plans to offer an iPhone 6 with a 4.7-inch display and a higher resolution than the iPhone 5s. That is a screen size jump of .7-inch and would put the iPhone in line with top Android phones like the HTC One M8 and the Galaxy S5. Rumors do not agree on a resolution for this display, but do expect that it will be higher than the 1136 x 640 resolution on the iPhone 5s.

Another iPhone 6 model with a 5.5-inch or 5.7-inch display is also rumored for 2014, but many sources agree that it will arrive after the 4.7-inch model. This screen would be closer in size to the Galaxy Note 3 and the rumored Galaxy Note 4. This concept above from Martin Hajek includes a curved display, but don't expect that on a new device.

Possible iPhone 6 Features & Specs

Rumors suggest Apple is planning a thinner iPhone 6 that will be between 6mm and 7mm thick, a drop form 7.6mm on the iPhone 5s. We could also see more metal in the design and a power button on the right hand side with new style volume buttons on the left.

Expect an Apple A8 processor that delivers a small speed boost, but also delivers better battery life thanks to a improved efficiency. Ming-Chi Kuo believes we will see 1GB of RAM and an 8MP camera that may include some type of image stabilization.

For more check out our iPhone 6 Rumor Roundup.