iPhone 6 PowerSkin Spare Review
The PowerSkin Spare iPhone 6 battery case is an affordable option that can add more battery power to the iPhone 6 without a lot of bulk. Read our PowerSkin Spare review for the full scoop on the Spare, and to see if this budget iPhone 6 battery case is right for you.
The downside is that you don't get as much power or protection from drops as you do with a Mophie Juice Pack Plus or the OtterBox Resurgence. Both of these cases wrap the iPhone 6 up on all sides while the PowerSkin Spare covers the bottom and all the corners, leaving the edges wide open.
One upside to this design is that users can enjoy the curved edges of the iPhone 6 while using the case. It is easy to remove the iPhone 6 from the PowerSkin Spare battery case, but it doesn't feel like it will pop out when dropped.
The PowerSkin Spare includes a 2,200mAh battery wrapped in a plastic shell to match the iPhone 6 colors and it retails for $79.99 but is readily available at Amazon for $69.
[easyazon_block add_to_cart="default" align="right" asin="B00SZD2JAI" cloaking="default" layout="top" localization="default" locale="US" nofollow="default" new_window="default" tag="gbm-ea-20″]Amazon for $69[/easyazon_block]PowerSkin is able to make an iPhone 6 battery case that is shorter and thinner than the options from Mophie and OtterBox, but with a significantly smaller battery. The plastic design is OK, and it held up to several weeks of use without showing much wear. The back includes two lines to mimic the antenna breaks of the iPhone 6, but they serve no functional purpose.
Four LEDs show the amount of battery life left and a button to the left lets users control charging. Press once to turn charging on and hold for a few seconds to turn it off. The 2,200mAh battery delivers enough juice to get about 75-85% battery life from 0%.
If you start the charge when the iPhone 6 battery is at 20% and stop it at 80% you can squeeze more power out of the PowerSkin Spare battery case. It is easier for a case to charge the iPhone battery in this range.
Because there is no side of the case it is easy to use the power and volume buttons and nothing is in the way of the home button for Touch ID. At the bottom edge the case ports the speaker towards the user which gives a small boost in how loud audio sounds because it comes right at you.
There is an opening for the headphone jack, but no adapter to included to let users plug-in large headphone jacks or those with an L shaped end. The regular Apple EarPod headphones plug-in fine without an adapter, but it would be nice to see one included for users who rely on other headphones.
There is a Micro USB charging port and it supports pass through so you can sync to your computer with Micro USB and use it with an in-car entertainment system without switching to a Lightning cable. This is a nice feature that is common on many new iPhone 6 battery cases.
Overall the PowerSkin Spare iPhone 6 battery case delivers a decent amount of power at an attractive price, but there are other options that offer a bigger battery and more protection, plus a headphone extension cable — some even start at $50 like the Incipio OffGrid Express.
If you want a minimal iPhone 6 battery case the PowerSkin Spare is a good option, but make sure you compare it with the OffGrid Express and with more expensive but more protective options like the Mophie Juice Pack Plus for iPhone 6 and the OttereBox Resurgence iPhone 6 battery case.
13 Awesome iPhone 6 Cases
Apple Leather iPhone 6 Cases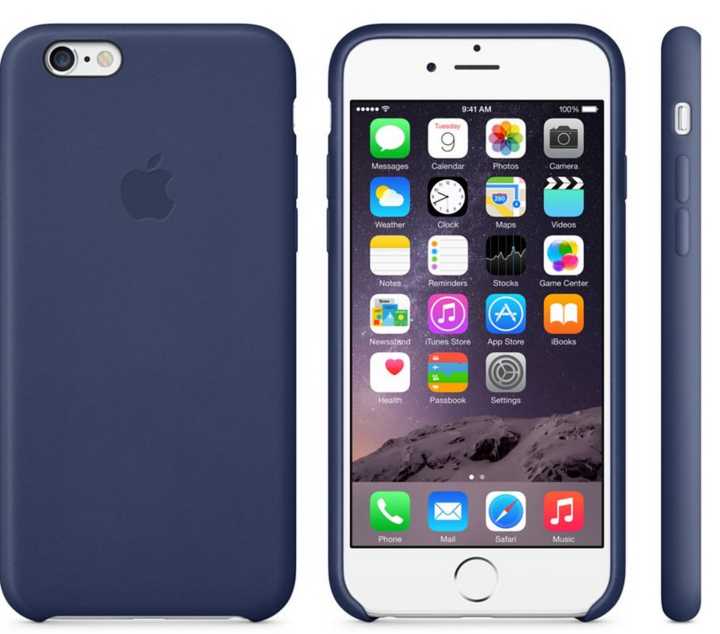 One of the most popular iPhone 6 cases is the leather iPhone 6 case from Apple. This case is one that you can find in any Apple Store on release day and is also listed with many carriers.
Apple designs the leather iPhone 6 case with premium leather in a small form factor that adds minimal bulk to the new iPhone. You can find the leather iPhone 6 case in five color options that match the white and black front of the iPhone 6.
Watch out if you buy the red iPhone 6 case as the leather model for the iPhone 5s wore very fast and looked dirty and grey soon after purchasing.
$45 at Apple

This article may contain affiliate links. Click here for more details.