iPhone 6 Release Date Chatter Pushes AAPL Stock Near High
The iPhone 6 release date rumors including talk of two iPhone 6 screen sizes, an all new iPhone 6 design and specs that help Apple catch up to Android in key areas. As we move within a month of the anticipated iPhone 6 release date and a fall full of new Apple products the AAPL stock is nearing an all time high.
AAPL stock climbed in June when ahead of a stock split and the iOS 8 announcement and again at the end of July near the Apple Q3 Earnings report release. Now, just four weeks ahead of the rumored iPhone 6 release Apple stock is climbing within 1% of an all time high.
Just ahead of the stock market close Apple stock AAPL reached 99.16, which is just below the all time high of 99.37. This is a 1.20% increase in AAPL stock so far today.
Apple's iPhone 6 release remains important to investors as Samsung pushes ahead with a new Galaxy Note 4 release around the same time, with sights set clearly on stealing marketshare from Apple. The larger 5.5-inch iPhone 6 will allow Apple to compete with Samsung in ways that it has not in the past and analysts predict that this could help convince some users to upgrade to the iPhone 6 from Android or stay with the iPhone instead of switching to the Galaxy Note 4 in September.
Apple has yet to confirm the iPhone 6 release date, or the iPhone 6 event that The Wall Street Journal and Re/Code both say will take place on September 9th. Samsung and Motorola are prepping events to announce competitors including the Moto 360, a smartwatch that will take on the rumored iWatch, on September 3rd and September 4th.
If the iPhone 6 release date chatter stays on the current path Apple will deliver a new iPhone on September 19th. This is a week before the Apple Q4 2014 end date. This timing allows Apple to book the opening weekend of sales, typically measured in millions, before closing out their fiscal year.
There is a chance that a larger 5.5-inch iPhone 6 release date will come later, as it is farther behind in production. Recent leaks hint that Apple is finally making progress on this larger model.
Read: Galaxy Note 4 vs iPhone 6
No matter when the iPhone 6 release dates end up on the calendar, it makes sense for Apple to announce two iPhone 6 models at once, to prevent confusion and questions from cutting into release weekend sales.
Part of the appeal to AAPL investors is that this iPhone 6 release could usher in a higher iPhone 6 price. Raymond James analyst Tavis McCourt tells WSJ MarketWatch that Apple may charge a $100 premium on the 5.5-inch iPhone 6. Chris Caso of Susquehanna Financial Group and Jefferies analyst Peter Misek both predict a $100 price jump for at least one iPhone 6 model. 
The iPhone 6 release date will usher in the start of Apple's fall lineup, that may include an iWatch, two new iPads and a new Macbook Air Retina among other devices. This avalanche of new Apple products for 2014 will arrive in Apple's Q1 2015 according to analyst timelines and could help push AAPL stock even higher after a year with minuscule announcements.
The Apple 2014 product slideshow below outlines the potential new Apple gadgets that we could see in the next several months. If anything after the iPhone 6 will push Apple stock higher, these are the products that will move the needle.
Top 7 Apple Products for 2014: iPhone 6, iPad Air 2 & More
iPhone 6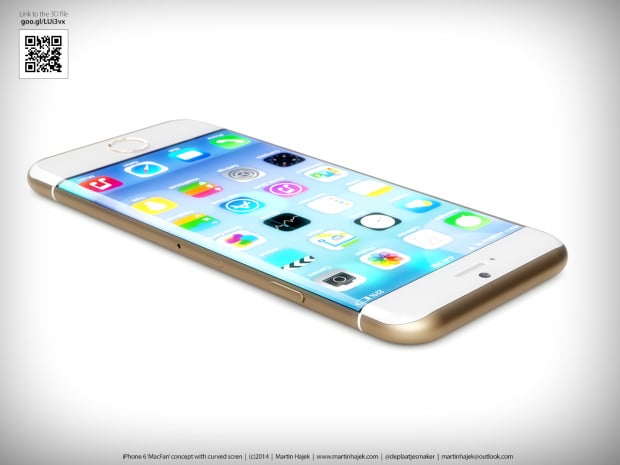 Demand for the iPhone 6 is the highest in years according to a recent survey, thanks to consumer interest in a new design and a larger screen.
iPhone 6 rumors started back in 2012, exploded in 2013 and as we move within six months of a rumored iPhone 6 release the rumors are starting to align and show a better picture of what consumers can expect from the most anticipated Apple product of 2014.

Two Models with Bigger Screens

iPhone 6 rumors, reports and analyst notes all point to an iPhone with a larger screen and many of the reports suggest Apple is planning to release two iPhone 6 models in 2014.

General consensus is Apple plans to offer an iPhone 6 with a 4.7-inch display and a higher resolution than the iPhone 5s. That is a screen size jump of .7-inch and would put the iPhone in line with top Android phones like the HTC One M8 and the Galaxy S5. Rumors do not agree on a resolution for this display, but do expect that it will be higher than the 1136 x 640 resolution on the iPhone 5s.

Another iPhone 6 model with a 5.5-inch or 5.7-inch display is also rumored for 2014, but many sources agree that it will arrive after the 4.7-inch model. This screen would be closer in size to the Galaxy Note 3 and the rumored Galaxy Note 4. This concept above from Martin Hajek includes a curved display, but don't expect that on a new device.

Possible iPhone 6 Features & Specs

Rumors suggest Apple is planning a thinner iPhone 6 that will be between 6mm and 7mm thick, a drop form 7.6mm on the iPhone 5s. We could also see more metal in the design and a power button on the right hand side with new style volume buttons on the left.

Expect an Apple A8 processor that delivers a small speed boost, but also delivers better battery life thanks to a improved efficiency. Ming-Chi Kuo believes we will see 1GB of RAM and an 8MP camera that may include some type of image stabilization.

For more check out our iPhone 6 Rumor Roundup.

This article may contain affiliate links. Click here for more details.