37 iPhone 6 Tips & Tricks
Learn how to use the iPhone 6 better with our favorite iPhone 6 tops and tricks. This guide will show you the best iPhone 6 features and a few secrets that you didn't know the iPhone 6 could do. The iPhone 6 finally offers a bigger display that adds some new features and uses that will surprise new iPhone users.
Apple delivers a lot of new iOS 8 and iOS 8.1 features that change the way you can use the iPhone 6. If you don't want to spend a day reading the iPhone 6 manual, you can use our list of iPhone 6 tips and tricks to get the most out of your new iPhone. To use these iPhone 6 tips, you will need a Mac with OS X Yosemite, but if you own a Windows PC you can still use most of these features with a free iCloud for Windows download.
There aren't many iPhone 6 hidden features, but there are a few that you'll find very handy as you get to know your iPhone 6. You can use most of these iPhone 6 tips right out of the box. For a few of these you will need an iPhone 6 app or iPhone 6 accessories like an Apple TV, but most won't require you to spend any money.
Instead of paging through the iPhone 6 manual, you can use our list of tips and tricks to master your new iPhone. This guide will walk you though the coolest and most exciting iPhone 6 features that can help you do more with your phone.
Some iPhone 6 tricks are already turned on, and we will show you how to use them. You will need to turn on and configure others to set up the iPhone 6. Here is our growing list of iPhone 6 help, tips, tricks and hidden features.
Use the iPhone 6 One Handed
The iPhone 6 is larger than the iPhone 5 and iPhone 4s, which means it is a little harder to use with one hand. Apple includes a handy feature that makes it easier to use the iPhone 6 with one hand. Apple calls this Reachability, and it allows you to quickly reach apps and buttons that would otherwise be too high to tap without a second-hand or adjusting your grip.
Double tap the iPhone 6 home button to use this feature. You don't need to press on it like you do when you want to go to the home screen. When you double tap the home button it will drop the top-half of the screen so you can reach the top part of the screen. The video above shows how to use the iPhone 6 with one hand.
iPhone 6 One Hand Keyboard
Apple's built-in option only helps with reaching the top section of an app or the home screen. If it is tough to type on the iPhone 6's larger screen you will need to download a one-handed keyboard. There are several options, including the $1.99 option used in the video below.
Check out our iPhone 6 one-handed keyboard guide to see other options and learn how to choose a new iPhone keyboard on iOS 8. This takes a few minutes and there are enough options to make this work even if you don't choose the option we are using.
iPhone 6 Personal Hotspot
The iPhone 6 can act as a personal hotspot, just like any other iPhone, but in iOS 8 there is a new option to use an Instant Personal Hotspot. This means anytime you want to connect a Mac on OS X Yosemite or an iPad on iOS 8 without grabbing your iPhone 6.
You'll need to turn the iPhone 6 hotspot on at least once by going to Settings -> Cellular -> Personal Hotspot -> On. After that there is an option under the main Settings. This guide will show you how to change the iPhone 6 hotspot name and password.
On your other devices, like the iPad or a Mac on OS X Yosemite, you should see the iPhone 6 listed under WiFi as a Personal Hotspot. You sill see the signal strength and battery life listed. Tap or click on the iPhone 6 and you can connect even if your iPhone is in your bag or pocket.
10 iPhone 6 Camera Tips & Tricks
The iPhone 6 includes an improved camera with new features and an improved camera app with more options. Our list of iPhone 6 camera tips and tricks will help you take better looking photos with your iPhone 6. You can also buy an OlloClip for iPhone 6, but you don't need one to use any of these features.
The playlist of five videos above walks you through how to use these iPhone 6 camera tips and tricks. There are some options you may be familiar with, but there are also others that are only on iOS 8 or the iPhone 6 and iPhone 6 Plus.
HDR – take multiple photos that the camera merges together to deliver a photo that shows dark and light subjects and adds details to the shadows.
Lock Focus & Lock Exposure – You can tap and hold on a spot to lock the focus and lock the exposure this is handy if you need to get the focus or exposure set up and then change the position of the subject to get a better looking photo.
Tap on the Subject – The single most important thing you can do to take better looking iPhone photos is to tap on the subject. This sets the focus on that person or object and auto sets the exposure. We'll show you how to manually change exposure below, but many times tapping on the right spot delivers night and day differences.
Panorama – The video also covers how you can take a panorama on the iPhone with iOS 8. This allows you to move the camera from one side to the other to capture a wide-angle view of landscapes and other subjects.
Filters – You can use filters while setting up your photo by tapping on the filter option to the right of the shutter button. This lets you add an Instagram like filter while you set up the shot for an easier way to get the photo you want.
Manual Exposure – Tap the small sun icon and slide it up or down to adjust exposure before taking a photo. If things are too dark, slide it up to add more light to your photo.
iOS 8 Camera Timer – Tap the small clock icon near the switch camera icon to set a 3-second or 10-second timer.
iOS 8 Time Lapse Video – Slide to the time lapse option and record a long video that is compressed into seconds.
iOS 8 Slow Motion Video – On the iPhone 6 and iPhone 6 Plus you can record super-slow motion at 240 frames per second. Slide to this option and tap record.
iOS 8 Burst Photo – With iOS 8 on the iPhone 5s, iPhone 6, iPhone 6 Plus and iPad Air 2 you can take a lot of photos really quick by holding the shutter button.
Use the iPhone 6 as a Remote Control
The iPhone 6 does not include an IR port like most Android phones, but you can still use it as a remote control for some HDTVs and most cable and satellite DVR or box. These apps use your login and the connection the box has to your WiFi or to the cable company to allow users to control the TV with the iPhone 6.
The apps above include an option to use the iPhone 6 as a remote control for changing channels and accessing your DVR. Not all of these options will include control over volume or over your HDTV power. You can search the App Store for your HDTV manufacturer to see if there are other options that can control your HDTV and devices connected to it.
You can also download the Remote App for the Apple TV if you own an Apple TV, which will let you use it to control the Apple TV experience.
10 iMessage Tips
Use these iMessage tips to master the messages app on your iPhone 6 and even on your Mac and your other iOS devices like an iPad. You can check out our full guide on iMessage tips and tricks to learn more about how each of these options work.
Do Not Disturb for a single message – Open Message -> Tap on Details -> Turn on Do Not Disturb
Leave a Group Message – Open the group message -> tap on Details -> then Leave this Conversation.
Share Your Location – Open the message -> tap on Details -> Share my Location.
Rename Group Message – Open the group message -> tap on Details -> At the top tap on Group Name and enter the new name -> tap done
See All Photos in a Conversation – Go to the message -> Tap on Details -> scroll to the Attachments section -> Tap on one to scroll through like photos.
Send Audio Messages – Open the message and tap on the microphone icon on the right side and hold down to record a message.
Send a Video Message – Tap and hold on the camera icon to the left side of the text area. Slide right to take a video or up to take a photo.
Check Texts on Mac, iPad or 2nd iPhone – Settings -> Messages -> Text Forwarding -> Toggle on and then enter the six digit code shown on the second device.
Block iMessage or Text – Settings -> Messages -> Blocked -> Add New.
Set a Custom Vibration – Go to Contacts, find the contact you want and then tap on Edit. Next, you need to scroll to Text Tone and Vibration. Tap on Vibration and then onCreate New Vibration.
These are essential to an enjoyable experience on the iPhone 6 without losing your mind in iMessage groups.
AirDrop iPhone to Mac
With iOS 8 you can now use AirDrop to wirelessly share files, photos and links to your Mac. Simply tap on the share icon at the bottom of various apps to open up the traditional share menu. You should now see a  listing for your Mac above the normal sharing options. In the photo above, you can see a Sent message under our Mac. Here is a guide on how to use AirDrop from iPhone to Mac, including more information and which Macs this will work with.
Set Up Apple Pay
Apple Pay is a handy new feature that lets you use the iPhone 6 as a mobile wallet. You need to first set up Touch ID, After that you will need to follow these directions.
Open Passbook -> Tap on the + -> Tap on Set Up Apple Pay -> Choose to Use Card on File with iTunes or Use a Different Credit or Debit Card.
If you choose to use a card that you already have in iTunes, you will need to enter the security code on the back of the card. If you choose to set up a new card, you can use the camera top enter in your details instead of tapping it out manually.
You can check out this bigger guide to use Apple Pay on the iPhone 6. When you get to a store that supports Apple Pay, hold the iPhone close to the credit card terminal and press your finger to the home button.
Use Touch ID to Keep Your Passwords Safe
We love using Touch ID and LastPass to keep our passwords synced between all of our devices and to generate secure passwords. LastPass is $12 a year to use on the iPhone. Unlike the built-in Safari passwords option on iOS 8, this lets users access passwords in Safari and access them to use for apps.
https://www.youtube.com/watch?v=M5FHs0YzYkY
The video below shows how you can use Touch ID to login to LastPass. You can also use this in Safari with Touch ID. This is the best way to use Touch ID to keep passwords on your iPhone and all of your devices.
Get Better iPhone 6 Battery Life
The iPhone 6 battery life is good for most users, but if you need to get better iPhone 6 battery life there are some tips that can help you make the iPhone 6 battery last longer.
You can use the new settings to help you find out what apps you are using that use the most iPhone 6 battery life. Just looking will not get you better iPhone 6 battery life, but you can find out why you are experiencing problems. Go to Settings -> General -> Usage -> Battery Usage and you will see the apps that used the most battery life in one day or over the last week. If there is an app that is using too much battery life, stop using it as often or delete it altogether.
You can use this trick to improve bad iPhone 6 battery life. Go to Settings -> General -> Reset -> Reset All Settings. This will reset all settings on your iPhone, but not your data. This can help you remove problems without messing with a full restore. Here's more on how to get better iPhone 6 battery life.
Track Your Health on the iPhone 6
Apple includes a new Health App on the iPhone 6. This is an iOS 8 app that uses sensors, like those in the iPhone 6, as well as other apps and accessories to track fitness and health information.
You can tap on the Health App on your iPhone 6 home screen and then tap on Health Data. This lets you select the sources and apps to include in the iPhone 6 health app. The phone will track your steps and flights of stairs you walk up and down to add data into it. You can also connect other apps from the app store and other accessories.
Arrange iPhone 6 Apps The Right Way
If you want to quickly reach your iPhone 6 apps, you can use these organization tips we discovered while using the iPhone 6 Plus. Placing the iPhone 6 apps where you want them makes it easier to tap them open the apps up without the need to use Reachability to get to them.
Essentially, you need to place less used apps on the iPhone 6 upper and far-away edges to push the apps you rely on daily into the center where it is easier to tap on them.
Use a Bluetooth Keyboard
When you want to get more done, you can use the iPhone 6 with a Bluetooth keyboard. This will let you type faster and it will be easier to work with the full screen available to use.
Go to Settings -> Bluetooth -> Tap on the keyboard to add it. This will allow you to use the keyboard to type quickly. We like these iPhone 6 and iPhone 6 Plus Bluetooth Keyboards.
Set Custom Vibration Alerts on the iPhone 6
The iPhone 6 vibration alert is a little much for some users, but you can set a custom vibration alert for calls and texts. This allows users to tap out a custom set of vibrations for a call or a text. If you do this for individual contacts you can tell who is calling before you grab the iPhone 6 out of your pocket.
To do this, go to Settings -> Sounds -> Tap on Ringtone -> Vibration -> Create New Vibration -> Tap out and save a new vibration. Repeat this for other contacts if you need to.
Answer iPhone 6 Calls on Your Mac, iPad or 2nd iPhone
If you have a Mac, you can use it or an iPad to answer calls that come to your iPhone 6. If you have to carry an iPhone for work and it is on iOS 8, you can also use this to answer calls on either of your devices.
You'll need to turn this setting on with OS X Yosemite on your Mac. Open the FaceTime app -> Click on Preferences -> Check iPhone Cellular Calls. On the iPhone 6, make sure this is turned on in Settings -> FaceTime -> iPhone Cellular Calls -> On.
When you get a phone call, it will show up on your Mac, iPad or iPhone with a "from your iPhone" listed on the second device. Here is more about how you can answer iPhone 6 calls on your other devices.
Use Handoff to Quickly Switch Between iPhone 6 & Mac
You can switch between the iPhone 6, an iPad or your Mac using Handoff. You will need a Mac with OS X Yosemite or an iPad with iOS 8. This will allow the devices to see each other and then hand off an app or document from one device to the next. This works for a variety of apps, but not every app.
Start on your Mac, to make sure Handoff is on. Go to System Preferences -> Set Bluetooth On. Then go to System Preferences again and check the box to Allow Handoff between this Mac and your iCloud Devices.
On your iPhone 6, make sure WiFi is on and that you are connected to the same network and make sure Bluetooth is on. Now, go to Settings -> General -> Handoff & Suggested Apps -> Turn on Handoff.
Here is what you need to know about using Handoff on the iPhone 6, iPad and your Mac.
View a Desktop Website on the iPhone 6
You can use the iPhone 6's larger screen to see a desktop website when a mobile website won't work. This is perfect when you cannot access all the information you need on a mobile website.
The video above shows you how to view a desktop website on the iPhone 6. When you are on the website, tap on the address bar and then pull down on the area below the address bar until you see a Request Desktop Site option. The video above walks you through this iPhone 6 trick.
Automatically Back Up Your iPhone 6 Photos
If you take photos of kids, pets, work or anything that is important, you will want to turn on iCloud Photo Library. This is still in beta, but it's an awesome way to keep all of your iPhone 6 photos backed up to iCloud on your other devices and to iCloud.com. This will keep your iPhone 6 photos safely backed up so that even if the iPhone drops and breaks your photos are safe.
Open up the Settings app.
Scroll down and tap on Photos & Camera.
Turn on iCloud Photo Library (Beta) by tapping on the toggle switch so that it turns green.
You can learn more about how to use iCloud Photo Library on the iPhone 6 and get this all set up if you need more information.
13 Awesome iPhone 6 Cases
Apple Leather iPhone 6 Cases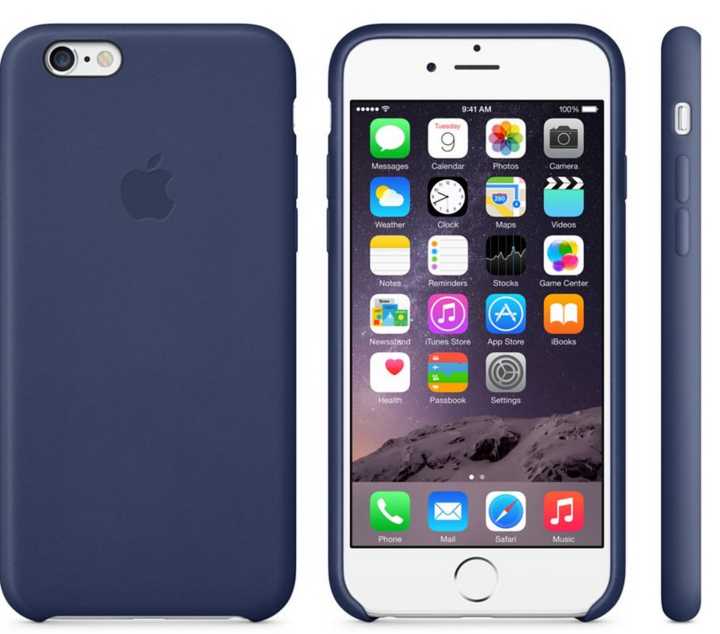 One of the most popular iPhone 6 cases is the leather iPhone 6 case from Apple. This case is one that you can find in any Apple Store on release day and is also listed with many carriers.
Apple designs the leather iPhone 6 case with premium leather in a small form factor that adds minimal bulk to the new iPhone. You can find the leather iPhone 6 case in five color options that match the white and black front of the iPhone 6.
Watch out if you buy the red iPhone 6 case as the leather model for the iPhone 5s wore very fast and looked dirty and grey soon after purchasing.
$45 at Apple

As an Amazon Associate I earn from qualifying purchases.