Madden 20 Beta: 7 Things You Need to Know
The Madden 20 beta starts this week, allowing some gamers to get access to the game early. This is not a Madden 20 demo and it is not a pre-order bonus. This is a closed beta that is only available to select gamers that get a code, but you can take action to try to get a code of your own.
This is what you need to know about the Madden 20 beta that starts June 14th for Xbox One and PS4. We'll walk you through what is in the Madden 20 beta, how to get access to the Madden 20 closed beta and how long the beta lasts. This guide will also cover additional details that you need to know about the Madden 20 beta.
Normally EA does not offer up a Madden 20 demo or beta to test the game. This is the first time in years that we've seen access and they are keeping it closer than many other games do, so you will need to play a more active role if you want to play the Madden 20 beta.
Read: Best Madden 20 Deals
Madden 20 Beta Dates
The Madden 20 beta starts Friday June 14th at 12 PM Eastern, 9 AM Pacific. This closed beta lasts through one weekend, ending at midnight Sunday June 16th. This means the beta ends at 9 PM Pacific on June 15th.
The closed beta date and times are the same on PS4 and Xbox One, so you don't have a second weekend to play. Clear your schedule and set aside time to play during this short beta.
What is in the Madden 20 Closed Beta?
The Madden 20 closed beta includes a small sampling of modes and will allow you to try the new Madden 20 features. Here's what is in the Madden 20 beta.
Face of the Franchise: QB1 Campaign – Play the new campaign mode.
Madden Ultimate Team – Test out the new MUT features.
With the closed Madden 20 beta, you get to play with four different teams including;
Kansas City Chiefs
Los Angeles Rams
New England Patriots
New Orleans Saints
It's not clear how many players will be in the Madden 20 beta, but you can expect to get a decent look at the updated mode.
Madden 20 Beta Systems
The Madden 20 beta is available on the Xbox One and PS4. You cannot try the closed beta on the PC. It's not clear why there is no Madden 20 beta on PC, but it may be due to the fact that the PS4 and Xbox One are more locked down than a PC.
BONUS: Upgrade Your Gaming with a Secretlab Gaming Chair
Does Madden 20 Beta Progress Carry Over?
When you play Madden 20 early on EA Access or Origin Access, your progress carries over to the final game, but this is not the case with a closed beta that only a select group of people can join in.
When the Madden 20 beta is over, EA Sports will reset the progress before the Madden 20 release date.
How to Join the Madden 20 Beta?
Over the last several years we've been taught that you just need to pre-order a game to get into the beta, but that is not the case with the Madden 20 closed beta that starts later this week. There are four ways you can join the Madden 20 closed beta.
Stop by the booth at EA Play.
Look for Codes from @EAMaddenNFL on Twitter and EAMaddenNFL on Twitch.
Check for codes on MUTHEAD and the Madden Ultimate Team subreddit.
Check your email if it is linked to your EA Account and if you play in Madden Championship Series.
You can also check on eBay to see if anyone is selling a Madden 20 closed beta code.
Here's more on how to find a Madden 20 beta code and download it to your Xbox One or PS4.
Madden 20 Beta Streaming Info
You won't be able to watch people streaming the Madden 20 beta on Twitch or YouTube. EA is not allowing streaming of the beta, and users that break this rule will see footage removed and beta access revoked. There is a chance you may see some streaming towards the end of the beta from users that don't care, but you won't see if from known members of the Madden online community.
How to Fix Madden 20 Beta Problems
There is a good chance that you will run into Madden 20 beta problems or problems with your code. If you have issues with the Madden 20 beta you can check out the feedback forum where other users may be able to help you solve a problem.
EA specifically states, "our Advisors won't be able to help troubleshoot anything that might happen while you're playing. They also won't be able to give out additional codes. If you have problems with an existing code, select the topic that says Codes and promotions when you contact us."
We'll update this if we hear of any specific fixes for Madden 20 beta problems when it launches.
4 Reasons to Buy Madden 20 Today & 2 Reasons To Wait
Buy if You Love to Grind MUT Challenges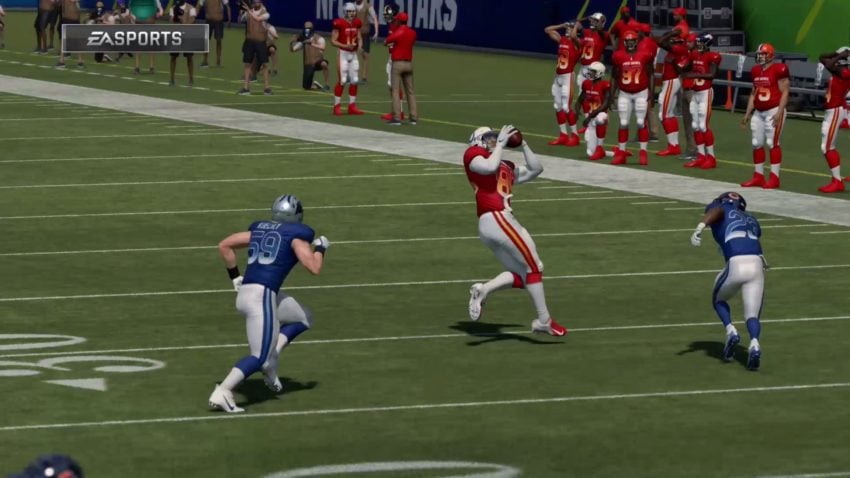 Do you love to play MUT and grind out those challenges? This is how I tend to play Madden Ultimate Team and after playing Madden 20 for the first time I'm a big fan of the new system that makes rolling through challenges much easier.
When you complete a challenge in a series, you can roll right into the next challenge. In Madden 19, you had to go out, collect rewards, go back in and it was a lot of loading and a lot of time wasted. With Madden 20, you go right into the next Challenge in a series.
I also enjoy the new options to choose the difficulty for challenges to earn more stars. This makes it easier to get through missions quickly when you are starting, or to really challenge yourself.
You can buy Madden 20 for PC, Xbox One and PC starting at $59.99 at GameStop, Best Buy, Amazon and digitally through Microsoft and Sony.

As an Amazon Associate I earn from qualifying purchases.