Madden 20 Release Date, New Features, Ratings & How to Play Early: 9 Things to Know
The Madden 20 release date is July 30th for the special editions and the standard edition arrives on August 2nd. If you subscribe to EA Access or Origin Access, the Madden 20 release date is today, as you can play Madden 20 right now. You can play as 10 college teams, enjoy the new Madden NFL 20 features and while you wait, peruse the Madden 20 player ratings. Here's everything we know and everything we can tell you about the new Madden NFL 20 game that is coming from EA Sports this week.
The new Madden 20 features include a QB1 mode where you take on the College Football playoffs and the combine in a story mode style play that combines some of the Longshot features with Franchise mode. You also get new Superstar X-Factor players and new Madden Ultimate Team missions. That's just the start.
Here's more on which Madden 20 edition you should buy and our list of why you should buy Madden 20 and why you shouldn't buy it yet. We also have a list of the best Madden 20 deals.
You can pre-order Madden 20 at GameStop, Best Buy and digitally through Xbox, Origins and the PlayStation Store. Madden 20 is available for the Xbox One, PS4, and PC. It is not coming to the Nintendo Switch at this time.
Madden 20 Release Date
The Madden 20 release date is on August 2nd for the standard edition and on July 30th for the Superstar Edition and the Ultimate Superstar edition. If you have EA Access, Origin Access or Origin Access Premier, you can play today.
That's the earliest Madden NFL release date we can remember, that's good news for gamers that want to get some quality time in ahead of the NFL season and school starting.
Madden 20 Player Ratings
EA released the Madden 20 rookie ratings and the video above showing off rookies reacting to their ratings. You can also look through the Madden 20 player ratings online. If you are playing MUT, you should download the Muthead app to see player rankings, values, and other information.
Now you can check out the full Madden 20 ratings to see how your team and players rank in the new game. Keep in mind, we will see special edition players in MUT with different ratings. My Miami Dolphins earned the lowest-rated Offense in Madden 20, but that's fine because I'll build a better team in MUT.
We also have the Madden 99 Club. This includes players that have the coveted 99 ratings in Madden 20. A 99 OVR rating is the highest you can get. This list includes Aaron Donald of the LA Rams and other elite players.
Full Madden 20 player ratings will arrive on July 15th. Here's a look at the Madden 20 rating process. 
Madden 20 Price
The Madden 20 price is $59.99 for the base version of the game at GameStop and Best Buy. This gets you the full version of Madden 20, but you don't get many extra items or Madden Ultimate Team upgrades. You can already save with Madden 20 deals.
There are two special editions this year, with the Superstar Edition and the Ultimate Superstar Edition, the second of which is a digital-only option. The Madden 20 Superstar Edition is $79.99 and the Madden 20 Ultimate Superstar Edition is $99.99.
Read: Which Madden 20 Edition to Buy
For the higher price you get three days of early access, 12 or 15 Gold Team Fantasy Packs, Elite and Championship packs and other Madden Ultimate Team upgrades.
Madden 20 Features & Graphics
EA's shown off all the new Madden 20 features, and they are available to try out in the Madden 20 Play First Trial.
Read: New Madden 20 Features
QB1 and College Football
The biggest news is that you can make your own college QB, take him through the College playoffs, the NFL combine and then into the NFL Draft an into franchise mode in a new career campaign that focuses on your player.
When you are in the QB1 mode, you will be able to make decisions that influence your progress in the NFL.
Part of this is the new Scenario Engine that creates personalized scenarios, events, and challenges that you must play to progress. These will vary from player to player.
Madden 20 Franchise
Simulate a full NFL career, and leave your legacy as a player, coach, or owner with single-player and multiplayer online-connected leagues. Compete with up to 32 teams in your quest for a Super Bowl Dynasty. Complete with an annual Pro Bowl and Seasonal Awards
Madden 20 Ultimate Team
Be a competitor in the ultimate NFL fantasy team-building mode featuring your favorite NFL players from the past and present. Play games, collect rewards, and upgrade your team with daily, fun, and engaging challenges with live NFL content all year long
You now get missions that you need to complete for more challenges and opportunities to unlock new players.
Madden 20 Online & Exhibition
Get involved in head-to-head online and offline games (single- and multiplayer) or single-player offline against the CPU. Customize your game settings, including the time of quarters, rules, stadiums, and uniforms.
What is Madden 20 Superstar X-Factor
One of the biggest new features that you can take advantage of is the Superstar X-Factor that some players will have.
EA describes this as a new progression system that reveals special abilities for NFL Superstars when you complete objectives in the game.
We're waiting on more details, but it looks like you will be able to pull off a special move or get upgraded stats when you complete an in game challenge.
Other Madden 20 Features
Unique playbooks – Playbooks are calibrated to be more different from team to team, providing more variety for strategic game-planning and in-game adjustments
Run/pass option plays – Now available to call, bringing even more NFL authenticity to today's play-calling
On-field trainer – Learn how to improve as a Madden player with this cohesive, modernized teaching system that introduces new in-game mechanics over time as you progress through your gameplay experience
New pump fake mechanic – Pump-fake to a specific receiver, and fake out defenders with a new double-tap throw-canceling mechanic
NFL Pro Bowl – Play the annual Pro Bowl within the Franchise mode and Face of the Franchise: QB1, featuring all-stars from the AFC and NFC
Superstar-driven play calling – Playcalling tailored to the Superstars on your team to quickly get your stars involved when you need them the most
New celebrations – Over 20 new TD and first-down celebrations added to bring more to the big plays on the gridiron
Expect a closer look at how these new features work, and what they look like as E3 approaches.
Madden 20 Ultimate Team Changes
The mode I spend the most time in Madden NFL is in Ultimate Team. This is also an area where EA makes a ton of money, so they are focused on delivering new features that keep players hooked. Here's  what is new in Madden 20 MUT.
Superstar Abilities – Your power players may have a special ability or bonus power to team ratings.
Missions – This is an MLB The Show style feature that may tie Card rewards to completing in-game missions.
Challenges – Upgrades to the Challenges that bring in a multiplayer component if you choose.
Easy Grinding – When you want to power through challenges, you can keep going after you beat one all the way through a set.
Frankly, I'm surprised there isn't some kind of premium MUT season pass that charges players another $9.99 to unlock extra rewards for completing missions and challenges.
Madden 20 Cover
The Madden 20 cover athlete is Patrick Mahomes of the Kansas City Chiefs. He is the third-youngest player to be on the cover of Madden.
We expected to see two cover athletes, but Mahomes is on the cover of all three Madden 20 editions.
Madden 20 Editions
There are three Madden 20 editions that you can buy. This starts with the base version for $59.99 and goes all the way up to an Ultimate option that is $99.99.
The two special editions allow you to play early and come with extra items that you can use in Madden Ultimate Team.
| | | | |
| --- | --- | --- | --- |
| Madden Pre-Order Bonuses | Standard Edition | Superstar Edition | Ultimate Superstar Edition |
| Base Game | Yes | Yes | Yes |
| 3 Days Early Access to Full Game | No | Yes | Yes |
| 5 Gold Team Fantasy Packs | Yes | No | No |
| 12 Gold Team Fantasy Packs | No | Yes | No |
| 15 Gold Team Fantasy Packs | No | No | Yes |
| Choice of 1 out of 32 Elite Players | Yes | Yes | Yes |
| Choice of 1 Unique Superstar Ability | Yes | Yes | Yes |
| 1 Large Training Quick Sell Pack | No | Yes | Yes |
| 1 Past and Present Elite Player Pack | No | No | Yes |
| 1 Madden Championship Series Pack | No | No | Yes |
The early access is a nice way to get into the game early and start assembling your Madden Ultimate Team squad or prepping for franchise mode.
Madden 20 Consoles
You can count on Madden 20 for Xbox One, PS4 and PC. You can expect better graphics on the PS4 Pro and Xbox One X as well as on higher end gaming PCs. All core features will be available on the original PS4 and Xbox One as well as the Xbox One S and PS4 Slim.
EA Sports stopped making Madden NFL for the Xbox 360 and PS3 several years ago, and there is no way they will return. If you are still gaming on one of these you should consider upgrading to the PS4 or Xbox One.
We saw EA bring FIFA 19 to the Nintendo Switch to mediocre reviews. Madden 19 did not come to the Nintendo Switch, and it was not announced alongside the PS4, Xbox One and PC versions, so don't expect it.
Madden 20 Play Early
Gamers on the Xbox One and on PC can play Madden 20 up to five days early when they subscribe to EA Access, Origin Access or Origin Access Premier. This is live now, so you can play Madden 20 today with these services.
EA Access and Origin Access are $4.99 a month or $29.99 a year. Origin Access Premier is $14.99 a month or $99.99 a year. With the first two options, you get to play early, but you still need to buy Madden 20. With Origin Access Premier, you get the full version of EA games and early access without the need to buy any games.
If you subscribe to EA Access or the Origin options today, you get the full version of Madden 19 right now.
4 Reasons to Buy Madden 20 Today & 2 Reasons To Wait
Buy if You Love to Grind MUT Challenges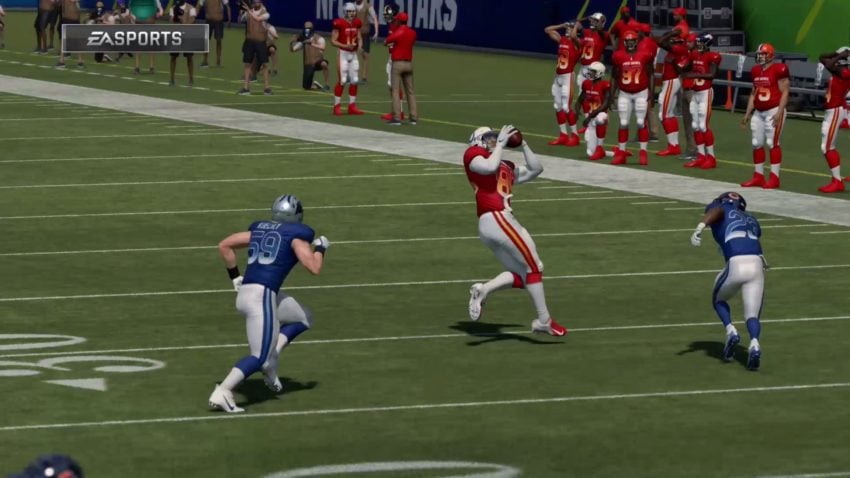 Do you love to play MUT and grind out those challenges? This is how I tend to play Madden Ultimate Team and after playing Madden 20 for the first time I'm a big fan of the new system that makes rolling through challenges much easier.
When you complete a challenge in a series, you can roll right into the next challenge. In Madden 19, you had to go out, collect rewards, go back in and it was a lot of loading and a lot of time wasted. With Madden 20, you go right into the next Challenge in a series.
I also enjoy the new options to choose the difficulty for challenges to earn more stars. This makes it easier to get through missions quickly when you are starting, or to really challenge yourself.
You can buy Madden 20 for PC, Xbox One and PC starting at $59.99 at GameStop, Best Buy, Amazon and digitally through Microsoft and Sony.

As an Amazon Associate I earn from qualifying purchases.