Mekorama App: 9 Things to Know
Mekorama is a fun puzzle game for the iPhone and Android that will remind many gamers of Monument Valley and other geometric puzzler games.
While it is not brand new, the Mekorama app is now free with an option to pay what you think the game is worth through in-app purchases. It's an interesting approach, but that's not why we and many others are excited to play it. We are playing it because Mekorama is challenging and fun.
Mekorama tasks you with getting to the end of a multi-level puzzle that will test your mental skills and sometimes your patience. As you beat levels you will open up others for play.
This is what you need to know about the exciting Mekorama app that is very popular on iPhone and Android right now.
What is Mekorama?
Mekorama is a puzzle style game that tasks gamers with moving a cute looking robot around a map to an exit. The early Mekorama levels are easy and provide a small guide to getting started.
As you progress you will need to move more parts of the world around and unlock sections to progress to the next level.
The game plays similar to Monument Valley, but it is a different style of game in looks and the mechanics are slightly different. If you enjoy solving puzzles this is a game that you need to try.
How to Play Mekorama
The Mekorama controls are very simple, even as the levels get harder. You can tap on a place on the map to get your small robot to walk there. The robot can go in water and walk up stairs, but it cannot jump.
You will need to tap to make the robot move and you can slide your finger around to change the orientation of the map. This is useful when you look for a route to get to the end of the world and when you lose sight of your robot because he walked into a door.
That's really all there is to it, but you can take it a step further when you need to by moving parts of the world around. You will notice these as a small cube with circles on the sides.
If your robot falls it may end up off the map and unable to move anymore. When this happens, and it will, you should tap pause and then restart.
Mekorama App Details
The Mekorama app is 5.2MB on Google Play and 7.3MB on iTunes. This app is fun, but it doesn't take up a lot of space on your iPhone, iPad or Android.
You need iOS 6 or later to run it on iOS and Android 2.3.3 or higher on Android to play it.
There are no device restrictions, but you may experience smoother play on newer iPhones and Android devices.
Mekorama In App Purchases
The Mekorama app is free on iPhone and on Android. The developer allows you to make in app purchases based on what you want to pay.
There are options to pay 99 cents or up to $31.99 for the game. You can pay as little or as much as you want. If  you cannot pay, the developer asks you to leave a review.
What Parents Need to Know About Mekorama
Mekorama is rated 4+ on iTunes and E for Everyone on Google Play. This means the app has no objectionable material and that it is generally suitable for all ages.
We've yet to encounter any violence in the game, and there is no language that will offend.
While kids could make an in app purchase, you can lock that down pretty easily and the app does not push in app purchases. We did not see any ads in the game.
Mekorama Levels
There are 50 Mekorama levels included in the base game. You can play these and unlock them as you go.
You can also find Mekorama levels by scanning codes on Twitter or Facebook as well as other places.
Swipe to the right to see the screen where you can scan a QR code with your camera or load from a screenshot. When you do this you will be able to play new levels from a variety of sources.
You can also make levels on your own using your iPhone, iPad or Android device to play and to share.
Mekorama Cheats and Hacks
We have not found any Mekorama cheats or Mekorama hacks that will help gamers. If you get stuck on a level you can find the QR code for the levels that are built-in to Mekorama and scan them to get access to those levels faster. If you want to beat a level you will need to look up a Mekorama walkthrough.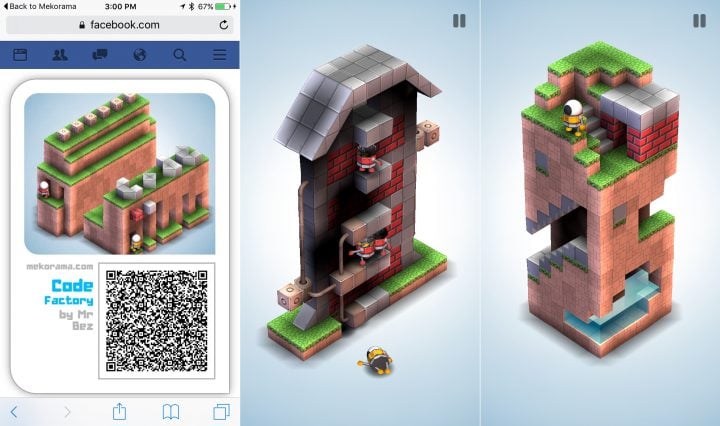 Mekorama Tips and Tricks
The biggest Mekorama tip that we've come across is that if you tap somewhere that your robot cannot immediately go, you will see a red x. This is a fast way of checking just how far you can get initially in a map. It also helps when there are multiple doors and you don't know which one will take you to the right place.
When you run into a roadblock, spin the map around slowly and look for places that are oddly lined up. That is usually a hint that you may need to move a piece of the map.
Mekorama Walkthroughs
When you are in doubt or when you are stuck you will need to search out Mekorama walkthroughs that show you exactly how to get around a level. The farther you progress, the more likely you will need a Mekorama video guide to get you through the level.
The playlist above will show you walkthroughs for the main Mekorama levels so that you can beat the game easier.
Best iPhone 6s Cases, Covers & Skins
Speck CandyShell Clear iPhone 6s Case
The Speck CandyShell Clear is the first clear iPhone 6s case from Speck, and the first clear case from the company overall. This form-fitting, minimalist iPhone 6s case delivers a decent amount of protection with a military drop test 810G rating.
Speck assures us that the clear case will not yellow with use like many cheap clear case options. The clear finish is perfect for showing off your iPhone 6s color choice while protecting it.
Buttons move perfectly and are easy to find by touch and there is a raised front bezel to keep the iPhone 6s display off hard surfaces.
$34.95 at Speck

As an Amazon Associate I earn from qualifying purchases.