MLB 15 The Show Release: 7 Key Details
In just over a month the MLB 15 The Show release will bring a new season of the best, and arguably the only, baseball game worth playing to the PS4. You shouldn't even hope for a MLB 15 The Show Xbox One release, but you can count on a lot of exciting new features for all versions of the game.
MLB 15: The Show is a baseball simulator that delivers a realistic version of baseball on the PS4, PS3 and PS Vita. Unlike competing games such as RBI Baseball, The Show aims to deliver the ultimate baseball game for hardcore baseball fans. That is why many of these changes may seem small to someone who prefers an arcade style game, but the sense of realism that Sony plans to deliver is something fans will likely appreciate.
There is a special new upgrade coming that MLB 14 The Show owners will enjoy, but you don't need to be a returning player to enjoy what's new in MLB 15 The Show.
Here are seven important MLB 15 The Show release details that you need to know about as February kicks off and Spring Training is just weeks away.
MLB 15 Release Details
The MLB 15 The Show release date is on March 31st 2015. Arriving just two weeks after Battlefield Hardline, this is one of the first big games of 2015 and it is certainly the biggest Playstation exclusive to arrive in early 2015.
Sony plans to deliver MLB 15 The Show on PS4, PS3 and PS Vita. The PS4 version includes a number of enhancements that do not make the cut on PS3 and PS Vita.
You can [easyazon_link asin="B00QO4JQGK" locale="US" new_window="default" nofollow="default" tag="gbm-ea-20″ add_to_cart="default" cloaking="default" localization="default" popups="default"]pre-order MLB 15 The Show on Amazon[/easyazon_link] for $59.99 on PS4, $39.99 on PS3 and $19.99 on PS Vita.
Year to Year Saves
If you played MLB 14 The Show, you can now carry your Franchise and Road to the Show progress over to MLB 15 The Show. This is a first for year to year saves in the MLB The Show series. This is great news for players who already have the perfect set up in Franchise or Road to the Show Seasons.
PS4 Owners Get Better Graphics
There are upgrades to the PS4 MLB 15 The Show release that you won't find on the PS3 and PS Vita. While many features and new modes come to the PS3 and PS4, the graphics upgrades are only on the PS4. Here are some of the new PS4 graphics improvements.
Real-time seasonal sun and shadows
Player Skin tone realism. More variations of skin tones with gloss and specular improvements
Revamped night lighting
More accurate and photorealistic rendering system
PS4 gets 10 more Minor League stadiums
It's no surprise that MLB 15 The Show will look better on the PS4, and with many other great 2015 PS4 games releases on the way it may be time to upgrade.
New MLB 15 The Show Features
Even if you are playing the PS3 MLB 15 The Show release you can count on new features. There are several upgrades that look interesting and we can't argue with better physics, dynamic difficulty and better AI logic. Here are some of the new MLB 15 The Show gameplay improvements for PS3 and PS4 that Sony recently shared. .
Advanced AI logic results in outfielders taking more realistic routes to the ball
Upgraded motion system allows for dynamic speed matching from run to catch to throw
User controlled cut offs
All new slide and tag system
New speed paradigm for fielders and base runners
Enhanced ball physics for pop ups, fly balls, and shots into the gap
Dynamic pitch breaks: allows for more realistic pitch recognition when batting
Simplified Analog swing controls
Dynamic Difficulty 2.0
New situational base covering intelligence allows for new animations to play when a player has time or is in a hurry to get to his base
More than 70 new situational third out fielding animations
New Input Type option for hitting
Another really interesting feature that is coming to the PS4, PS3 and PS Vita versions of MLB 15 The Show is a directional hitting interface. This lets you choose, or at least influence, the direction of your hits. Using the L stick you can, "attempt to influence fly balls, ground balls, pushed hits, pulled hits, or any of those in combination."
We can't leave out the new Home run Derby format, an instant replay system that lets users challenge a close play and better play-by-play commentary on PS3 and PS4. PlayStation 4 players can also count on better presentation in the stadium with split-screen functionality, new Jumbo-tron movies and more celebrations.
On The Show Nation, we also get a look at 31 additional MLB 15 The Show features and upgrades. Check out this lengthy list.
More than 90 new personal batting stances
More than 120 batting stance re-captures
More than 50 new personal pitching motions
More than 120 pitching motion re-captures
More than 45 new signature HR swings
More than 900 new presentation animations
More than 700 new gameplay animations
Editable Contracts (Franchise mode)
Player contract interest improved (based on MLB service time) (Franchise mode)
Player salary guide (Franchise mode)
GM History records (Franchise mode)
Trade Finder (Franchise mode)
Vastly improved trade logic (Franchise mode)
New crowd placement logic to reduce fans sitting in "cheap" seats
New Quick Shifts feature and revamped Defensive Positioning screen
Quick Counts balancing adjustments (I.E. less 3-2 counts, pitchers start with 1-1 counts, etc.)
Four new brands for Fielding Gloves. Each brand has three different styles.
Four new brands for Bats. Each brand has three different styles.
Four new brands for Batting Gloves. Three brands have three styles and one brand has two styles.
Three new brands for Cleats. Each brand has three different styles.
Updated shin guard, new "Without foot guard" option added.
Updated batting helmet with no flaps to pay homage to Old Time players. (PS4 Only)
New Necklace accessory with Thin or Thick as options. (PS4 Only)
Wrist tape has now been separated into left and right wrists with a new "Long" wrist tape option added.
New "Extra Wide" wristband AND armband option added. (PS4 Only)
New Base runner Wrist Guard accessory added. (PS4 Only)
New "Stirrup Low" Pant Style option added. (PS4 Only)
***anese and slap-hitter swing types now selectable (PS4 Only)
Left analog stick bunting influence
Hours of new custom stadium and ambiance music (over 40 new tracks)
RTTS camera improvements after the ball is in play
We expect to see some of these new features in a new gameplay reveal later this week.
Licensed Equipment is Better on PS4
In MLB 15 the Show you will finally see licensed equipment on the field. This includes some of the biggest brands in baseball and should help add tot he realism, but it's not going to be near as good on the PS3.
The PS4 version of MLB 15 The Show will include the licensed equipment during gameplay, but the PS3 will not. There is no licensed equipment on the PS Vita version of the game.
New MLB 15 the Show Gameplay
On February 5th at 2 PM Pacific, 5 PM Eastern Sony's San Diego Studio will live stream an exclusive first look at the MLB 15 gameplay on Twitch.
Once this is live you can watch it in the video above, until then you will only see an offline message.
Updated Franchise Mode
If you need a little more realism in MLB 15 The Show, you will appreciate the new Franchise mode. You now have to keep owner expectations in mind as you manage the team and the performance can and will influence job offers. Key upgrades include new Performance-based Player Progression, better Trade & Contract logic and the ability to partner with Brand Sponsors. You can link up with an official sponsor for the broadcast parts of the game to earn extra money to spend on building a better team.
Be sure to check out the rest of the most exciting 2015 PS4 releases in the slides below.
15 Exciting 2015 PS4 Games
MLB 15 The Show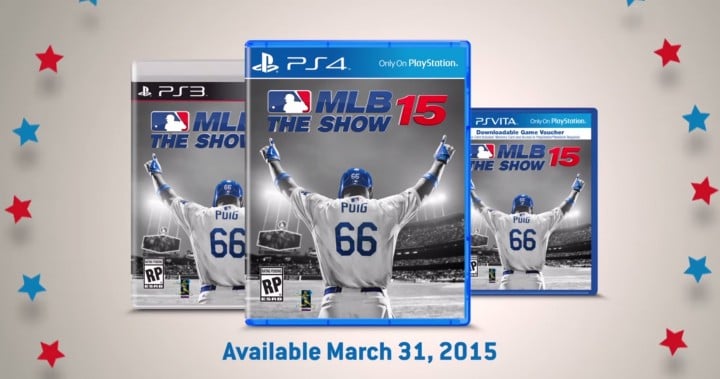 MLB 15 The Show Release Date - March 31st Confirmed
Sony is the undisputed king of baseball games with MLB The Show and we know that MLB 15 The Show is coming in early 2015. Sony just shared five key details about MLB 15 the Show and gamers are excited.
MLB 15 The Show is a PlayStation Exclusive, that is coming to the PS4, PS3 and PS Vita. There is a chance that this will be one of the first big hits among the 2015 PS4 game releases. I
Watch the MLB 15 The Show teaser video above for a glimpse at what's new.