MLB The Show 16 Release Date Revealed
Electronics maker Sony isn't wasting time getting itself setup for the new year and new competition from Microsoft's Xbox One. At The PlayStation Experience this weekend the company finally revealed the MLB The Show 16 release date.
Sony announced the MLB The Show 16 release date and more in a post on the PlayStation Blog after the PlayStation Experience press conference. The PlayStation Experience is an annual gathering of the console maker's fans. Sony uses the event to get community members hands-on time with upcoming titles, new content for existing titles and time with game developers.
The MLB The Show 16 release date is March 29th. That bit of news came with a trailer for the game that's stuffed with visuals. Sony says that it plans to release a version of MLB The Show 16 for gamers still holding on to their PS3 and a digital deluxe version for PS4 owners that'll be available directly from the PlayStation Store. PS4 owners will get two copies of the game: one standard edition and MLB The Show 16 MVP Edition. Featured on the cover of MLB The Show 16 is Josh Donaldson of the Blue Jays.
Update: MLB The Show 16's release has finally arrived. Gotta Be Mobile has everything you need to know about it here.
Sony Santa Monica says that a new system called ShowTime will allow gamers to slow down some of the action as it happens. "Using ShowTime, you can slow down critical moments for maximum control." The game includes diving plays. A new system for training rewards players for improving in the game's mechanics, but this is only on the PS4 version of the game, not that PS3 version, according to today's blog post. The studio also says that the game lets players go through Road To The Show without diving back into any of its menus.
MLB The Show 16 pre-orders are available today at Amazon and Best Buy. The PlayStation Store is taking digital pre-orders of the game too. Which version shoppers should pre-order comes down to how big of a baseball fan they truly are. Sony doesn't say if there are other features available in the game that will come to the PS4 and not the PS3.
The boxed version of MLB The Show 16 MVP Edition comes with a physical copy of the game wrapped in a Steelbook case and roughly $76 in Stubs, packs and Avatars for the PS4. There's 5,000 Stubs, 1 Sponsor Pack, 10 Standard Packs, 31 Themed Avatars and a single Opening Day Pack.  This version of the game costs $69.99. MLB The Show 16 Digital Deluxe Edition costs $99 and includes 11,000 Stubs, 1 Sponsor Pack, 20 Standard Packs, 31 PS4 MLB Themed Avatars and 3 Opening Day Packs. That's roughly $140 in digital extras.
Presumably, Sony Santa Monica will have more MLB The Show 16 release date details to share before the game arrives next year.
MLB The Show 16 is a huge deal for baseball fans and gaming in general. MLB The Show 16 is the only major game for a living room console sanctioned by Major League Baseball. It's the only way for sports gamers to get their baseball fix each year in a big way. MLB The Show is a reason some shoppers gravitate towards the PS4 and PS3 instead of the Xbox 360. Microsoft has tried to combat this in year's past with releases of RBI baseball to little success. If you want a baseball game, there's just the PS4 to purchase.
MLB The Show 16 will be the last of big-name sports video games getting their yearly refresh. NBA 2K16, Madden NFL 16, FIFA 16  and NHL 16 are all already available on store shelves. Each of those games are available on the Xbox One and Xbox 360 too.
15 Exciting 2016 PS4 Games
No Man's Sky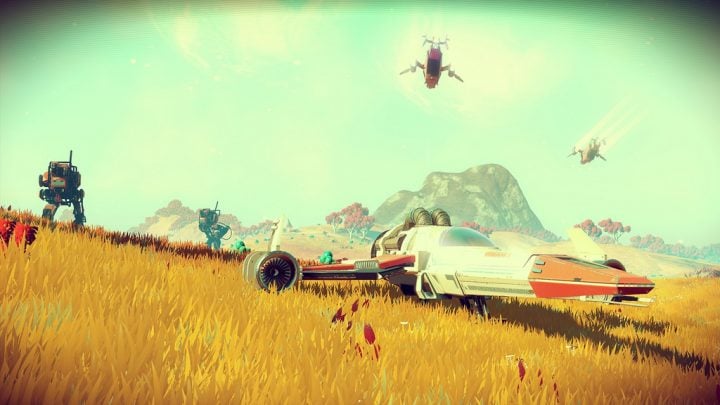 No Man's Sky Release Date: August 9, 2016, PS4 & Windows
No Man's Sky is a constantly generating open galaxy game with space exploration, world exploration and more as you work through an ever-expanding solar system of planets. Each of these planets is filled with new species and a new landscape.
Your goal is to find ancient artifacts that will help you understand the universe. As you make discoveries you can share with other players or keep it all a secret. As you explore and interact with worlds you can leave a trace of yourself behind.
In addition to the digital release there is now a Blu-Ray release of the game.

This article may contain affiliate links. Click here for more details.