Mophie Juice Pack Reserve Review: Thin iPhone 6s Battery Case
The Mophie Juice Pack Reserve is an amazing iPhone 6s battery case that delivers just the right amount of added battery life to get power users through a busy day of calls and usage without adding a lot of bulk.
The Mophie Juice Pack Reserve is the thinnest iPhone battery case Mophie sells and after using it for a few weeks it solves the one of our biggest complaints about the iPhone 6s — battery life.
If your iPhone 6s doesn't last through the day, the Mophie Juice Pack Reserve is an essential accessory. This thin and light iPhone 6s battery case delivers the perfect mix of protection, extra battery life and price.
The Mophie Juice Pack Reserve iPhone 6s battery case is $59.95 and is available in five colors. This case also works with the iPhone 6.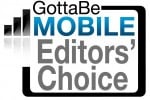 For the price, protection and solving a common iPhone 6s problem with style, the Mophie Juice Pack Reserve earns a Gotta Be Mobile Editor's Choice Award.
Mophie packs a 1,840mAh battery into this thin iPhone 6s battery case that can deliver just over 60% of added battery life. That's equal to about six extra hours of using the Internet, eight hours of talking on the phone or six added hours of video playback.
On a busy day the iPhone 6s battery is toast before 8 PM even with Low Power Mode and smart battery usage. Phone calls and work simply take a toll on the battery.
That's where the Mophie Juice Pack Reserve comes in. This is the first Mophie iPhone 6s battery case option. Although our tests found that the iPhone 6s fit into most iPhone 6 Mophie cases, it was a snug fit and the company did not market these as working with the iPhone 6s.
The new Mophie Juice Pack Reserve iPhone 6s battery case is easy to put on and to remove, but thanks to the latest charging technology you won't need to remove it for much.
Once attached you can charge, sync with a computer and connect your iPhone to your car entertainment system with the Micro USB port. Not only does this let you charge with more readily available cords, but it also means you don't need to carry one of each cable with you or in your car.
I love the design of the Mophie Juice Pack Reserve for iPhone 6s. the edges of the screen are almost flush with the case on the sides, but there is a lip at the top and bottom that keeps the screen off surfaces when placed face down.
The case fits like a glove and ports shoot the speaker towards you instead of down. Most headphones work without an adapter cable and the flush Micro USB charging port means any cable will fit.
Mophie switches things up on the back of the case, opting for a push button to turn charging on and off instead of the switch on older models. This is easy to use and it responds to commands to charge and stop charging with the first press.
The Mophie Juice Pack Reserve iPhone 6s battery case makes the iPhone almost double the thickness, but it is not much thicker than an average protective case that doesn't include a battery.
There is built-in protection with rubberized pads that protect the iPhone 6s from drops, but this is not as protective as the Mophie Juice Pack Plus which uses a thicker design with more protection and a larger battery.
Shoppers can buy the Mophie Juice Pack Reserve iPhone 6s battery case from Mophie or at many cell phone stores and retailers. The package includes a Micro USB cable to charge and sync.
Best iPhone 6s Cases, Covers & Skins
Speck CandyShell Clear iPhone 6s Case
The Speck CandyShell Clear is the first clear iPhone 6s case from Speck, and the first clear case from the company overall. This form-fitting, minimalist iPhone 6s case delivers a decent amount of protection with a military drop test 810G rating.
Speck assures us that the clear case will not yellow with use like many cheap clear case options. The clear finish is perfect for showing off your iPhone 6s color choice while protecting it.
Buttons move perfectly and are easy to find by touch and there is a raised front bezel to keep the iPhone 6s display off hard surfaces.
$34.95 at Speck

As an Amazon Associate I earn from qualifying purchases.