Mortal Kombat X Gameplay: The Most Brutal Teaser Yet
If you can't wait for the Mortal Kombat X release date, you need to watch the new two-minute Mortal Kombat X gameplay teaser that is sure to raise your excitement to a completely new level.
The Fatality laden Mortal Kombat X gameplay video is the most brutal teaser I've ever seen for any video game and it is simply amazing.
If you can't handle blood and gore, you will not want to watch the new Who's Next? teaser for Mortal Kombat X because it features that and a lot more.
In this short but visually dominating video, you can watch Edenian Princess Kitana fight Lao, a powerful martial artist with razor-sharp hat tricks. This is the most exciting video game trailer you can watch today, so just click play.
The official Mortal Kombat X is age-restricted, so you may need to log in to YouTube to see it, but it is worth the time to do so. The short trailer is filled with insane fighting that makes us wish the release date was next week, instead of three months away.
In just two minutes you can watch multiple fatalities that show off the return of skeleton revealing finishers and watch hands and heads chopped off as part of the new Mortal Kombat X fatalities. Halfway through the video you will know when this is coming because you'll hear that ominous familiar voice instruct you to, "Finish him."
This is latest of several Mortal Kombat X videos that highlight the game which was first announced in June 2014. In the months since the announcement the Mortal Kombat Community channel revealed character trailers for Kano, Raiden, Quan Chi and Kano as well as a long video that walks through the variations on in game characters.
By choosing different variations of the character, players can change the strategy and fighting style to unlock new ways to play and add to the depth of the game.
Mortal Kombat X arrives for Xbox One, PS4, PS3, Xbox 360 and PC later this year for $59.99. The exact Mortal Kombat X release date is April 14, 2015 on disc and digital download. There is already a pre-order bonus that unlocks Goro as a playable character for users who order ahead of the release.
So far there is no information on a Mortal Kombat X special edition, but with such a long history and big following it wouldn't be surprising to see some special version arrive ahead of the release.
Although not as big of a name these days as Call of Duty, Halo and Madden; Mortal Kombat X remains a franchise that gamers look forward to playing in 2015.
As the Xbox One and PS4 are on the market longer we will continue to see the library grow with highly anticipated games in 2015 like those listed below.
15 Exciting 2015 PS4 Games
MLB 15 The Show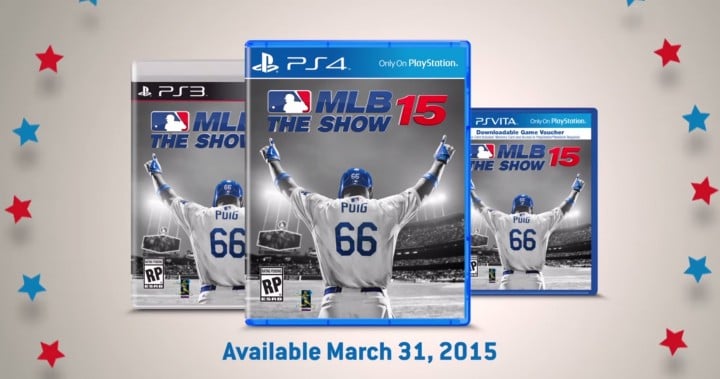 MLB 15 The Show Release Date - March 31st Confirmed
Sony is the undisputed king of baseball games with MLB The Show and we know that MLB 15 The Show is coming in early 2015. Sony just shared five key details about MLB 15 the Show and gamers are excited.
MLB 15 The Show is a PlayStation Exclusive, that is coming to the PS4, PS3 and PS Vita. There is a chance that this will be one of the first big hits among the 2015 PS4 game releases. I
Watch the MLB 15 The Show teaser video above for a glimpse at what's new.