NBA 2K17 Release Date: Cover Athletes & More
With competitors like NBA Live vanquished, developer Visual Concepts is gearing up to dominate another year of virtual basketball with the NBA 2K17 release. This year the game is putting the spotlight on one of the most successful NBA players of all-time. It's also giving some cover time to one of the National Basketball League's rising stars, while still offering the best basketball simulation around.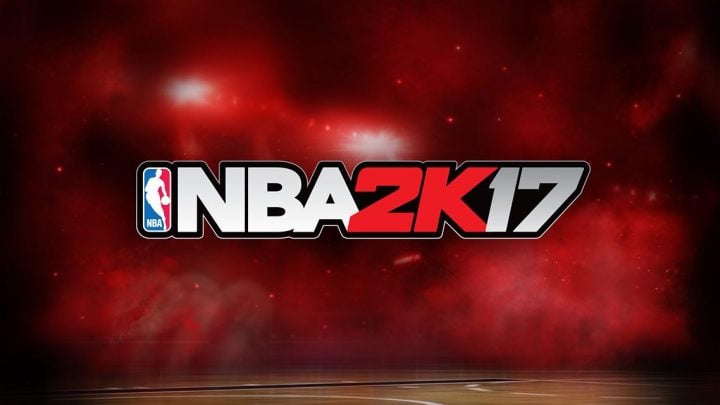 NBA 2K17 arrives in the summer. Here's everything we know about the game and its release thus far.
NBA 2K17 Release Date
As many suspected it would, 2K Games confirmed the NBA 2K17 release date for late summer. More specifically, users can look forward to picking up the basketball simulation in all its different versions on September 20th. There's a catch though.
NBA 2K17 Early Tip-Off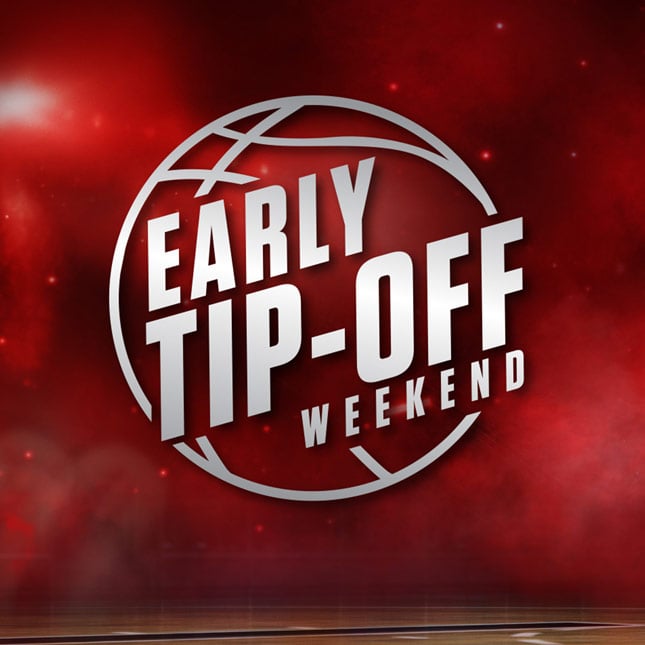 Apparently, the Early Tip-Off promotion for the previous game in the series was so successful that 2K Games is bringing it back. The official NBA 2K17 release date is September 20th, but only for those that don't want to place a pre-order. Every one that does decide to pre-order gets their copy of the game on September 16th, the Friday before the game's official release.
Early Tip-Off also includes 5,000 in Virtual Currency and 3 MyTeam Packs that guarantee a Paul George card.
NBA 2K17 Cover Athlete
Indiana Pacer's start Paul George is stepping from cover athlete of last year's companion app experience, to the NBA 2K17 overall cover athlete. He'll act as front man for the game's basic editions. He's also featured in the new NBA 2K17 trailer.
NBA 2K17 Legend Edition
Last year, it was former NBA star Michael Jordan that graced the cover of the most expensive NBA 2K16 bundle gamers could buy. This year, Visual Concepts and 2K Games are honoring Kobe Bryant with his own cover.
Bryant's likeness will grace NBA 2K17 Legend Edition. Doused in the Lakers' signature purple accent, the cover features him in three different poses. On the left Bryant is celebrating the Lakers winning an NBA championship. On the right there's a picture of his formidable jump shot. The center of NBA 2K17 Legend Edition's cover is dominated by Kobe raising his right hand as if to bid farewell to the sport. 2010 was the last time that Kobe Bryant was featured on the cover of a NBA 2K game.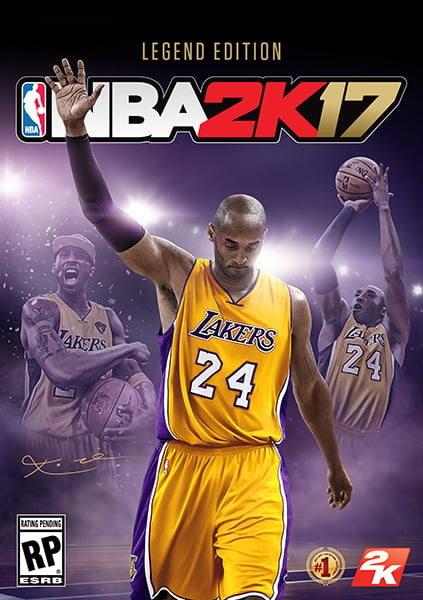 Like the Michael Jordan Edition before it, NBA 2K17 Legend Edition comes stuffed with some physical and digital extras for hardcore fans of the franchise. Items include a limited edition post of Bryant and a Black Mamba controller skin. Buyers also get 2 Panini Kobe trading cards to add to their collectibles stash.
As for digital extras, there's plenty to be had there too. 30,000 in Virtual Currency is included with NBA 2K17 Legend Edition. A MyTeam Bundle+ includes 3 different backs of MyTeam cards. 2K is guaranteeing that it least one of those packs will include a Free Agent card for Kobe Bryant.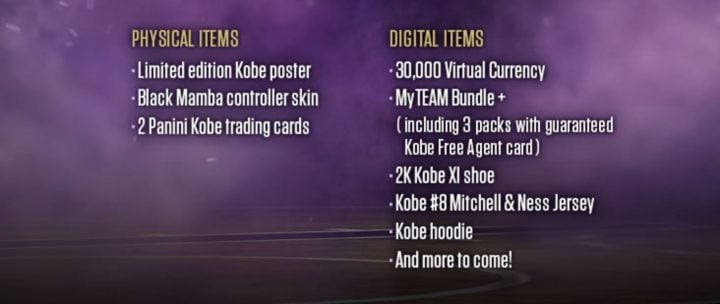 2K Games and Visual Concepts are also throwing in some digital extras for players to use on their character. They include Kobe's 2K X1 shoes, #8 Mitchell & Ness Jersey and a hoodie.
NBA 2K17 Legend Edition will cost $79.99. It's only coming to gamers on Microsoft's Xbox One and Sony's PS4.
NBA 2K17 New Features
NBA 2K has always placed a heavy emphasis on a player's real-life skills and stats. The idea is that the best athletes playing for teams in the real world should be the best athletes in the game. When a gamer is playing a team with Kobe Bryant, it should feel like they're actually playing against Kobe Bryant, not a computer simulation that only looks like him. Visual Concepts is trying to do a better job of accurately simulating some of the NBA's top players.
Read: NBA 2K 16 Steph Curry Stats Upgrade Teases NBA 2K17 Performance
The studio briefly tested some of its work to accurately depict all-stars with a temporary update to NBA 2K16. With the update, players who took shots that Golden State Warriors player Stephen Curry would sink in real-life weren't penalized like they would have been in previous games since those shots are risky for the overwhelming majority of NBA players, according to Forbes. The changes the studio tested with NBA 2K16 seem like a lock for NBA 2K17.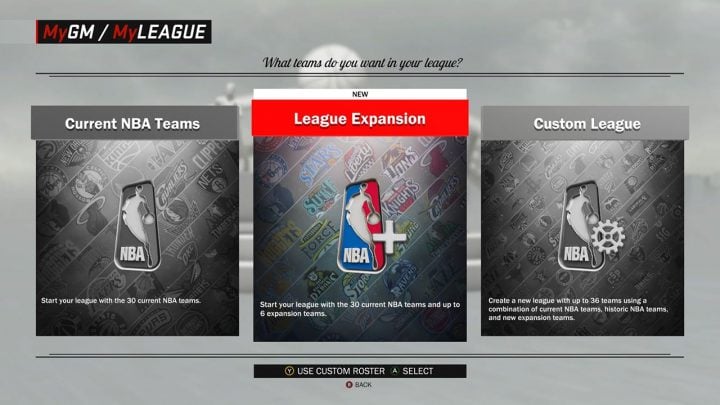 MyGM & MyLeague are fan favorites. The modes allow players to simulate an entire basketball season from beyond just the court. Players are responsible for league schedules and team schedules, with managing drafts and injuries and everything in between. For NBA 2K17, Visual Concepts is planning to deliver League Expansion and a new interface to the game mode.
League Expansion allows players to add new franchises to their custom league. These franchises can be custom creations from the players own mind, or based on teams that already exist. League franchises can reach a total of 36 franchise. Players can add from the European league too. A file browser lets players choose if they'd like to download a team design, use a pre-built team design or create their own.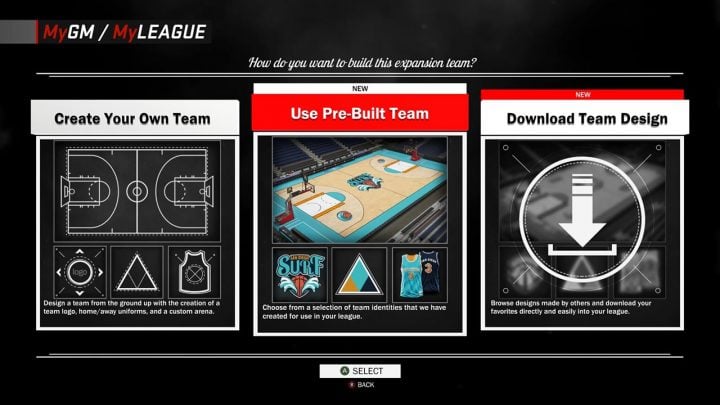 For players that have already started a custom league, NBA 2K17 gives them the option to make expansions in the off season, triggering an expansion draft.
NBA 2K17 Pre-Orders
NBA 2K17 pre-orders are already available. The 2K Store is taking pre-orders of NBA 2K17 Legend Edition online. Users can also choose to pre-order a standard copy of the game for consoles other than the Xbox One or PS4. NBA 2K17 isn't leaving older consoles behind just yet. There are versions for Xbox 360 and PS3. Additionally, a version of the game is coming to Windows PCs.
Read: NBA 2K17 Pre-Orders: Details & Early Tip-Off
NBA 2K17 won't have any competition when it arrives on store shelves in September, leaving it as the-must have basketball game for fans again this year.
NBA 2K17 Features: All The Reasons You Should Buy This Year's Game
NBA 2K17 Features: Guest Teams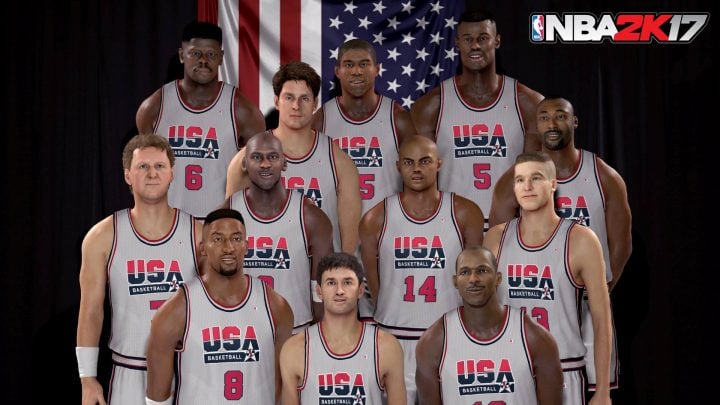 Everyone loves the league's most iconic teams but getting them into NBA 2K wasn't easy. The game's rosters stay in sync with the real league's roster. Unless 2K Games adds them, there's no way you're getting your hands on the classic Chicago Bulls line-up.
The NBA 2K17 features list includes a few team rosters that lovers of the game will already be familiar with. The entire team for the 1992 USA Basketball Men's National Team is getting treated as downloadable content. Those that pre-order the game get the team roster at no additional charge. Also known as the Dream Team, Michael Jordan, Magic Johnson, Charles Barkley and Christian Laettner are included. The latter two haven't been available in a NBA 2K game before.
Players don't have to use the Dream Team if they don't want to. The 2016 USA Basketball Men's Team is available, along with the Australian Boomers, developer Visual Concepts confirms.

As an Amazon Associate I earn from qualifying purchases.