NBA 2K 16 Steph Curry Stats Upgrade Teases NBA 2K17 Performance
Watch the 2016 NBA playoffs and you'll notice that Steph Curry is nearly unstoppable. That's why he took home a unanimous NBA MVP win. While you'll need to wait for NBA 2K17 to get these skills under your control full time, we saw a preview of Curry's in game upgrade last week in NBA 2K16.
In real life Curry can hit three pointers that other players can only dream of connecting with. When it comes to recreating a virtual Steph Curry for NBA 2K16 that is a problem, and it is one that might see a fix with the NBA 2K17 release this year.
This is what you need to know about the potential Curry NBA 2K16 patch and why you may need to wait for the NBA 2K17 release date to play like the Warrior's leader.
Games rely on engines that use logic to determine the likelihood of hitting a specific shot, and Curry simply doesn't match the mold that NBA 2K games use to determine if a player will make the shot — be it from 35 feet out, under pressure or in traffic.
Even with a 99 rating for three-point shots in NBA 2K16, Steph Curry cannot hit the same shots in the game as he sinks in real life each night during the 2017 NBA playoffs.
This changed briefly last week when 2K Games upgraded Curry based on his NBA MVP win, delivering 30 hours of insane performance. It's unclear why this boost was so short lived considering Curry's insane performance in the playoffs.
334pts, 102 3's. This update is incredible #BreakTheGame pic.twitter.com/ggwWdfYS0r

— Nick Colosimo (@nacolosimo) May 12, 2016
During this short time period some players were able to leverage the upgraded Curry to unbelievable levels including 334 points from 102 three pointers.
Essentially Steph Curry is too good for the game engine to account for his ability to make three pointers. That's something that the developers are trying to fix with the NBA 2K17 release, and possibly with a NBA 2K16 update.
Speaking with Sporting News' Press Row Podcast Mike Wang, Gameplay director at 2K Sports and Scott O'Gallagher, Gameplay Producer at 2K Sports explained what is happening and how they will fix this problem.
Generally, taking deep shots, 30-35 feet, or shooting in traffic, or shooting off the dribble, we naturally penalize those things," said Wang. "Everyone in the league more or less gets penalized in kind of the same way, as they take these bad shots."
Wang goes on to explain that there is no system in place to handle exceptions to these penalties, because generally players across the league all take a real life performance hit in these situations.
Based on Curry's 2016 NBA Playoff performance and his performance this year that helped the Warriors win a record number of games the developers are working to make the virtual Curry perform as good as the real life Curry.
Instead of changing the rating system in NBA 2K16 or NBA 2K17, the team is looking to figure out a better way to handle players that break the rules. Wang explains how the team plans to fix the virtual Curry, telling listeners, "Let's create something to break the rule, and that's what we'll probably be doing with Steph, and that's what 'Badges' are basically designed to do."
Part of this process involves balancing the use of badges to match the super-human performance that Curry delivers. The NBA 2K16 and NBA 2K17 gameplay needs to remain balanced so that it is not simply a matter of throwing up three pointers from half court every possession.
In the podcast we learn that the team is considering a NBA 2K16 update to deliver the Curry performance you are seeing on TV right now, but it is not set in stone. If there is a Curry NBA 2K16 patch, the team wants a way to fine tune it without another update. It's not clear if this 30 hour upgrade was the patch, which would give Curry a boost again in the future, or if it was a limited time upgrade.
It's for this reason that we may need to wait until the NBA 2K17 release date to see a realistic Steph Curry performance in the game. The NBA 2K17 release date is not confirmed to a specific date, but you can expect to play it in September.
With the new game coming well after the NBA Playoffs and the 2017 NBA Championship game, many players are holding out hope for another NBA 2k16 patch.
15 Exciting 2016 PS4 Games
No Man's Sky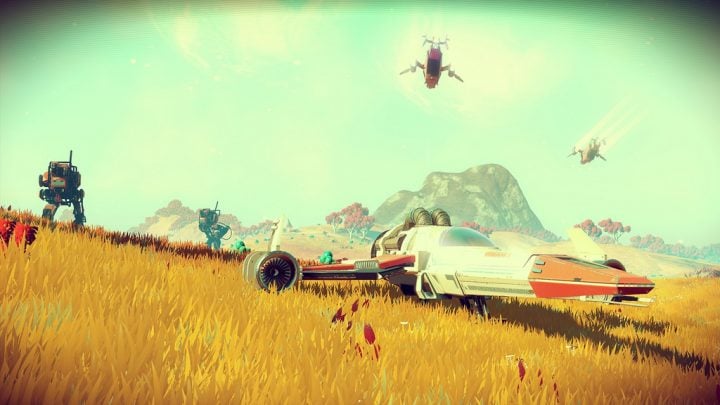 No Man's Sky Release Date: August 9, 2016, PS4 & Windows
No Man's Sky is a constantly generating open galaxy game with space exploration, world exploration and more as you work through an ever-expanding solar system of planets. Each of these planets is filled with new species and a new landscape.
Your goal is to find ancient artifacts that will help you understand the universe. As you make discoveries you can share with other players or keep it all a secret. As you explore and interact with worlds you can leave a trace of yourself behind.
In addition to the digital release there is now a Blu-Ray release of the game.