NFL Photographer Shoots Game on iPhone 6s Plus
We sent a pro photographer to a Sunday Night Football game to find out how good the camera is on the iPhone 6s Plus. He left his big DSLRs behind and captured the Denver Broncos vs Detroit Lions game with just the iPhone 6s Plus rather than the $12,000 camera and lens kit that he normally carries to NFL games.
Here's a look at what the iPhone 6s Plus camera can do in a relatively dark setting where subjects are not standings still and waiting for him to press the shutter.
You've seen Andrew Weber's work in Sports Illustrated, ESPN the Magazine, and USA Today. He photographed the 2012 London Olympics, many Super Bowls and also caught Dez Bryant's overturned catch in stunning detail during the playoffs last year.
This is Calvin Johnson Jr. (aka Megatron) making a fire-fueled entrance to Ford Field.
"Being a professional sports photographer I am used to using Canon professional cameras and lenses. " Weber said, before tallying up the gear he normally takes to a game and the cost. "When I normally cover an NFL game I am shooting with a Canon 1DX and a 400mm F2.8 lens which retails in at a total of $12,000."
This is a fairly common setup for sports photographers on the sideline of a NFL game.
Weber jumped at the opportunity to take our new Rose Gold iPhone 6s Plus to the sidelines of a NFL game to see how the camera can do in place of a heavy and expensive camera.
Here's Andrew Weber's description of using the iPhone 6s Plus as his only camera to capture a NFL game.
"I traveled from Toledo to Detroit like I do many Sundays a year to photograph the Detroit Lions. This time it was a little different. I didn't have to lug around my heavy camera gear. I just had my personal iPhone 6 and iPhone 6s Plus in my pocket. The 6s Plus is a BIG phone! It barely fit in my backpocket.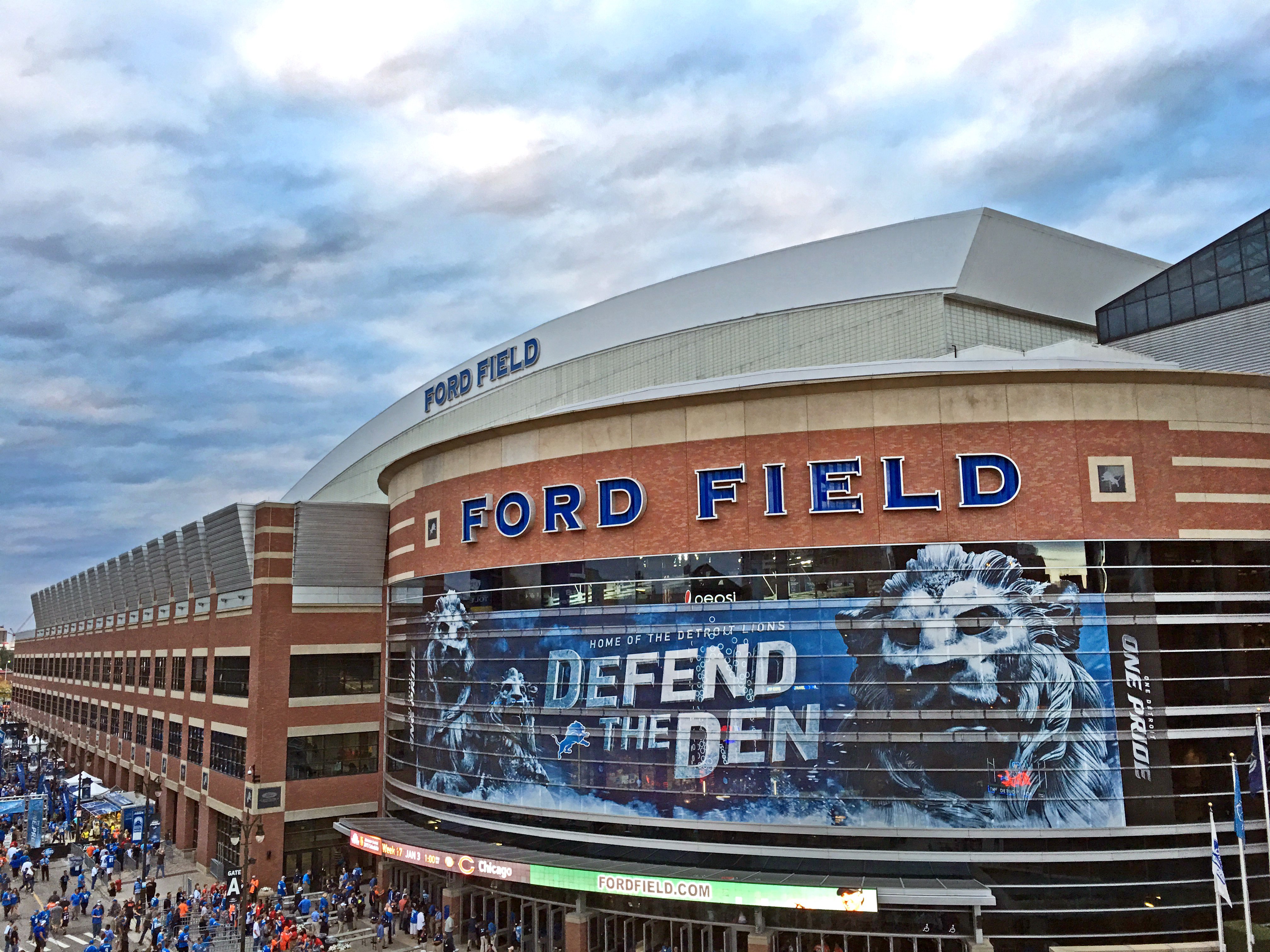 Being able to carry a 12 megapixel camera in my pocket is extremely impressive technology. Once I arrived at Ford Field to photograph the Denver Broncos at Detroit Lions I got to work creating feature images outside of the stadium to show the dynamic range the camera could capture with the cool clouds in the sky."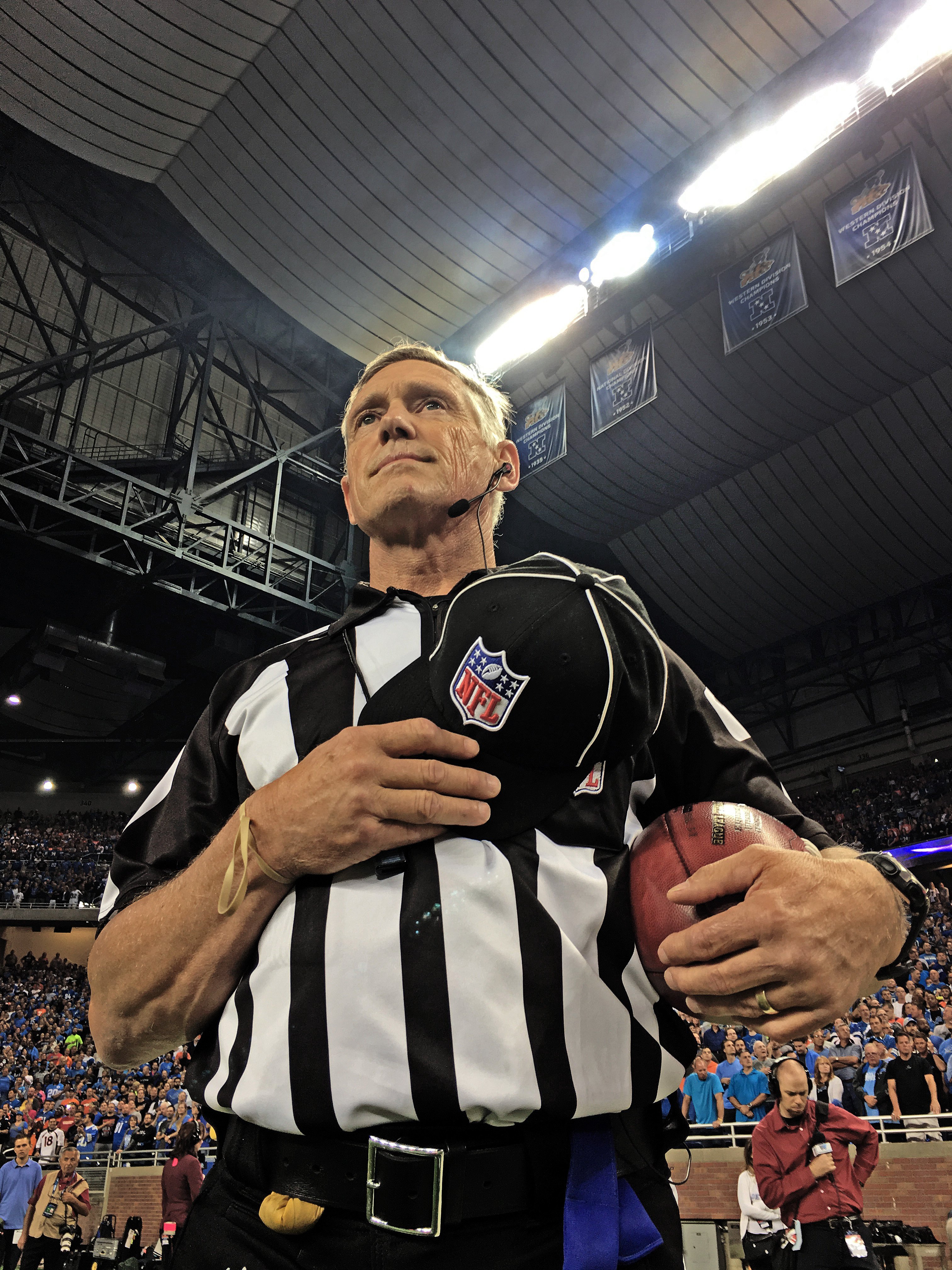 "After using the camera for a solid 3 hours I learned a few things, the default iPhone Camera App is the easiest to navigate and use but it lacks a lot of functionality. You can't control shutter speed or ISO. I did switch to an app called Camera+ which allowed me to control both of those settings but it didn't allow burst mode compared to the default Camera app."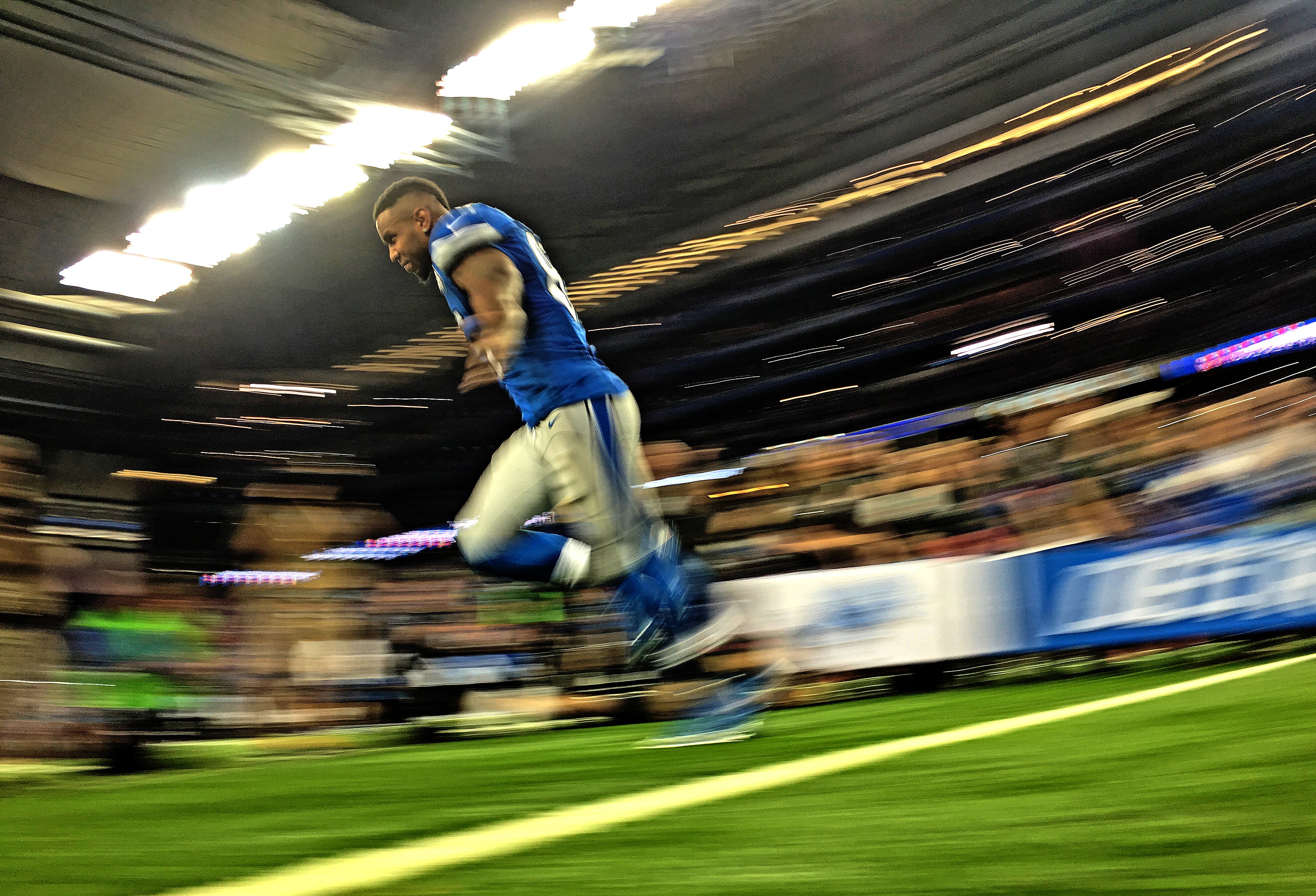 "A few other things, when I pushed the camera to shoot at ISO 1600 it looks like it was shot on film, its grainy and not a buttery smooth as DSLRs or if it was shot on a bright sunny day. But I was still extremely impressed with the quality of the picture. One of my favorite parts of the iPhone 6s Plus camera is being able to slow down the shutter speed and great panning images with the iPhone. With the built-in stabilization setting it really helps create nice sharp images."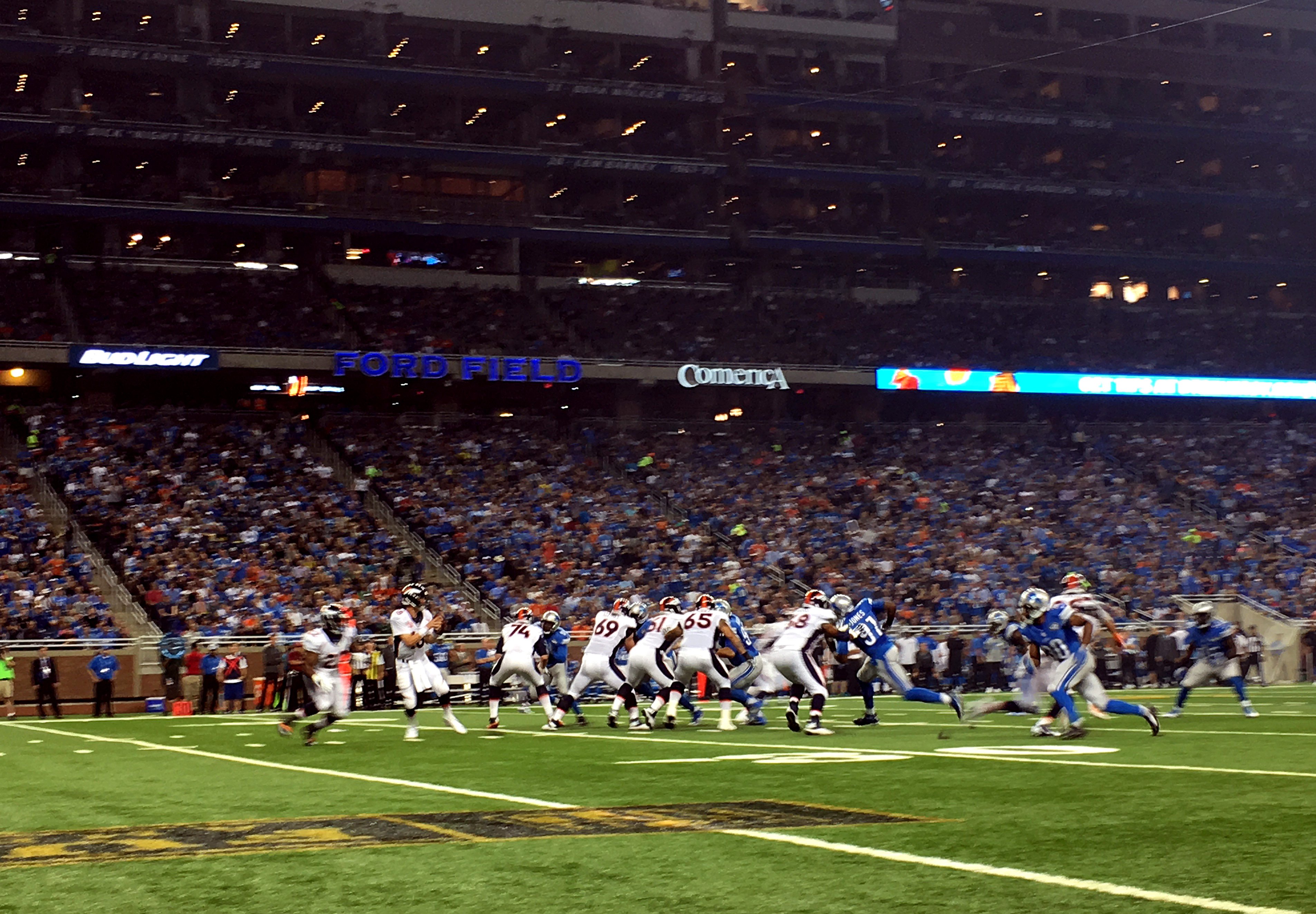 Peyton Manning drops back to pass against the Detroit Lions defense in the above photo. The iPhone 6s Plus has a fixed lens, which means it's impossible to zoom into the action.
Here's another shot of Peyton Manning before the game. As you can see, the tradeoff of shooting in dim environments is quite a bit of grain.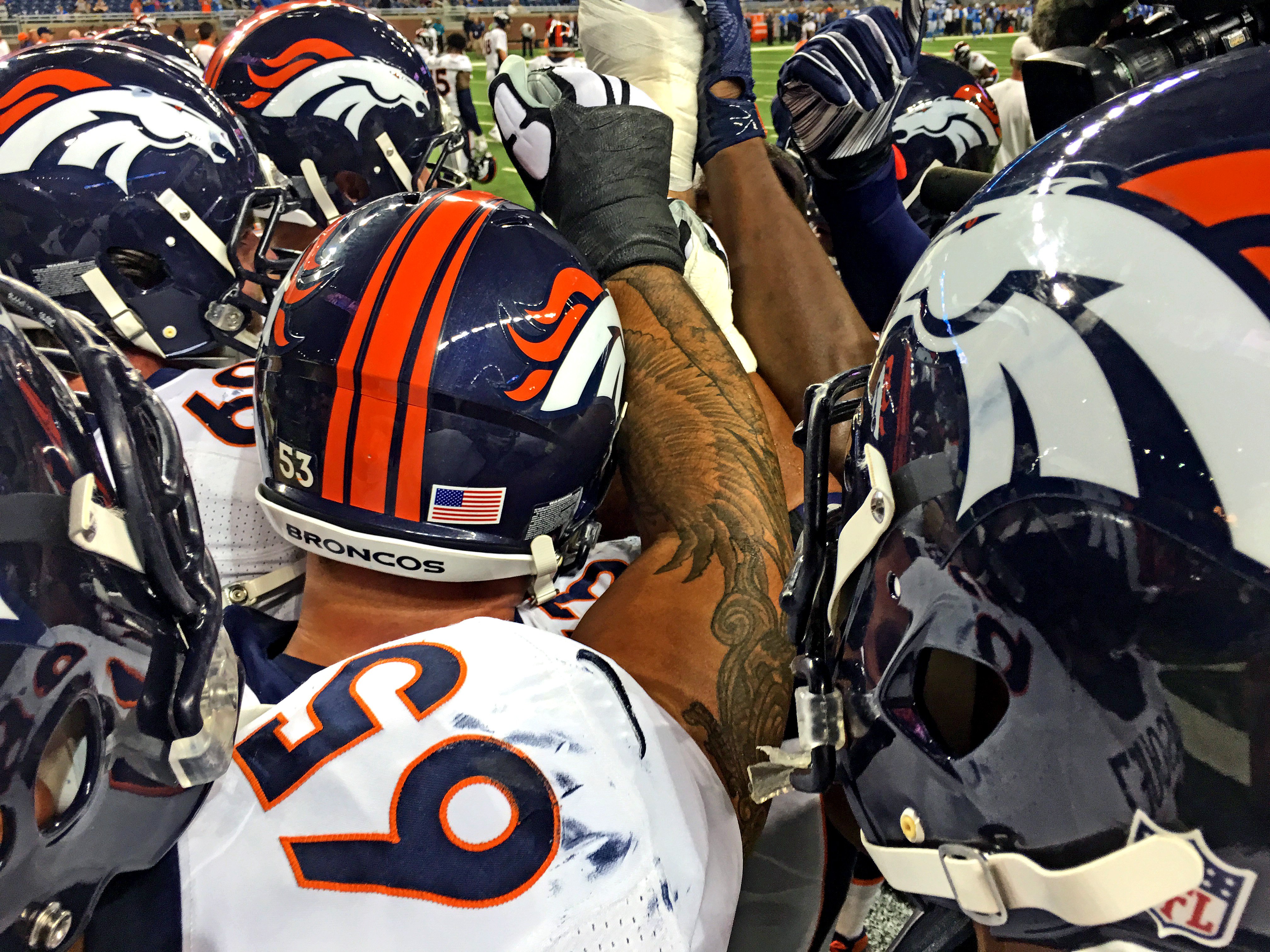 While the iPhone 6s Plus is not going to replace $12,000 worth of gear, there is a marked improvement from the iPhone 4s that Dan Chung used to photograph the 2012 Olympics. It will be interesting to see what improvements Apple can deliver on the next new iPhone.
"One thing that Apple seemed to have fixed is the lag time between when the shutter button is pushed and when it takes the pictures. It's a lot snappier compared to the iPhone 6."
Photographers can capture panoramas and wide-angle shots with the iPhone 6s Plus Camera app rather than lugging around a special wide-angle lens.
10 Exciting iPhone 6s Features You Need to Try
Take a Live Photo
The iPhone 6s and iPhone 6s Plus can now take a live photo that includes a few frames before and after you press the shutter.
Live photos are on by default on the iPhone 6s and iPhone 6s Plus. All you need to do is take a photo like normal when the Live icon in the middle of the camera settings is yellow, and it will work.
You can set these as your lock screen or you can simply watch them in the gallery by pressing on the screen.