Pixel 2 & Pixel 2 XL: First 10 Things to Do
When you get your Google Pixel 2 or Pixel 2 XL out of the box you'll see a lot that's new. In this guide we'll explain multiple settings to change or features to enable for a better experience. We'll show you how to set up the Pixel 2 and learn about your phone without reading the manual or going to the store for help.
Google's new phone hit shelves on October 19th and once you get one you'll need to prepare for the future. Get a quality case from our roundup below, learn about Android 8.0 Oreo, then do these 10 things to your Pixel 2. Oh, and don't forget to redeem your free Google Home Mini.
Read: 20 Best Google Pixel 2 XL Cases
We'll start with using Google's handy transfer tool, which easily transfers your old phone to the new Pixel. Then, set up the fingerprint scanner and customize the phone to fit your needs. These are the settings, controls, and tips you need to know to get the most from your phone.
Transfer Data From Old Phone
The first thing all owners will want to do is transfer everything from their old phone. Google's transfer tool works for data, apps, settings, contacts, calendar, icon placement, photos or video and even text messages. It's fast, easy, and there's even a transfer tool adapter in every box.
During your initial setup you'll get a notification for this. If you skipped it, head to settings and you'll see a reminder at the top of the settings menu. Hit "Finish setup" and follow the instructions on the screen. You will need to plug the USB dongle that's included in the box into your Pixel 2. Then connect a USB cable to it and connect the other end to your old phone. The adapter goes into the new device.
This will start the transfer service instantly, and do literally all the work for you. It's a complete transfer package like Samsung SmartSwitch, or Apple's tools.
In the next step, you can customize what gets transferred. Clear anything you don't want to restore to the new device, like certain apps or texts, and then hit start. My Galaxy S8 transferred in under 10 minutes. Then, depending on how many apps you had installed, it takes another 5-10 minutes to download and install all of your apps. You can keep using the Pixel while the restore process completes.
Once it's finished simply unplug the cable and start using your new Pixel 2. Google's transfer tool restored all my app icons to the homescreen too. Convenience at its finest.
Setup Lockscreen Security (Fingerprint Scanner)
Next, you'll want to secure your device and all of the important information it holds. You should be familiar with setting up a lockscreen password, pattern, pin, or fingerprint by now. If not, here's what you need to know.
Google calls it Pixel Imprint, and you can find it under Settings > Security & location > Screen lock. It only takes about 20 seconds to complete. Start by entering a pin, then tap your finger to the sensor six times to register a print. We'd recommend doing both index fingers for the best setup. While you're here, take a peek at "Smart Lock" you'll be glad you did.
The entire process is fast, easy and secure. Now your device is ready for use and is protected from prying eyes or in case of theft.
Customize the Active Edge (Squeeze Sides)
In case you didn't know, try squeezing the sides of your Pixel 2 or Pixel 2 XL. Google calls it the Active Edge, a shortcut to quickly launch the Google Assistant. Launch the Assistant and take advantage of all that it has to offer.
However, hidden in the settings menu a few more options for Active Edge. Google lets us turn it on to work even when the screen is off. Then, you can turn on a setting that lets you silence calls by simply squeezing the sides of the phone.
Head to Settings > System > Languages, input & gestures > Advanced > and scroll down to Active Edge. Or, just hit the search bar at the top and type Active Edge. Adjust the squeeze sensitivity, and allow it to work when the screen is off or to silence calls. Just flip the switch to turn these features on.
Turn On the Notification LED Light
Yes, the Google Pixel 2 and Pixel 2 XL have a notification LED. It's disabled out of the box, but we can turn it on. Then you'll see a blinking light for incoming calls, texts, emails and other notifications. It's a handy feature that most love.
Navigate to settings and head to Apps & notifications, then select Notifications and turn on the option labeled Blink Light. Or just search for Blink light and turn it on.
Customize Your Quick Setting Shortcuts
When you pull down the notification bar there's a handy row of six icons called App Shortcuts. Quickly toggle or access your WiFi, Bluetooth, or turn on a flashlight. Pull down twice and you'll see nine shortcuts in the expanded view. From here, tap the Pencil icon next to the settings icon to edit and customize your app shortcuts.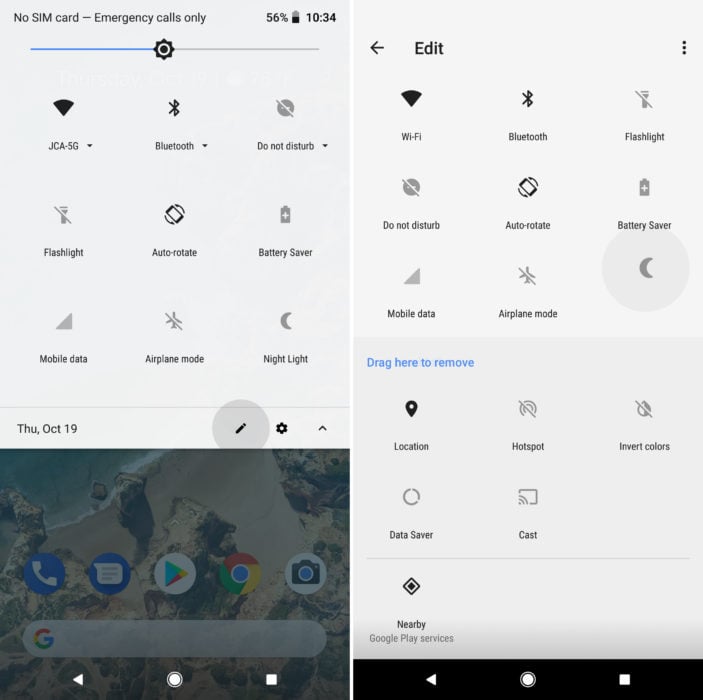 Now, simply press and hold any icon and drag it to rearrange your list. There are 15 quick settings to choose from. Next time you swipe down the notification bar you'll see the six you prefer, for quick and easy access.
Turn On/Off the Always-On Display
Last year the original Pixel had Ambient Display, where you'd see at-a-glance information when you pick up or tap the screen. Information like the time, battery level or incoming notifications. Well, not the Pixel 2 features an Always-On display like Samsung or LG. Giving you helpful information 24/7 in a low-power state right on the screen, even when it's turned off.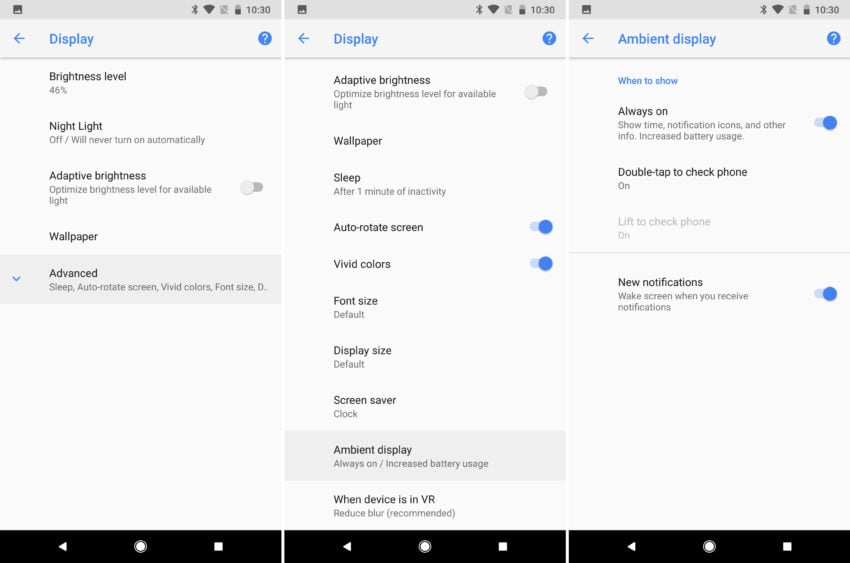 And while this does use a little battery life, it's only a few percent throughout an entire 8-hour work day. So we recommend leaving it turned on. It's a convenient feature many can't live without. Head into Settings > Display > Advanced > Ambient Display and turn the Always-On display on or off.
Setup Do-Not-Disturb & Night Light
One of our favorite features is Do-Not-Disturb. Turning the phone completely silent or on vibrate at night to prevent interruptions or getting woke up.
Go into Settings > Sound > Do Not Disturb and take advantage of this helpful feature. You can set exceptions, allow certain contacts or alarms through the silent barrier, and even block visual disturbances so your screen doesn't turn on and light up the room at night.
Additionally, you can set a schedule that fits your needs. Then the phone automatically turns on DnD on weekdays, but maybe keeps sounds on during the weekend. Choose what works best for you.
Another idea is to set up the Night Light. Head into Settings > Display > and select Night Light. This turns the blue LEDs off on the screen at night, and adds a red tint to the display. This prevents eye strain, helps users fall asleep easier. Studies have shown this helps people fall asleep faster at night too. Set a schedule or let Google turn it on with the sunrise and sunset.
Turn On the new Now Playing Feature
Every Google Pixel 2 or Pixel 2 XL has Shazam or Soundhound essentially built-in. Google calls this feature "Now Playing" and if music is playing you'll see a small notification on the bottom of your lockscreen. If you love music turn this on and enjoy it.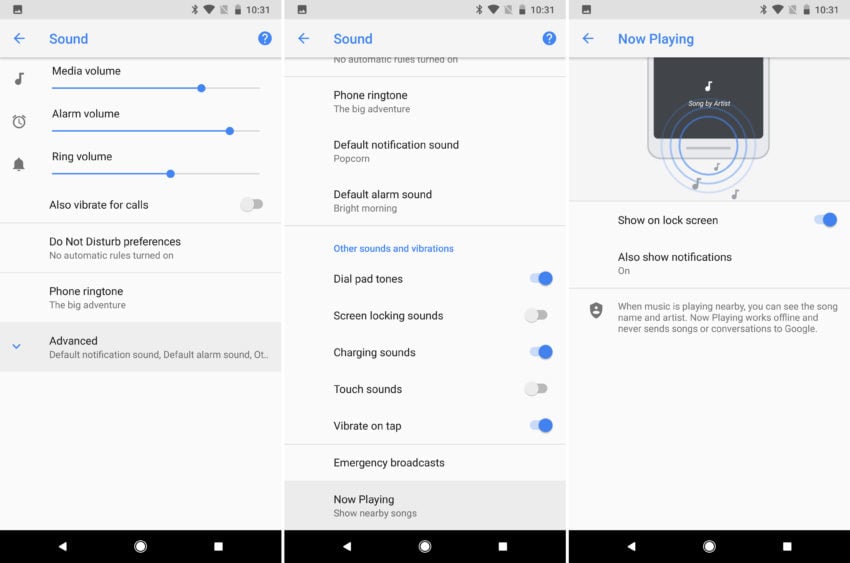 Go to Settings > Sound > Advanced > Now Playing and turn it on
The phone isn't listening to everything around us and instead, uses a database to find out the artist and track. Now Playing works offline and never send songs or conversations to Google. It's completely safe and gives you info on a song before you ask.
Quick Launch the Camera
Most know about this feature by now, but if not you'll love it. Quickly double-tap the power button on the side of the phone. Whether you're using an app, on the homescreen, or your Pixel 2 screen is off and it's just in your hand. This instantly launches the camera in under one second. Then snap photos with the impressive Pixel camera.
The first time you do this the Pixel asks if you want to keep Quick Launch enabled, so say yes or no. Additionally, with the camera on flick your wrist back and forth to easily switch to the front-facing camera. You're welcome.
Setup Android Pay
While we're at it, we recommend owners setup Android Pay as well. It works just like Apple Pay, and allows you to swipe your phone to make payments while out and about instead of carrying a wallet. Anywhere with Tap-n-Pay works with Android Pay.
Find the icon or download Android Pay, launch the app, add a credit card and start enjoying mobile payments.
Other Details & Final Thoughts
Don't forget that the Pixel has tons of neat features that are a part of Android 8.0 Oreo. Press and hold app icons for App Shortcuts similar to Apple's 3D Touch, or look for notification dots on app icons that alert you to incoming content.
Auto-fill is another neat new feature, where apps will automatically fill in your name, email, address, phone number or username and password for you. Just like Auto-fill on Google Chrome, only now it works across the entire device.
Read: Google Pixel 2 Problems: 5 Things to Know
Last but not least, don't forget to buy a Pixel 2 XL screen protector, download a bunch of your favorite apps, and explore the settings menu to learn about your phone. If you have any questions there's a dedicated 24/7 customer support option in settings. Instantly call, email, or even chat with a customer support representative for help if you need it.
A few other ideas are to set mobile data limits, test out how great the camera is, and try the new Portrait mode in the camera. As an added bonus, try changing your wallpaper to a dark or light image and watch your on-screen buttons, notification bar and Google search bar all change. Google added a built-in theme to the Pixel 2, but this is the only way to get the themes.
Before you go, check out these 10 Google Pixel 2 features you'll love, and enjoy all your new phone has to offer.