PS4 Deals April 2015: $225 PS4, $50 Off, Free Games
After looking at the PS4 deals for April 2015 you might think you are back in November looking at Black Friday ads. These are the biggest and boldest PS4 deals we've seen since the holidays and possibly the best PS4 deals we will see until this fall.
There is a major PS4 trade-in deal for anyone who wants to upgrade from Xbox 360 or PS3 and there are many more deals that offer huge savings for users who don't have a console to upgrade.
There's no need to look for tiny PS4 deals when you can easily score big savings from almost any store in April 2015. With the PS4 deals April 2015 list below you'll discover a way for upgraders to buy a PS4 for $225 and huge discounts and useful add-ons if you don't want to trade in an old console.
Read: How to Buy a Cheap PS4
This seriously blows away every other PS4 deal that we've seen in 2015 and it is an opportunity that many gamers won't want to miss with a growing catalog of great PS4 games and many exciting 2015 PS4 game releases coming.
$225 PS4 Deal
You can score a $225 PS4 if you trade in a PS3 (120 GB or higher) or Xbox 360 (250GB or higher) at GameStop. This is better than the $125 credit that GameStop offered in February, and it is only valid until April 5th.
If you choose to use this PS4 deal you need to trade in the qualifying PS3 or Xbox 360 in full working order and the credit is only valid on a PS4. You cannot trade this for cash. Some users report trading in two consoles at the promotional credit and using it on one PS4, but this varies based on manager discretion.
PS4 Deal with Bloodborne + $20 GC + Last of Us
[easyazon_block add_to_cart="default" align="right" asin="B00UZGQ3G4″ cloaking="default" layout="top" localization="default" locale="US" nofollow="default" new_window="default" tag="gbm-ea-20″]Amazon's PS4 deals[/easyazon_block]For users looking for a solid PS4 deal in April, the Amazon offer that includes a PS4 + Bloodborne + The Last of Us Remastered + $20 Gift Card for $399 is a solid option.
Bloodborne arrived last week to stellar reviews and with this option you also get the digital copy of The Last of Us remastered and a $20 gift card that you can use on another excellent game.
This is only valid while supplies last and it represents a $80 savings over buying individually.
PS4 Deal with DualShock 4 + Call of Duty: Advanced Warfare + Last of Us
If Bloodborne isn't your cup of tea, check out this PS4 deal from Walmart where you can buy a PS4 with an extra DualShock 4 controller, Call of Duty: Advanced Warfare and The Last of Us Remastered for $399. If you don't want Call of Duty: Advanced Warfare you can pick Watchdogs or Need for Speed Rivals.
Call of Duty: Advanced Warfare arrived in November 2014 to good reviews and is still widely played, online. The single player mode is predictable, but online Call of Duty: Advanced Warfare multiplayer is fun and fast paced.
The extra controller makes this a solid deal for families or gamers who play with friends in person, not just online. Overall this PS4 deal delivers $99 in added savings ($49.99 for controller & $39.99 for Call of Duty: Advanced Warfare).
PS4 Deals Free Controller or Free PS4 Camera
If you don't want the free games offered or prefer to shop at another store, you can save with a free PS4 controller or a free PlayStation Camera. These aren't as good as the other options, but if this is what you want, here's where to buy.
Toys R Us – PS4 + Extra DualShock 4 Controller – $399
Best Buy – PS4 + The Last of Us Remastered + Free PlayStation Camera – $399
The PS4 controller is a $49.99 value and the PlayStation 4 Camera is a $59.99 value.
PS4 Deals April 2015: $50 Gift Card or Coupon
Other tempting PS4 deals in April include what is essentially a $50 price cut with the purchase of a PS4 at Meijer or Target. Target offers a $50 target gift card as a bonus and Meijer offers a $50 coupon toward your next shopping trip.
Meijer – $50 Coupon for Next Shopping Trip with PS4 + The Last of Us Remastered – $399
Target – $50 Gift Card + PS4 + The Last of Us Remastered – $399
Even if you only have enough to buy the PS4 now, you can use this on groceries and other household items. If you need games, this will help you buy at least one recent release that is already on sale.
PS4 Games Deals
This is also an excellent time to buy PS4 games with many stores offering Buy one Get One 50% or 40% off. There are also a lot of individual game discounts.
Meijer – Buy One Get one 40% Off all Video games
Target – Buy One Get one 50% Off all Video games
Toys R Us – Buy One Get one 40% Off all Video games
Individual PS4 game deals include the following discounts and more. Many of these end on April 4th.
Call of Duty: Advanced Warfare – $39.99
Assassin's Creed Unity – $19.99
Far Cry 4 – $29.99
The Crew – $29.99
Watch Dogs – $19.99
NBA 2K15 – $39.99
FIFA 15 – $39.99
Battlefield Hardline – $39.99
The deals listed above are available at Best Buy, but many stores are already price matching these deals, including Amazon's PS4 deals.
15 Exciting 2015 PS4 Games
MLB 15 The Show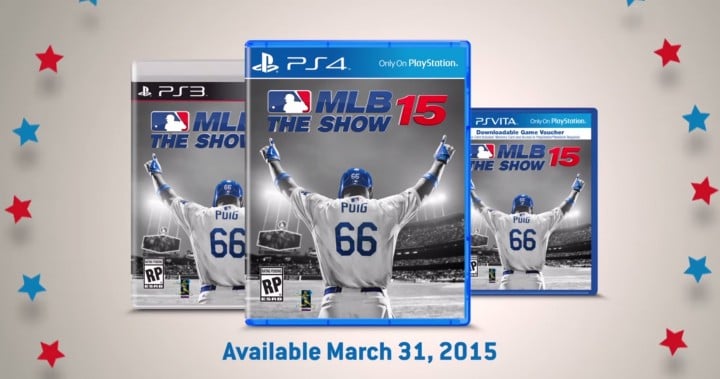 MLB 15 The Show Release Date - March 31st Confirmed
Sony is the undisputed king of baseball games with MLB The Show and we know that MLB 15 The Show is coming in early 2015. Sony just shared five key details about MLB 15 the Show and gamers are excited.
MLB 15 The Show is a PlayStation Exclusive, that is coming to the PS4, PS3 and PS Vita. There is a chance that this will be one of the first big hits among the 2015 PS4 game releases. I
Watch the MLB 15 The Show teaser video above for a glimpse at what's new.

This article may contain affiliate links. Click here for more details.