PS4 Deals February: $275 PS4 Deal Returns
Forget looking for small PS4 deals and find out how you can buy a PS4 for $275 in February 2015. You don't need to wait another six months for big discounts if you are upgrading from a PS3 or Xbox 360, and this PS4 deal includes a free game to sweeten the deal. You will need an old console for this PS4 trade-in deal, but we have you covered with another option if you don't have a qualifying trade.
If you don't have a PS3 or Xbox 360 to trade in towards the $275 PS4 deal you can follow our guide on how to buy a cheap PS4 and save even more by going with a pre-owned version that many times is just as good.
Read: PS4 Review
You won't find a better PS4 deal for a long time if you are looking to upgrade, and now is a great time to upgrade to a PS4 so you can get in on the MLB 15 The Show release and Battlefield Hardline that are both coming in March.
The PS4 is almost a year-and-a-half old and we are finally seeing a return of PS4 trade-in deals that offer up to $125 off the price of a new PS4 when you trade-in a qualifying PS3 or Xbox 360.
This deal is sweeter than the last PS4 trade-in deal we saw because it includes a free game with the purchase.
$275 PS4 Deal
If you own an old PS3 or Xbox 360 you can trade it in at GameStop for $125 towards a new PS4.
To take advantage of this offer you need to trade in a PS3 with 120GB of storage or a Xbox 360 with a 250GB hard drive. Consoles with more storage are also acceptable. The trade must be in full working order with all necessary components and you cannot trade for $125 in cash. All trades are subject to manager approval.
The PS4 Trade-in deal is valid now through March 1st 2015, so you can save when you upgrade from an old console. You need to go to a GameStop location to take advantage of this deal.
$299 PS4 Deal
If you prefer to spend your money at Best Buy you can trade in a 120GB PS3 at Best Buy right now for $100 in store credit. This cuts the price of a PS3 to $299 after your trade. The Xbox 360 trade-in value at Best Buy is only $50 so GameStop is a better deal.
With both of these offers you get a free digital copy of The Last of Us Remastered, a popular game that arrived on the PS4 last year after a huge success on the PS3.
Used PS4 Deals
You can also buy a cheap PS4 without trading in an old console. This is especially appealing for users who own a Xbox 360 or PS3 with a small hard drive that is now worth almost nothing in trade value.
You can use our guide to buy a cheap PS4 to save $120 or more on a used PS4 that may show some wear by buying from CowBoom or Amazon Warehouse. Sometimes you will get a console that looks like new, and other options will require a skin to cover up scratches, but the console is in perfect working order.
These PS4 deals come as Microsoft announced another Xbox One price cut, this time dropping the Xbox One with Kinect down to $449 and keeping the Xbox One at $349.
15 Exciting 2015 PS4 Games
MLB 15 The Show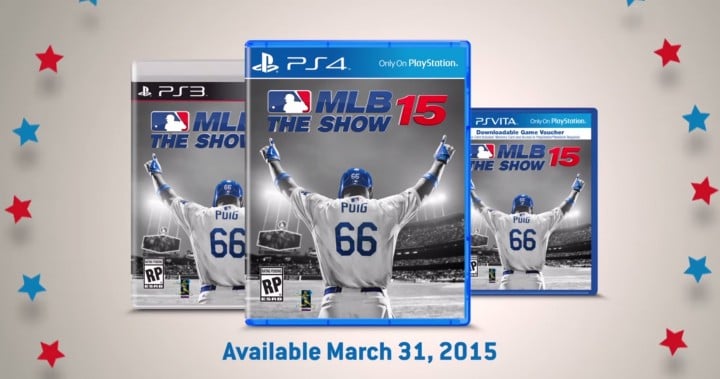 MLB 15 The Show Release Date - March 31st Confirmed
Sony is the undisputed king of baseball games with MLB The Show and we know that MLB 15 The Show is coming in early 2015. Sony just shared five key details about MLB 15 the Show and gamers are excited.
MLB 15 The Show is a PlayStation Exclusive, that is coming to the PS4, PS3 and PS Vita. There is a chance that this will be one of the first big hits among the 2015 PS4 game releases. I
Watch the MLB 15 The Show teaser video above for a glimpse at what's new.

As an Amazon Associate I earn from qualifying purchases.