2015 PS4 Price Drop: 5 Things You Need to Know
A new document suggests gamers could see a PS4 price drop in 2015 that delivers a cheaper PS4 for buyers and a PS Vita price drop along with it that could bolster Remote Play.
The prospect of a 2015 PS4 price drop is higher than consumers might think. After months of cheaper Xbox One deals Microsoft is no longer playing catch-up to Sony.
Read: PS4 Tips & Tricks
We first heard about a cheaper PS4 at the start of 2015 when images of a PS4 Slim appeared online showing a much smaller PlayStation 4 console. Nothing came from this leak, but it was a reminder that Sony can move fast to deliver a new console.
The PS3 slim arrived three years after the PS3 release, and even if the PS4 stays the same size we may see a price cut due to Sony's ability to cut the production costs dramatically. Just two years after the PS3 arrived Sony was able to cut the manufacturing cost by 70% according to an investor call.
Now that it is clear that Sony could easily deliver a PS4 price drop in 2015, here are five things you need to know about the rumor. Keep in mind there are also reasons a PS4 price cut isn't likely.
PS4 Price Drop Details
The new PS4 price drop rumor arrives from an official source, but it is not announced at this time. Wholesome Gamer shares a screenshot from a Sony contest for video game retail employees that shows the PS4 price as $349. That is a $50 price cut for the PS4, which currently retails at $399.
In a screenshot we see the PS4 Approximate Retail Value (ARV) listed as $349. This value is typically the retail price of the device that a customer will pay in-store without any discounts.
When Would Sony Announce a PS4 Price Cut?
If this is the real deal, there are two potential times for a PS4 price cut in 2015. The first is in June at E3 2015. E3 is the biggest event of the year for gaming in the U.S. and it is a location where many major announcements will arrive.
Sony could make the announcement during the 2015 E3 press conference that starts at 6PM Pacific/9PM Eastern on June 15th.
If Sony announces a PS4 price drop at this event, expect the in-store prices to match the announcement within hours or days.Another possible time for a cheaper PS4 announcement is right before the holiday shopping season starts.
PS Vita Price Drop Too
A PS4 price cut isn't the only potential change for Sony. The same document includes a listing for a cheaper PS Vita. It is not clear if this is the current model or a cheaper value placed on an older PS Vita.
The PS Vita can connect to the PS4 to enable remote play, putting PS4 games on a portable device that you can use at home or even on the go with the right setup.
PS4 Deals Offer Similar Pricing Right Now
It's tough to tell gamers to wait for the PS4 price cut that may not happen, especially with so many fantastic games coming out only on the new consoles this year.
Even if you don't want to wait for a PS4 price drop, there are many PS4 deals available that add up to $50 in savings almost every other week.
On eBay deals we routinely find a new PS4 for $349 with The Last of Us Remastered. That's $50 less than the current retail price of the PS4.
Retailers also often include extra games, controllers or bonus items that equal $50 or more in savings.
Why a PS4 Price Cut Makes Sense
The leak and the timing aren't the only reasons that a PS4 price cut makes sense in 2015. Microsoft took the lead in sales of new consoles recently and the Xbox One price cut that went into effect before the holidays still delivers a nice value proposition for consumers.
Add in the lack of PS4 exclusives in the pipeline for a 2015 release during the rest of the year and Microsoft adding remote Xbox One play to Windows 10 and there is building pressure for Sony to go on the offensive.
15 Exciting 2015 PS4 Games
MLB 15 The Show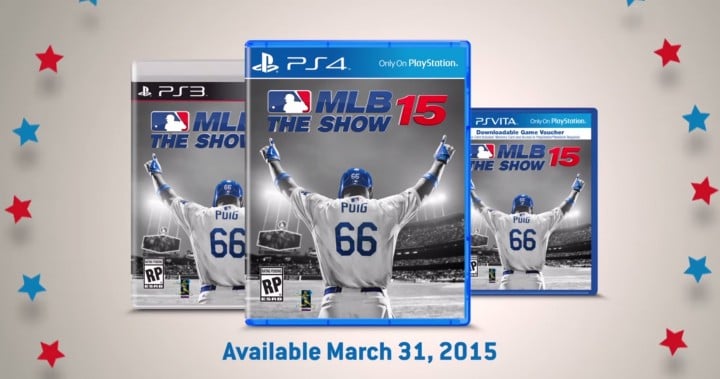 MLB 15 The Show Release Date - March 31st Confirmed
Sony is the undisputed king of baseball games with MLB The Show and we know that MLB 15 The Show is coming in early 2015. Sony just shared five key details about MLB 15 the Show and gamers are excited.
MLB 15 The Show is a PlayStation Exclusive, that is coming to the PS4, PS3 and PS Vita. There is a chance that this will be one of the first big hits among the 2015 PS4 game releases. I
Watch the MLB 15 The Show teaser video above for a glimpse at what's new.