4 Reasons to Switch to T-Mobile & 4 Reasons Not To
Is it worth it to switch to T-Mobile? Yes, T-Mobile will pay the cost of switching from AT&T or Verizon, but there are a lot of things to consider before rushing in to switch to T-Mobile. While there are definitely some advantages to T-Mobile's services, there are plenty of reasons to stick with your current carrier.
What are some of the key advantages of T-Mobile? All of T-Mobile plans are contract-free, which means it can be easier to switch plans and carriers at will. T-Mobile's network is improving, providing fast 4G connections in more cities than in past years. International calling and data add-ons let T-Mobile customers travel abroad and know that a huge bill won't be waiting for them when they arrive home.
Not everything about T-Mobile is great. Its network won't impress people who live in many small towns and the suburbs. The carrier lures customers with the promise of cheaper plans and lowering pricing, but it's not always the cheapest option. Its smartphone roster does not extend much past Samsung's Galaxy devices and Apple's iPhones. Subscribers don't sign contracts locking them to an early termination fee, but there are penalties for leaving. AT&T and Verizon outshine T-Mobile in some locations.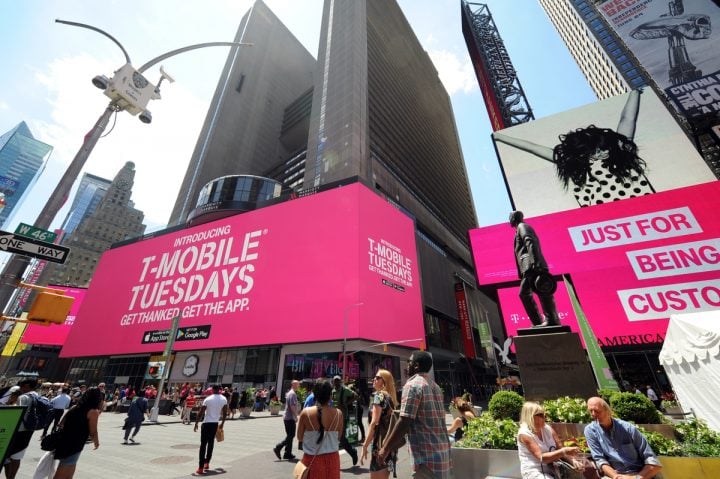 Read: AT&T vs. T-Mobile: All The Things That Matter
Switching wireless carriers is scary. Which carrier you use impacts your household's budget. Choosing the wrong carrier can cripple your smartphone when you need it the most. Don't switch to T-Mobile without knowing exactly what the carrier excels at and where it falls short. Use this guide to decide if switching from AT&T, Verizon or Sprint is a good idea for you.
Reasons to Switch to T-Mobile
Do Switch for If You Frequently Travel
Do Switch for Discounts and Offers Every Tuesday
Do Switch to Avoid Hidden Fees
Do Switch to Upgrade Your Phone Three Times a Year
Reasons to Not Switch to T-Mobile
Don't Switch for Cheaper Plans
Don't Switch for Network Reception
Don't Switch to Get Away from Contracts
Don't Switch to Get the Best Phones
Do Switch for If You Frequently Travel
It's important that your smartphone and your wireless carrier work wherever you are. You shouldn't need to purchase a prepaid SIM card when you go on vacation. You should never need to turn your data off to keep prevent a large bill.
Every customer that signs up for a T-Mobile One plan gets unlimited 2G international data and texting in 140 countries free. The plan includes an hour of free Gogo Wi-Fi on U.S. airlines too. Talk, text and data in Mexico and Canada are free.
Really, the in-flight Wi-Fi is what makes this plane unique. Unlimited international data sounds great, but 2G speeds are set at 128 kilobits per second. Subscribers can't stream music or watch video abroad with speeds that slow. AT&T and Verizon customers have free talk and text in Mexico and Canada too, so T-Mobile subscribers aren't saving a lot there.
The T-Mobile One Plus add-on doubles international data speeds to 256 kilobits per second for $10. Subscribers also get 10GB of fast 4G tethering to turn their smartphone into a high-speed wireless modem for their notebook or tablet. Free Gogo in-flight Wi-Fi is also included in this plan.
T-Mobile's One Plus International add-on gets subscribers 256 kilobits of data per second, unlimited in-flight Wi-Fi with Gogo and unlimited LTE hotspot tethering in the United States. Unlimited international landline calling in 70 countries and unlimited calling to mobile numbers in 30 countries lets subscribers place calls without getting a huge bill. This add-on costs $25.
Compare that to other carriers. Sprint Global Roaming customers pay 20 cents per minute for calls and get free texting and 2G data. Because 2G data is slow, subscribers must unlock LTE data in 50 countries for $5 a day or $25 a week to get the best experience. LTE data costs Sprint subscribers $2 a day or $10 a week in Mexico & Canada.
AT&T Unlimited Choice and Unlimited Plus customers can talk and text in Canada and Mexico without roaming charges. AT&T also lets subscribers continue to use their existing data in these countries. Customers need a daily AT&T International Day Pass to unlock calling, texting and data while in Europe, Latin America, Asia and the Caribbean. This plan add-on costs $10.
Finally, Verizon Unlimited Plan subscribers can call, text and use their data in Mexico and Canada for free. Customers pay $10 a day to use their plan's features internationally with Verizon TravelPass.
A five-day vacation in Europe would cost T-Mobile subscribers the least. The carrier's One Plus International plan add-on costs $25. Sprint customers would pay $25 for five days and get charged for every call they make. AT&T and Verizon customers would pay $50 extra for that five-day vacation.

As an Amazon Associate I earn from qualifying purchases.