6 Reasons to Wait for the LG V60 & 4 Reasons Not to
You probably have your eyes on Samsung's impressive new Galaxy S20 or even the Pixel 4 XL, but some of you might be better off waiting for the newly announced and impressive LG V60 that's coming in March.
The LG G8x is a neat phone with a second screen add-on, the V50 had 5G, and the company offers several budget devices for fans. If you're looking for a new phone in early 2020 they're all good choices. That said, waiting another month could pay off in the long run.
That's because the recently unveiled LG V60 ThinQ (they're skipping the G-series) looks like an excellent phone that should have buyers' attention. It packs a beautiful 6.8-inch screen, so it's a little bigger than the Galaxy S20+ but not as big as the Galaxy S20 Ultra. You're still getting a bunch of cameras, 5G, all-day battery life and more for a lot less money than Samsung wants. Here's everything we know so far.
If the fancy phones available right now with in-display cameras or crazy 3D gesture controls aren't what you want or aren't big enough of an upgrade, wait for something else. If you still have an LG G7 and didn't upgrade last year, here are a few reasons why you should wait for the LG V60 ThinQ, or why maybe you shouldn't.
 LG V60 News & Leaks (February 2020)
Following a few months of leaks and news LG finally announced it's first big phone for 2020 at the end of February. This year they're releasing the high-end LG V-series first, instead of the LG G9, in an effort to compete directly with the Galaxy S20. According to LG the reason is 5G, but it's honestly to battle Samsung.
Originally we saw leaks of a 4K screen, bigger screens, and a bunch of other things, but now that it's official you'll want to see what it has to offer. The LG V60 ThinQ packs a beautiful 6.8-inch Quad-HD display, all the latest specs and features, a crazy powerful 64MP main camera, and a 5,000 mAh battery. That's in addition to all the usual high-end audio aspects, 5G, triple rear cameras and more.
LG's new phones appear to pack several high-end features, big battery packs, and they'll still have a 3.5mm headphone jack — basically the last of its kind — and a few other noteworthy features like the entire screen doubling as one big speaker.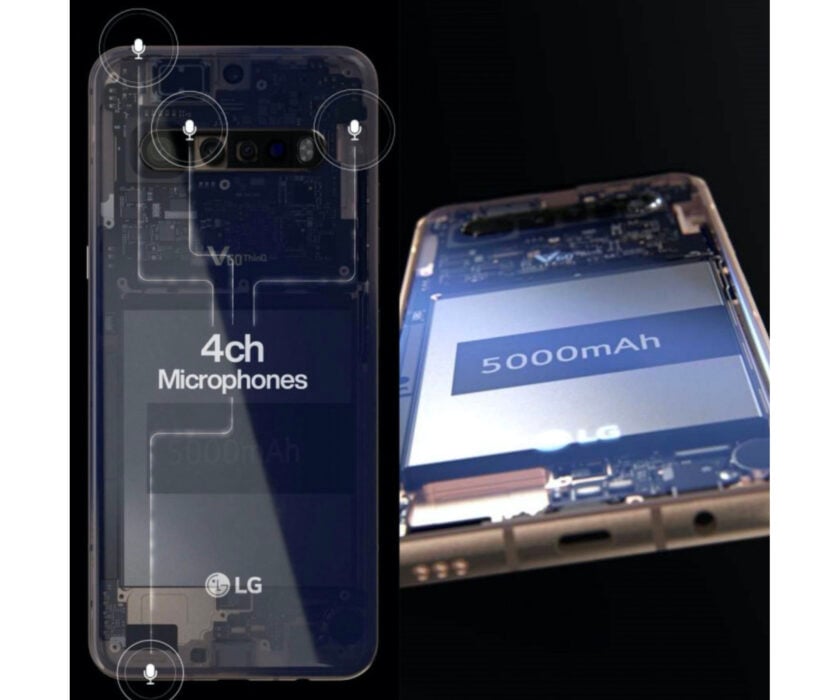 LG ditched all those sensors inside the screen for face unlock and went with a tiny cutout at the top of the screen for the front-facing camera. And instead, will use an in-display fingerprint scanner for security.
That said, it looks like the focus is the big beautiful 6.8-ich screen, the free "second screen" accessory that gives you a second 6.8-inch display — technically giving you a 14-inch screen to enjoy — and that big 5,000 mAh battery.
Either way, there are some very tempting phones available right now, and in this guide we'll take you through the best reasons to wait for LG's V60 or why you shouldn't wait and look elsewhere today.
Wait for a Better & Bigger LG V60
The big LG V50 and its five total cameras is nothing to shrug off. It's a highly capable phone packed with 5G and likely the best device we've ever seen from LG.
It offers excellent performance, a huge vibrant display, double the storage, and a trio of high-end cameras on the back, not to mention two more up front. It's a great phone anyone would love, even with the large notch in the screen, but some of you might want to hold off for what's coming next.
The LG V60 is a bigger, better, smarter, faster LG V50. The company just confirmed a big 6.8-inch P-OLED display with a 60Hz refresh rate, with a small notch at the top for the front camera. At that size this phone is bigger than past LG devices and fits perfectly between the Galaxy S20+ and the Galaxy S20 Ultra.
As expected, the LG V60 packs the new Qualcomm Snapdragon 865 processor with 8GB of RAM, 128GB of storage, 5G speeds, and triple cameras on the back. The main camera is now 64MP, which takes great photos and 8K video, among other things. Then, you're still getting LG's usual wide-angle lens. However, they are NOT offering a telephoto lens of any kind, which is a potential downfall when compared to the Galaxy S20.
Aside from missing a telephoto zoom camera, everything else about the LG V60 is pretty comparable to the Galaxy S20 competition.
This is the brand's biggest and best phone yet. We're really excited about the bigger screen, 5G speeds and the 5,000 mAh battery all powered by Android 10.