Samsung Galaxy S10 Release Date Breakdown
In this Samsung Galaxy S10 release date guide we'll tell you everything you need to know about these fancy new phones. Following months of leaks and rumors, three new Galaxy S10 phones are official and arrive starting March 8th. Here's all the release date details, pre-order info, pricing, shipping information and Galaxy S10 deals for buyers.
On February 20th Samsung took the stage in SF and showed the world what they'd been working on. Which, of course, is the 10th anniversary Galaxy S phone. Delivering a stunning edge-to-edge display with groundbreaking new technology to hide both the fingerprint scanner and front cameras inside the screen.
Samsung Galaxy S10 Release Date
As expected, Samsung immediately confirmed pre-orders and the March 8th release date. Plus, it looks like pre-orders are shipping earlier than the anticipated March 8th day.
It looks like Samsung wants these phones out as soon as possible to battle the competition. Again, pre-orders began on February 21st around the globe, followed by a March 8th release date. That's earlier than the S8 and S9 from earlier years.
Samsung Galaxy S10 Pre-Orders (Shipping Early)
Rocking a sleek design with nothing but a huge screen on the front and triple rear cameras, people want to get their hands on it right away.
Pre-orders began February 21st everywhere. Head to Verizon, T-Mobile, AT&T, and even retail stores such as Best Buy or Walmart. Best Buy has some good deals, so check there before your carrier store. Or, Samsung.com is offering some lucrative discounts and trade-in deals for the Galaxy S10.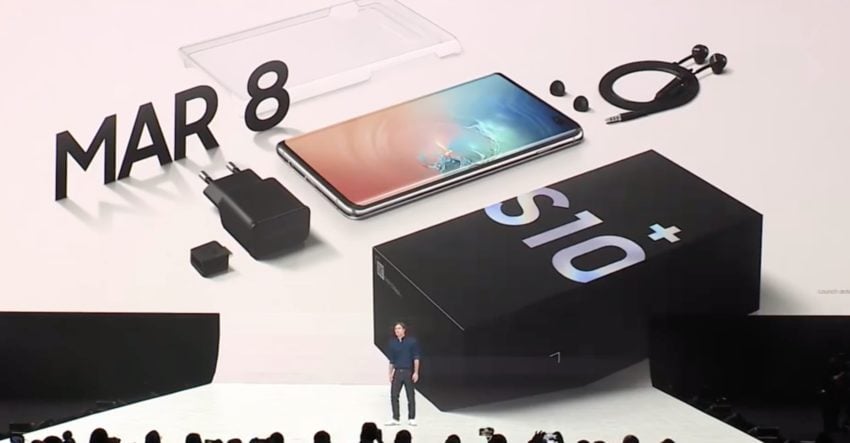 Samsung has the best trade-in pricing in the industry, so order through them if possible. As an example, they gave me $300 for my used Galaxy S8+ while AT&T only offered $180. Then, those who pre-order the Galaxy S10 will get the Samsung Galaxy Buds ($129 value) free in select regions.
We have good news, it looks like Samsung.com, AT&T, and even Verizon are shipping Galaxy S10 pre-orders ahead of schedule. Instead of a March 8th release date, on Friday, AT&T shipped on the 5th and some Samsung orders shipped on the 4th. People are getting phones early.

Update: The Galaxy Buds are out of stock, but pre-orders will still get a $130 certificate to buy some later, or some other official Galaxy S10 accessory.
Links to Order Your S10 today:
Samsung Galaxy S10 Price
With three Galaxy S10 phones and different storage models for each one, pricing varies quite a bit.
Devices like the Galaxy S8 and Galaxy S9 came in at $720, while the bigger Galaxy S8+ and S9+ are around $850 or so. That said, the big Galaxy Note 9 is $1,000. Here's how Samsung will price its new flagship phones for 2019.
Galaxy S10e – $749
Regular Galaxy S10 – $899
Galaxy S10 Plus – $999 (or more)
The budget Galaxy S10e costs $749 to take on the iPhone Xr. While the other Galaxy S10 models have prices slightly higher than previous years yet deliver an unrivaled and all-new experience.
Four Different Galaxy S10 Sizes
For those unaware, this year Samsung is offering four different phones and screen sizes. This is likely an attempt to battle the iPhone Xr, iPhone Xs and Xs Max. That said, there are three main models.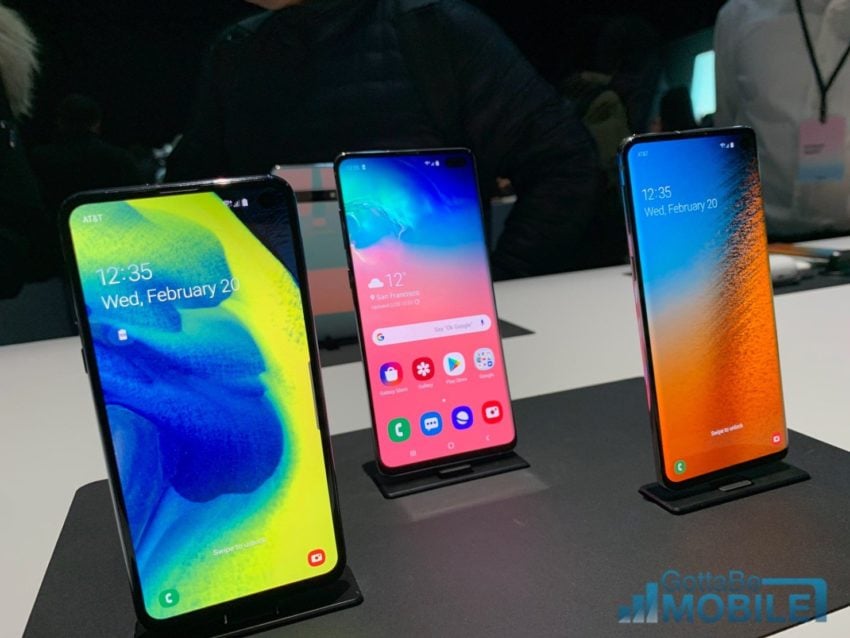 Galaxy S10E: 5.8-inch Flat Full-HD Display (budget model, flat screen for the first time in years)
Galaxy S10: 6.1-inch Curved Quad-HD Display (slightly bigger than the S9)
Galaxy S10+: 6.4-inch Curved Quad-HD Display 
Galaxy S10 5G: 6.7-inch Curved Quad-HD Display (coming later)
Samsung mixed things up this year. The screens are bigger because they managed to put the fingerprint scanner and front-facing cameras inside the screen, allowing the screens to stretch to all four corners. Plus, later this summer we're expecting an even bigger 6.7-inch Galaxy S10 with 5G support. Crazy.
Personally, the regular Galaxy S10 is the perfect phone for almost everyone. It's not too big, not too small, roughly the same size as the smaller Galaxy S9 but with a bigger screen, and perhaps the best phone on the market.
Where to Buy the Galaxy S10
As expected, all carriers and multiple stores will offer the Galaxy S10E, Galaxy S10, and Galaxy S10 Plus. So far, we can confirm Verizon, T-Mobile, AT&T, Sprint, US Cellular and more. Not to mention Best Buy, Target, Walmart, Sam's Club and select other retail stores. Plus, regional stores will likely have some.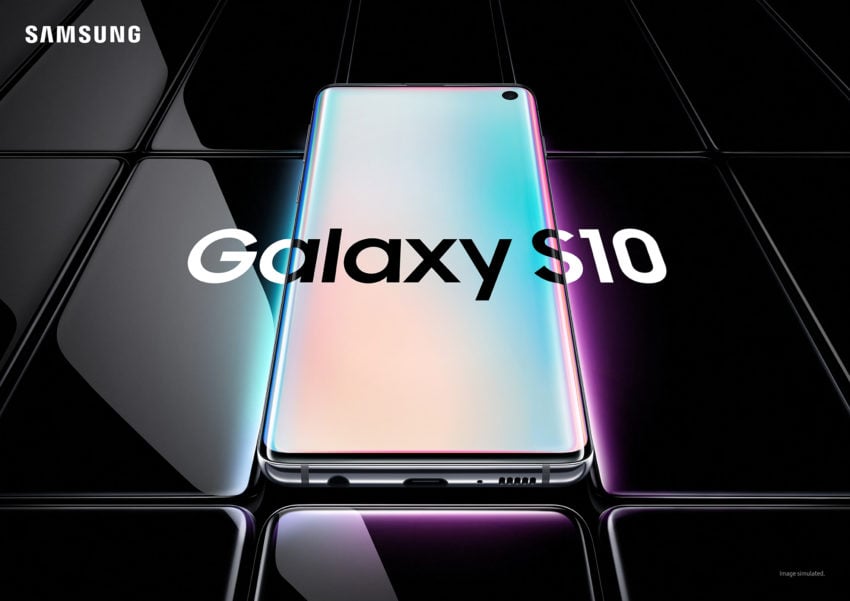 We'll continuously update this post with more information as it's released by Samsung or partners. As well as links to buy these phones from participating retailers or carriers.
Galaxy S10 Specs
This year Samsung took its award-winning phones and made them better in every way. Sporting beautiful and big "Infinity displays" with nearly no bezels, packed stunning new technology inside, massive batteries AND made them thinner. We're not sure how, but it's impressive.
Galaxy S10 Specifications
5.8-inch, 6.1-inch & 6.4-inch Infinity O Displays (Bezel-free)
8-core Qualcomm Snapdragon 855 Processor in the US and Samsung Exynos in select regions
6-8GB of RAM and 128/256/512GB storage with microSD expansion
8-12GB of RAM on the Galaxy S10+)
Android 9 Pie With Samsung One UI
Triple Rear Cameras: 12, 12, 16MP (Regular f/1.5 variable aperture, f/2.4 telephoto, and super wide-angle) Dual OIS, 960 FPS slo-mo, 4K, 10-scene optimizer and more
10MP Front Selfie Camera with Portrait Mode & Improved 3D AR Emoji (Dual 10/8MP front cam in S10+)
Stereo Speaker tuned by AKG
3100 mAh, 3400 mAh and 4100 mAh batteries with Fast Charging, Faster Wireless Charging 2.0 and Powershare Reverse Wireless Charging
IP68 Dust & Water-resistance, USB Type-C, Bixby 2.0, Bixby AI, 3.5mm headphone jack
Heart-rate sensor, In-Display Fingerprint Sensor, more
The information above is finally official and very similar to everything we heard in the days and weeks leading up to the event.
Key things to take away here is that even though the design is somewhat similar, these are vastly different phones. Samsung cut a hole in the screen for the front-facing camera AND placed an ultrasonic fingerprint sensor under the screen. That's impressive. Then, they added three powerful cameras to the back, a bigger battery and somehow still able to make the phones thinner, smaller, and lighter.
These phones are fast, powerful, capable, run the latest version of Android and have a lot to offer.
Galaxy S10 Colors & Carrier Support
Samsung's stunning new Galaxy S10 comes in a slew of new colors this year. Especially depending on what model you buy or where you live. Here's what's available and which color you should buy.
Galaxy S10 & S10+ will be available in: Prism Black, Prism Green, Prism Blue, Canary Yellow and Flamingo Pink 
Additional "Ceramic" Black and White available on Galaxy S10+
Then, as we stated earlier, almost everyone and every store will offer these phones. Last year all major US carriers offered the Galaxy S9, including small regional operators. We'll even see them on MetroPCS and Google Fi at some point, too.
Surprisingly, US carriers have every color (but green) this year, which is nice.
Basically, get one at Verizon Wireless, AT&T, T-Mobile, Sprint, US Cellular, Cricket, MetroPCS, and many others. Additionally, it will be on almost all main carriers throughout Canada, Europe, South Korea, and elsewhere.
Other Details & Galaxy S10 Deals
As expected, Samsung will get these phones into customers hands as soon as possible. In previous years, Samsung offered up the Gear VR and microSD cards for free, which were valued around $100 or so. The Galaxy Buds look to compete with the AirPods 2, and are a great gift for those that pre-order. Especially because you can charge your headphones from the back of the Galaxy S10. Seriously.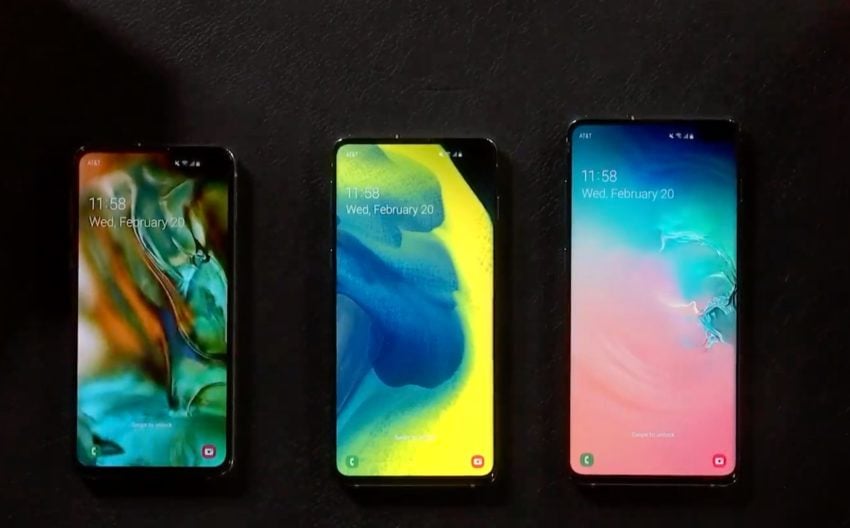 For now, simply stay tuned for more details and enjoy everything it has to offer once it arrives. While you wait, we recommend buyers get some accessories to keep these phones safe. The Galaxy S10+ is expensive, running you $1,000 and you'll want to have a case ready the day it arrives.
We'll also suggest a screen protector and some neat accessories made by Samsung.