Samsung Galaxy S9 Warranty: What You Need to Know
Did you know you can buy an extended Galaxy S9 warranty or Galaxy S9+ warranty directly from Samsung? Giving you additional peace of mind in any situation. Premium Care protects against things like water damage, broken screens, and general device failure. In fact, it covers almost any situation.
A few years ago Samsung sold Protection Plus plans that were similar to Apple Care. However, with the Galaxy S8 and Galaxy S9 things are much different, and easier. Now it's Samsung Premium Care, and you have lots of benefits. Either way, owners will work directly with Samsung for fast replacements, troubleshooting, customer support and much more.
Read: 20 Best Galaxy S9 Cases
In fact, Premium Care offers far more than just replacement devices. You'll get in-person support or help setting up your Galaxy S9, replacement devices hand-delivered, or same-day repairs at hundreds of locations. Yes, this is an additional charge on top of paying for the phone. It's also an extended warranty that goes beyond the standard 1-year option from Samsung. Here's what you need to know.

Instead of paying over $100 for some sort of warranty on the Galaxy S9, Samsung Premium Care is a low monthly fee. One that you can cancel whenever you want, although we recommend keeping it for the Galaxy S9 and those curved glass edges.
From what we understand, those old Protection Plus plans are not available for the Galaxy S9. That said, all buyers still get the traditional 1-year warranty against manufacturer defects and device failure. Then, choose something like Premium Care which is far more useful.
What is Samsung Premium Care?
Samsung Premium Care is optional protection for Galaxy S9 or Galaxy S9+ owners. Free for the first 30 days, then $11.99 a month for as long as you need extended coverage. Yes, it's another monthly payment similar to carrier insurance, but we strongly recommend it over carrier insurance plans. Here's a full list of frequently asked questions and answers.
It's advertised as an extended Galaxy S9 warranty, and that's because it is. On top of the traditional 1-year coverage, this Premium Care plan has a slew of options that millions of customers will enjoy.
What Does the Galaxy S9 Warranty Cover?
Most users will choose Premium Care for the easy screen repairs, but that's only a small part of what it has to offer. Not only will Samsung replace your Galaxy S9 no matter what happens, under any circumstance, but they'll hand deliver it to your house. Not to mention have a HelloTech representative guide you through transfer and setup. This person comes to your house, or anywhere you are to answer any other tech-related questions. It's your own personal delivery guy and tech support.
Furthermore, Samsung recently announced that they're partnered with UBREAKIFIX, which has over 300 retail stores in the United States. These shops offer same-day repairs on the Galaxy S9, typically in less than 45 minutes. That means you don't have to go without a phone. Simply go get the screen fixed for $99, as long as you have Premium Care.
Galaxy S9 Warranty Support Info
Customer support is open 7 days a week (9 AM – 9 PM EST) by calling 1-866-553-3239. For just $11.99 a month, you'll get everything mentioned above as a Galaxy S9 extended warranty. You even get 1 in-home visit a month (if needed) for tech support. And that's just the added benefits, not the most important part.
The bottom line, however, is that Premium Care covers any and all situations. If your phone is broken, you drop it, water-damaged or has a cracked screen, they'll fix it. It doesn't matter, they'll replace it. Premium Care members can get up to three Galaxy S9 or Galaxy S9+ replacements per year. However, that does come with a standard $99 deductible. Although it's cheaper than most insurance plans provided by carriers in the US. It doesn't look like it covers lost or stolen phones though, so keep that in mind.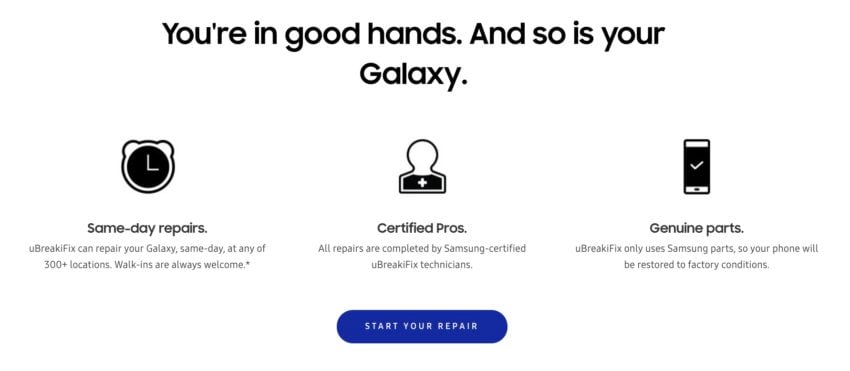 So if your phone breaks for absolutely any reason, Samsung will replace or repair it 3 times in a year for $99. Additionally, you can run to a nearby UBREAKIFIX store and get it fixed in under an hour.
How to Buy a Galaxy S9 Warranty?
Again, if your S9 has a mechanical failure and you don't have Premium Care, you're still covered by the regular 1-year manufacturer warranty. Keep that in mind. This is just extra coverage for life's daily hazards, and everything else. If you do want to buy that extra coverage for everything mentioned above, you'll need to pay for Samsung Premium Care.
It's free for the first 30 days, then you can call Samsung and set up a payment plan for Premium Care. You can pay for as long as you want, and cancel at any time. To get started paying $11.99 a month or to ask questions, call 1-866-371-9501. Or, download the Shop Samsung App, and get it there.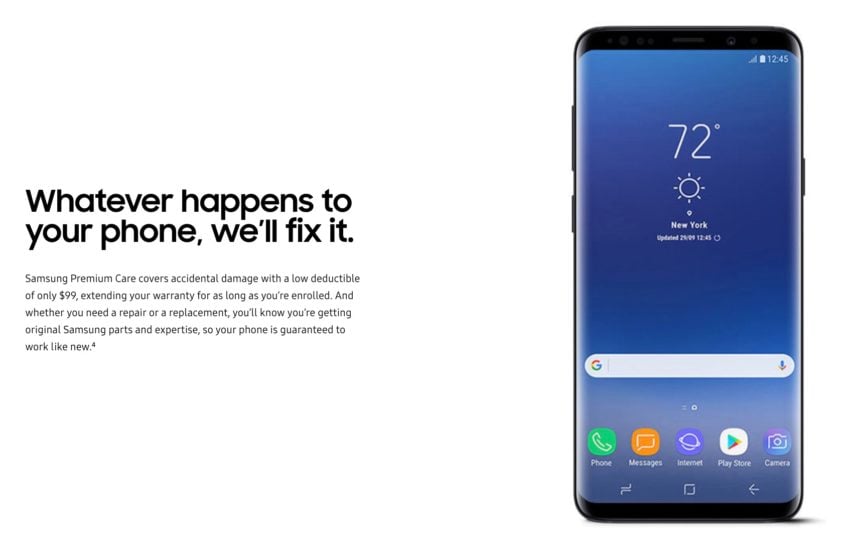 Premium Care is an excellent option for most Galaxy S9 and S9+ owners. It guarantees fast and accurate service right from Samsung themselves. Or, same-day repairs from a certified store with original Samsung parts.  The personal in-home delivery of a new device is a nice touch, too.
However, another option is the SquareTrade Galaxy S9 warranty that is only $89 per year. SquareTrade has three different options to choose from as well. Don't forget to read the fine print to know exactly what to expect with both Samsung Premium Care or a different service like SquareTrade. Some of the smaller details are in replacements, as mentioned below. There is also mention of a "deductible, if applicable" for repairs, so keep that in mind.
Other Details
Speaking of fine print, we wanted to quote something from Samsung's Premium Care. Just so potential buyers know what to expect. You can get three repairs per year, with a deductible, and you might get a refurbished phone as your replacement. Which, honestly, is fine with me. Here's a quote from Samsung's fine print.
"Samsung replacements can come in three different forms: a new, repaired, or refurbished product. Or issue a cash credit equal to the value of the replacement product, and last but not least provide a settlement equal to the value of the replacement product, not to exceed the maximum replacement value of the original product less any applicable deductible."
In closing, Samsung's Premium Care plan is a great option to keep your Galaxy S9 safe. It's basically an extended Galaxy S9 warranty. Perfect for anyone that's accident-prone, or breaks a lot of phones. It covers the device for as long as you make monthly payments, only costs $12 so it's pretty affordable, and is the best route considering it comes directly from Samsung. It sounds a lot better than a carrier insurance plan.
Be careful with your new device. And, in the case of an accident, you'll want to have a backup plan as we've detailed above. Before you go consider buying a case for the Galaxy S9+. Then, check out the slideshow below detailing the 9 best screen protectors.
10 Best Galaxy S9+ Screen Protectors
Caseology Tempered Glass (Easy Install Tray)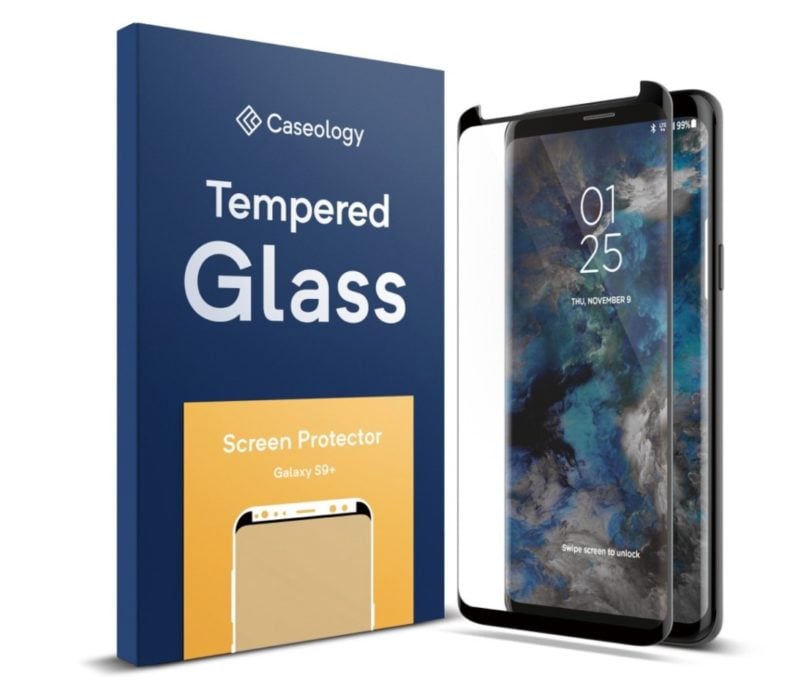 First off, we're recommending the Caseology Tempered Glass Screen protector kit for the Galaxy S9+. While they make great cases, the reason this made our list is because of the easy installation tray.
No one likes putting on screen protectors, and half the time we mess up anyways. This is especially true with the curved glass edge on Samsung phones. With Caseology, you'll get a super simple easy installation tray that perfectly aligns the glass protector for you. Pull off the protective film, line it up, and drop it in place. Then use the included squeegee to get rid of any bubbles.
Each Caseology glass works great with cases, which means the edges are just a tiny bit short so your case doesn't pull it up and ruin your screen protector. They're using 9H reinforced glass with anti-fingerprint coatings, rounded edges to prevent chipping, and it's pretty affordable too. Don't forget Samsung sells official accessories as well.