Galaxy S9 Setup Guide: First 10 Things to Do
In this guide we'll show you how to set up the Galaxy S9 or Galaxy S9+ so you can use it faster and enjoy all the cool things it can do. These are the first 10 settings to change, things to do, or tips and tricks to help you get started.
We'll cover everything from that first time you turn it on, take you through some of the questions and settings, then share additional tips for the best experience possible. This includes using Samsung Smart Switch to easily transfer your old phone to the Galaxy S9.
Whether you found a good deal on the Galaxy S9 or got one during the holidays, you'll be happy to know that you have tons of options. Galaxy phones have plenty of customization and are highly powerful. Well help you transfer everything, setup the fingerprint and face unlock, and everything else.
How to Setup the Galaxy S9
Right out of the box the Galaxy S9 is a fast and capable smartphone. During the first boot, you'll be prompted to do some very important things. This includes the fingerprint scanner or screen lock, signing into all of your accounts, or transfer data from an old device.
The Galaxy S9 will transfer everything from an old Android smartphone, iPhone, or other devices with ease. All you need is Samsung's transfer tool we'll show you below, and the cable/dongle that comes in the box with every new Galaxy S9 and S9+. Don't lose that dongle, it's what will make switching to your new phone as easy as possible. And if not, you can use Samsung Cloud — search for it in settings.
Transfer Data From Your Old Phone
After you watch our video above you probably already added a fingerprint or lockscreen method. If so, the next thing all owners will want to do is transfer data, apps, settings, contacts, calendar, app icons, photos or video and even text messages to the S9. In the past, this has been a difficult and painful process. That isn't the case anymore, and you'll be able to switch phones 100% in about 10 minutes.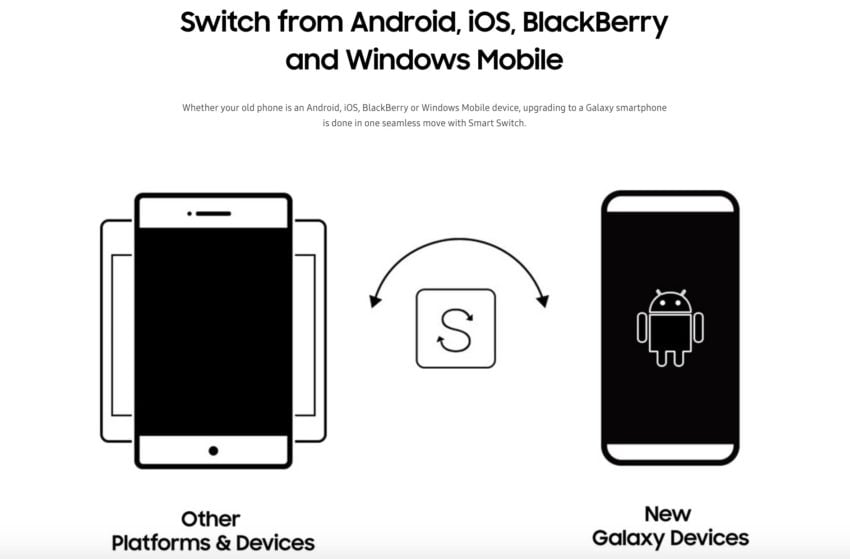 Just like we show in the video, you'll get a prompt to set up your Galaxy S9. Either as a new phone or from an old device. This uses Samsung's SmartSwitch app. Install it on your old phone, then hit next on your new Galaxy and simply follow the instructions.
It's a scary thought, transferring everything to a new phone, but this tool literally does everything for you. You'll be prompted to plug the included USB Type-C cable into your old phone, and the bigger end and dongle adapter into the Galaxy S9.
Connect the two and the app will instantly turn on. If not, just open SmartSwitch. From here the phones will communicate for a moment, then you'll see everything detailed on the Galaxy S9 screen. Choose what you do (or don't) want to transfer, and then hit Start at the bottom. You can tap the gear-shaped settings icon next to any category to control what it does or doesn't transfer.
This entire process takes anywhere from 10-15 minute, to over 3 hours. It just depends on how much you're actually transferring from an old phone to your new phone. Once it's finished unplug both and you're all set. Now, continue setting up your phone.
Create or Sign into Samsung Account (Find My Mobile)
We know it sounds funny or not all that important, but the next step is to create a Samsung account. Whether that's by heading to Settings > Accounts > Add Accounts or during the first setup process itself.
There are two important reasons to create or use a Samsung account. For one, you can back up your entire device to the cloud. This way if it's ever lost or stolen you can restore everything from apps, texts, or photos to the new phone. And for two, if you do lose your phone or it gets stolen, you can track it with Samsung's Find My Mobile. Here's more information on using Samsung's lost phone tool.
Update Your Apps
Another step you'll want to take, especially if you transferred everything from an old phone, is to open the Google Play Store and check for updates. The Galaxy S9 runs the latest Android 8.0 Oreo, or by the time you read this, it'll have Android 9 Pie. Make sure your phone and apps are all up to date.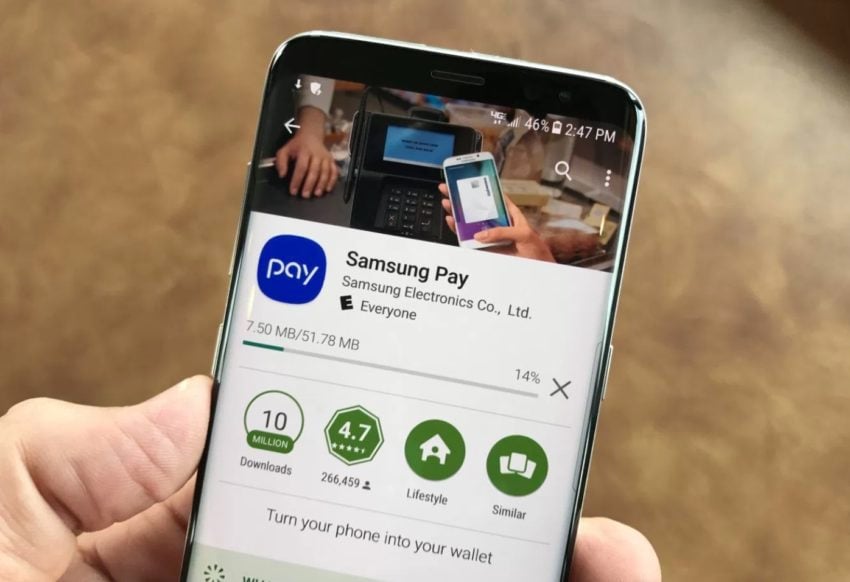 Basically, open the Google Play Store and check for updates. You'll probably have a pretty big list of updates, so make sure you're on a WiFi connection or you might use your entire monthly data plan on this step alone. Another option is updating apps on the Galaxy App Store. Samsung's dedicated app store on select Galaxy S9 smartphones. (Verizon models probably don't have this app store)
Enable and Use Google Assistant (or Bixby)
Previously known as Google Search or Google Now, the Assistant is basically your own personal assistant or Google Home built into your phone, like Siri. Taking everything Google knows about the web, search, your location, machine learning and artificial intelligence.
The Google Assistant is extremely helpful, and Samsung has something similar that's pretty good too. Here's more information about Bixby along with 175 things it can do. Use one, or both, to do more with your Galaxy S9.
During the initial setup on my Galaxy S9, Google sent me an email suggesting I download the Google Assistant. That's a little creepy, but it noticed the new phone in my "account activity" and sent an email suggesting a few useful Google Apps. We recommend downloading Google Chrome, and the Google Assistant.
Enable Full Screen App Mode
The Galaxy S9 has a fancy Quad-HD Infinity Display. It's so big and tall that some apps don't use the entire screen. If you see black bars on the top and bottom of certain apps, enable fullscreen app mode for a better experience. We saw this with the old Galaxy S8 too, but these days most apps handle it just fine.
Pull down the notification bar and head to Settings (gear-shaped icon near the top right)
Find and select Display
Select the option labeled Full Screen Apps
Find an app that isn't highlighted and switch full screen mode to on
Our image above is a quick glance at exactly what you'll be looking for. This will force apps into full screen mode on the Galaxy S9 and S9+.
Buy Extra Cables, Chargers or Accessories
Samsung's new Galaxy S9 phones use a new USB Type-C cable, not the old micro USB cord your last phone probably had. This is faster, cords can plug-in both directions for ease of use, and you can even charge other devices from the Galaxy S9 over USB Type-C.
While there is a cable provided in the box, we recommend owners pick up a spare for other rooms of the house or an office. Here's some official accessories from Samsung, our favorite wireless charging pads, and some of the best Galaxy S9 screen protectors too.
Customize the Always-On Display
One of our favorite features is the Always-On display. Giving S9 owners quick information like the time, date, battery levels and even incoming notifications. This uses hardly any battery life, too, which is nice. Even better, it's highly customizable.
When the screen is "off" it's still technically on. A small area gives you at-a-glance information. We can change the entire look and feel of the always-on display, add a calendar, or even a background image.
Go to settings and search for always on display. Tap the On toggle to turn it on if it isn't already. Then, go to Settings > Themes > and click the AOD column at the bottom and completely customize the always-on display.
Clean Up the App Tray
Something that always frustrates me with Samsung phones is how apps are out-of-order in the app tray. Especially once you download a bunch from Google Play. Each downloaded app goes to the end of the list, in no specific order. Thankfully there's a way to quickly re-sort them all in alphabetical order. Basically cleaning up the application tray.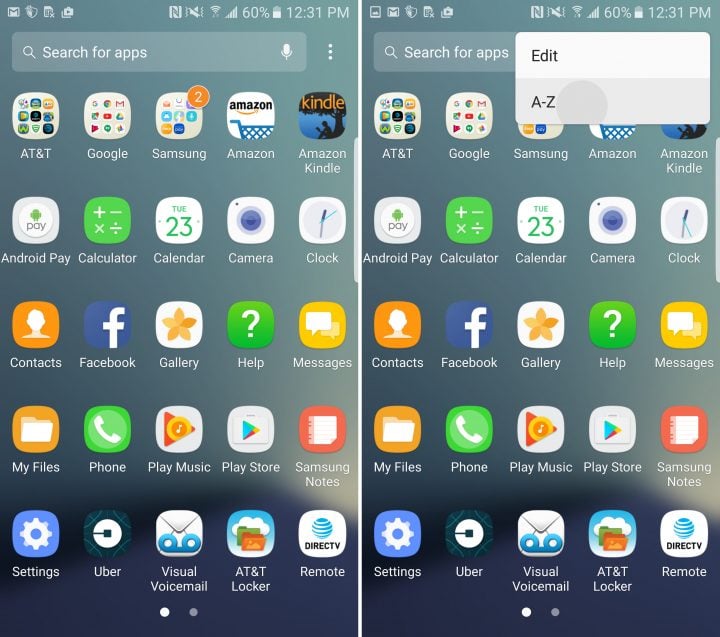 Swipe up from the bottom of the screen, then tap the 3-dot settings button at the top and select "A-Z" and then tap Save. Now all of your apps get displayed alphabetically and are easier to find. The next time you install an app though, you'll have to do this again, as it reverts back to the list format.
Setup Do-Not-Disturb
Another feature we love that millions don't use is Do-Not-Disturb. It works great on the Galaxy S9 and will keep you free from distractions at night or while working. Keep the phone on when you need it, and have it automatically go silent or on vibrate at work, or at night.
To use this navigate to Settings > Sounds > Do Not Disturb or just search for Do Not Disturb. Turn it on or set a schedule so everything happens automatically. Don't forget the "allow exceptions" at the bottom so select contacts or apps can still get through at all times. Perfect for friends, family members or your boss. Samsung offers an option where repeat callers will still get through, in case of emergencies.
Keep in mind that this won't even let alarms get through if you don't set it up and allow a few exceptions. Once it's done right though, it's a lifesaver.
Get Your App Drawer Button Back
For those that have used Samsung phones for years, there has always been an app drawer button in the bottom corner. Tapping this displays all installed applications known as the app tray or drawer. It's gone on the Galaxy S9. Instead, you simply swipe up from the bottom, which is actually our preferred method. There's no reason to waste space with a button dedicated to the drawer.
However, some will want it back. We're creatures of habit. Long press a blank space on your screen. Your screen will zoom out to an edit and layout page, as well as show widget and background image options. Tap the gear-shaped settings button. Next hit the option in settings labeled "Apps Button" and select show apps button. Now hit done and go back. You'll have that familiar button back for ease of use.
A Few More Tips
These are a few of the first things we do when we get a new Samsung Galaxy phone. However, we also recommend setting up data limits, configuring the Edge features, or turning them off completely. You can also customize the notification pulldown bar and the quick-setting icons, get rid of bloatware apps that come pre-installed, and try out Samsung's theme store.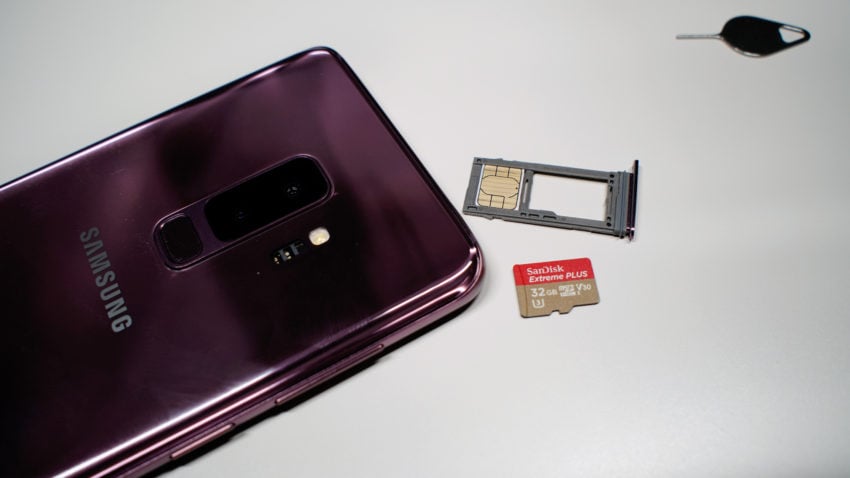 Everyone uses their phone different, so choose the tips and advice that works best for you. The Galaxy S9 only just arrived, so stay tuned for more coverage. Before you go, check out everything that's new in Android 9 Pie. That's the software Samsung will deliver to the Galaxy S9 in early 2019. Then, get a case from our slideshow below.
20 Best Samsung Galaxy S9 Cases (2019)
Spigen Neo Hybrid
Our first recommendation is the Spigen Neo hybrid. Spigen is one of the most popular smartphone accessory manufacturers and they have sweet cases. This is one of the best Galaxy S9 cases available.
The Spigen Neo Hybrid case offers a premium dual-layer design. The entire case is made from a durable and impact-resistant flexible TPU material for drop-protection. They've added a new textured pattern on the back too, for improved grip.
What makes these cases special though, is the reinforced hard pumper polycarbonate plastic frame that goes around the outer edge of the Galaxy S9. Which, by the way, is where most damage starts from drops. The bumper frame has a faux brushed metal design for added styling too. It comes in black, with 5 different accent colors.