57 Skyrim Mods We Want for PS4 & Xbox One
Footprints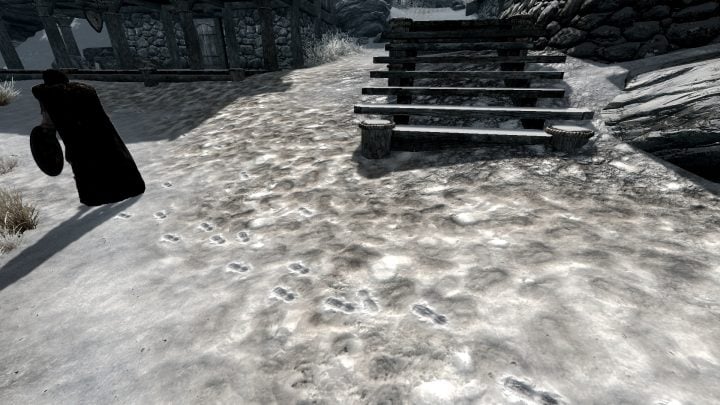 Footprints does what you'd expect it to do. It adds footprints to the player, NPCs, and creatures. Yup, and we love it.
The current version supports a great number of creatures including DLC races and the various animals that populate Skyrim's various regions. Here's the full list:
- All humanoid (non-creature) NPCs
- Bear, Deer, Draugr, Falmer, Foxes, Frost Atronachs, Hagravens, Horses, Sabrecats, Skeletons, Wolves, Giants, Mammoths, Spriggans, Cows, Goats, Trolls, Skeevers, and Werewolves.
- DLC Races: Vanilla reskins such as Spriggans, Sabrecats, Deer, etc. Death Hounds, Vampire Lord, Werebears, Benthic Lurkers
- Race-switching support for player character. Shape Shifter mods should work fine given I have the prints implemented for the race in question.
- Dawnguard and Dragonborn support.
- Boot detection support. Needs SKSE, but will disable itself if you do not have SKSE. Currently only barefoot or shoe prints.
- Particle FX
- Strafing support for playable characters.
It looks great and it adds a bit more realism to the game. If you're curious about how it looks in-game, take a look at the video.