Speck Black Friday Deals: 30% off iPhone Cases, 20% Off Everything Else
Speck is offering 30% off popular iPhone XS, XS Max and XR cases for Black Friday and 20% off everything else including iPad cases and MacBook cases as well as accessories.
Starting on November 18th and running though Sunday the 25th, you can save on the Speck website with no special coupon code needed.
Speck iPhone Black Friday Deals
The Speck iPhone Black Friday deals are focused on the Presidio lineup. These are included in our roundups of the best iPhone XS cases, best iPhone XS Max cases and best iPhone XR cases.
Presidio Pro
Presidio Grip
Presidio Stay Clear
Presidio Wallet
We also expect to see the discount on the Presidio Inked, Grip + Glitter, Clear + Glitter and Presidio Mount as well as others in the Presidio line.
Check out the Speck iPhone XS cases, Speck iPhone XS Max cases and Speck iPhone XR cases
These cases are traditionally $39.95 to $49.95, so you can get them for $32 to $40. You also get $5 two day shipping.
Speck iPad & MacBook Cases Deals
During the same Speck Black Friday deals you can save 20% off everything else at Speck including iPad cases and MacBook cases for the MacBook, MacBook Pro and MacBook Air.
We love the Speck MacBook Pro cases that are included in our list of the best MacBook Pro cases and best MacBook cases. Check out the Speck Black Friday MacBook cases deals.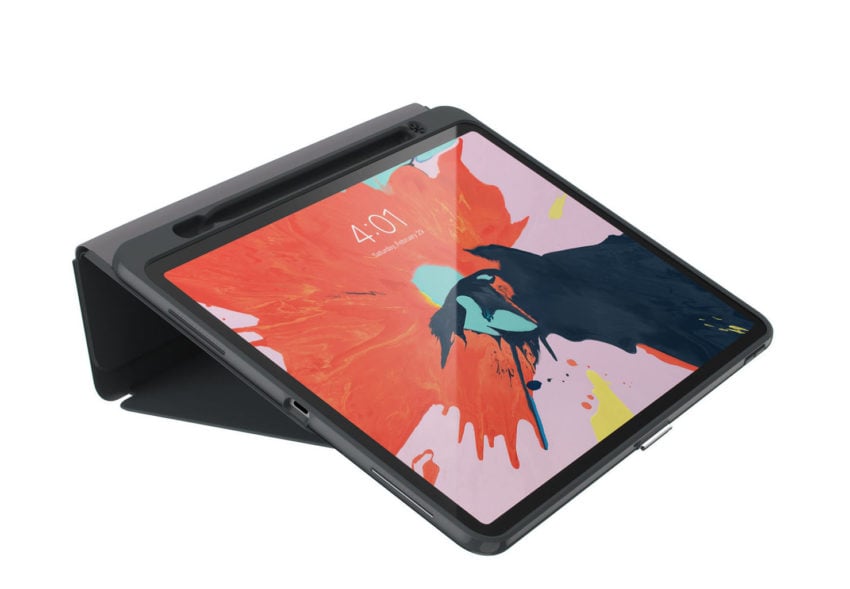 The Speck iPad and iPad Pro cases are also great ways to protect your iPad on the go and at home. Speck makes iPad cases for all iPad models and they appear in our best iPad cases roundups for the 9.7-inch iPad, 10.5-inch iPad Pro and the 2018 iPad Pro.
11 Best iPhone XS Cases
Speck iPhone Xs Cases
Speck is hot out of the gates with iPhone Xs cases across the Presidio Pro, Presidio Ultra and Presidio Stay Clear line.
The Presidio Pro is a case that is rated for 10 ft drops and it includes an antimicrobial treatment that will help keep bacteria from growing on your phone. The Presidio Ultra is a protective case with a removable bumper that protects from dust and dirt.
If you want to show off the color of your iPhone Xs, opt for the Presidio Stay Clear, which is a clear iPhone Xs case that will show off the iPhone's beauty while still protecting from drops up to 8 ft. It also will not yellow due to UV, oil, makeup and other substances like most cases.
Here's a full rundown of the new iPhone Xs cases from Speck.

Presidio Pro ($39.95 - $44.95) -- Protective, slim case with anti-microbial protection tested to withstands drops of up to 10 feet
Presidio Stay Clear ($39.95 - $44.95) -- Features a new, innovative coating that resists UV-yellowing and discoloration caused by lotions and other oils
Presidio Ultra ($49.95 - $54.95) -- Rugged, slim case with 15-foot drop protection and 360-degree port coverage
Presidio V-Grip ($39.95 - $44.95) -- Protective case with a clear back to show off the device, surrounded by a grippy bumper for a secure hold
Presidio Grip ($39.95 - $44.95) -- Speck's iconic angled grip geometry offers a tactile hold perfect for any device
Presidio Sport ($44.95 - $49.95) -- Anti-microbial finish and 360-degree port protection perfect for gym-goers and fitness enthusiasts
Presidio Inked ($44.95 - $49.95) -- Vivid, durable designs offer expressive style and tough protection
Presidio Clear + Print ($44.95 - $49.95) -- Embedded designs won't fade or scratch
Presidio Clear + Glitter ($44.95 - $49.95) -- Glitter crystals embedded in the case add sparkle that won't flake off
Presidio Grip + Glitter ($44.95 - $49.95) -- No-slip grip with glitter crystals embedded into the case's polycarbonate shell
Presidio Show ($39.95 - $44.95) -- 10-foot drop protective case with a clear back and a bumper that seamlessly matches the iPhone
Presidio Wallet ($44.95 - $49.95) -- Securely holds three cards or cash, now available in a wide variety of colors
Presidio Folio ($44.95 - $49.95) -- Functional, stylish folio case with a secure card slot and hands-free viewing stand
Presidio Folio Leather ($49.95 - $54.95) -- Bonded leather exterior for an elegant look
You can also find a few CandyShell options as well as Gemshell options that start at $24.95. You can find these at Speck and at other retailers.

As an Amazon Associate I earn from qualifying purchases.