Stack App: 5 Things to Know
The Stack app is the latests free game to take over the app store, displacing the Kendall and Kylie app as the number one free iPhone app and it's even available on Android already.
Here's what you need to know about the Stack app for iPhone and Android, as well as the cheats and tips you need to stack higher and get a better high score.
The Stack app is free on iPhone, iPad and Android through the app stores. This game is a great one to play when you want to pass some time, and the ads are infrequent enough that you can deal with them.
What is the Stack App?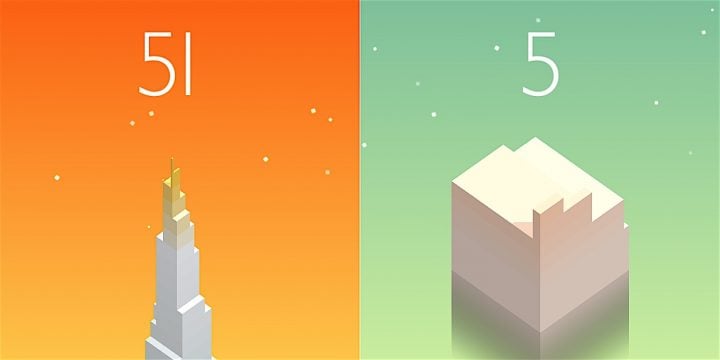 The Stack app or Stack game is a simple game that requires you to time pressing the screen to stack a small board on top of the stack you already made.
If you are able to stack the next board on the exact outline of your current stack you go higher and don't lose any of your stack width. Unfortunately when you mis-time this and leave some hanging over an edge your stack width shrinks and so does the size of the incoming pieces.
You need to time this right to keep the pieces as large as possible so that you can grow the Stack higher. The game ends when you miss completely with a new piece of the stack.
Stack App In App Purchases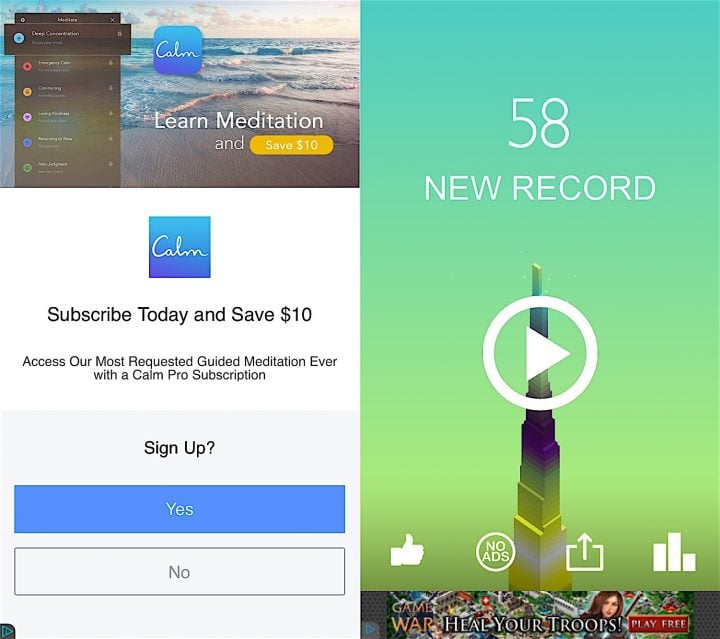 There is only one Stack app in app purchase that you will see. This is an option to remove all ads for $1.99 on iPhone and $1.86 on Android.
You can play the full game without buying the in-app purchase since it does not lock any levels or slow down your progress.
In between some of the tries you will see full screen ads that may take a few seconds to disappear. If you really enjoy the game and play through it frequently this is a smart purchase.
Stack App Rating and Kids
The Stack game is simple and there is no content that parents need to worry about. Even the ads we've seen so far are appropriate for all ages and the in app purchase option is not in your face.
The Stack app is rated 4+ in iTunes which means it contains, "no objectionable material," according to Apple. The Stack game is rated Everyone in the Google Play Store.
Stack Tips & Tricks
You can use the following Stack tips and tricks to stack your blocks higher without trying the Stack cheats that you need to avoid. Here are our favorite Stack tips and tricks.
Keep your finger close to the screen.
Tap lightly and then prepare for the next stack.
Pay attention to the speed changes and adapt fast.
Allow the stack to bounce back and forth as you learn the speed.
Look at the front corner of the stack to match the corner.
You can watch the video above as we explain our Stack app tips and tricks that will help you get a higher score.
Watch out for Stack Hacks and Cheats
We found a few websites and services offering Stack cheats and Stack hacks that promise to remove ads without paying and that let you stack higher without any skill.
Most of these will ask you to share a website on social media or fill out a survey. We've yet to find a hack or cheat like this that actually works, so it's best to simply practice and avoid Stack hacks that ask you to do these things.
Best iPhone 6s Cases, Covers & Skins
Speck CandyShell Clear iPhone 6s Case
The Speck CandyShell Clear is the first clear iPhone 6s case from Speck, and the first clear case from the company overall. This form-fitting, minimalist iPhone 6s case delivers a decent amount of protection with a military drop test 810G rating.
Speck assures us that the clear case will not yellow with use like many cheap clear case options. The clear finish is perfect for showing off your iPhone 6s color choice while protecting it.
Buttons move perfectly and are easy to find by touch and there is a raised front bezel to keep the iPhone 6s display off hard surfaces.
$34.95 at Speck

As an Amazon Associate I earn from qualifying purchases.