How to Turn Off the Windows 10 Lock Screen
Turning off the Windows 10 lock screen isn't something that you can do easily. In fact, it's not even something that you're allowed to do with just a toggle.
You need to read this tutorial because Microsoft has made it harder to turn off the Windows 10 lock screen if your PC has the latest software updates. The company wants users to interact with their PC using Cortana on the lock screen. It also wants to give users a quick way to see if their PC is connected to a network and how much battery life they have left. The lock screen is now an essential part of Windows.
Problem is, the Windows 10 lock screen is another barrier to get through for many people. They just want to power on their computer and get started as quickly as they can. If you're one of these users, this tutorial on how to turn off the Windows 10 lock screen is for you.
Because Microsoft doesn't make it easy to turn off the Windows 10 lock screen, you must rely on workarounds to get rid of it. There are registry hacks that make this possible, but they are all complicated and can break existing features if you aren't careful.
Instead of changing the registry in Windows 10, turn off the Windows 10 lock screen by renaming one folder.
How to Skip the Windows 10 Lock Screen When Waking Your PC
Open a File Explorer window by clicking on the folder icon in your taskbar. If there's no file folder icon there, open any folder on your Desktop. Your Start Menu may also have shortcuts to open folders. It doesn't matter what folder you open.
Click on the address bar at the top of the window. In our example, it's the long rectangle with "This PC" in it. Type C:\Windows\SystemApps into the address bar and press Enter on your keyboard.
Look for a folder named Microsoft.LockApp_cw5n1h2txyewy. Don't open the folder. Right-click on it instead with your mouse.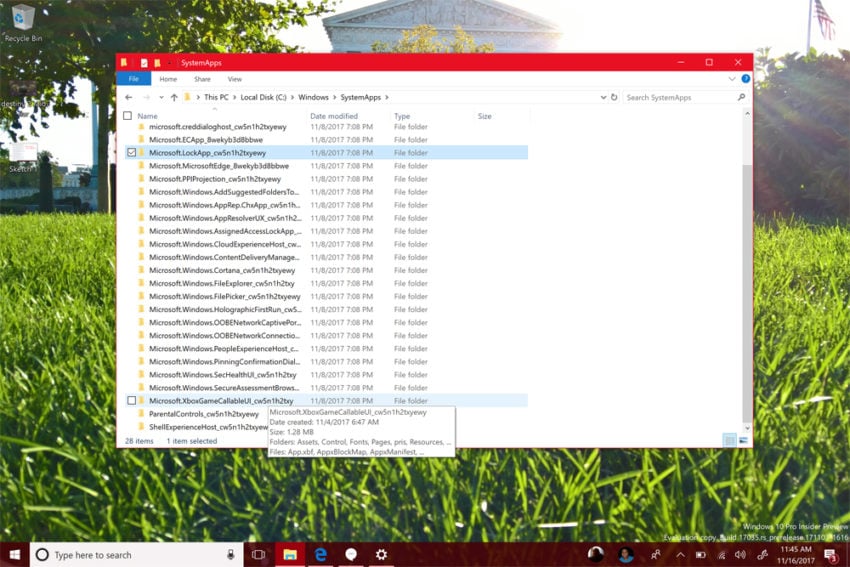 Select Rename in the pop-up menu.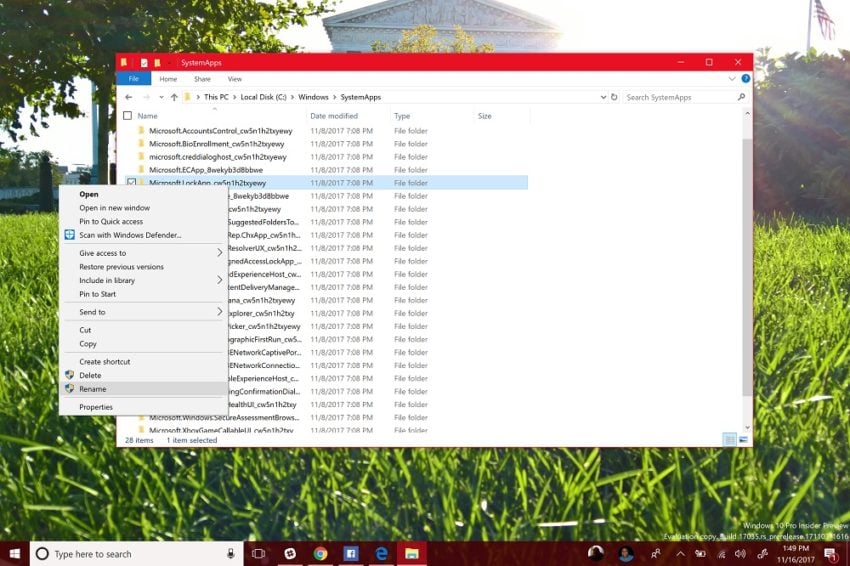 Add _backup to the end of the folder's existing title and press the Enter key on your keyboard. Windows 10 will ask you to confirm the change in a pop-up window.
Your PC may error out if you've recently used the lock screen on your PC. If that happens, restart Windows 10 and try to rename the folder again. The folder name change should go through the second time.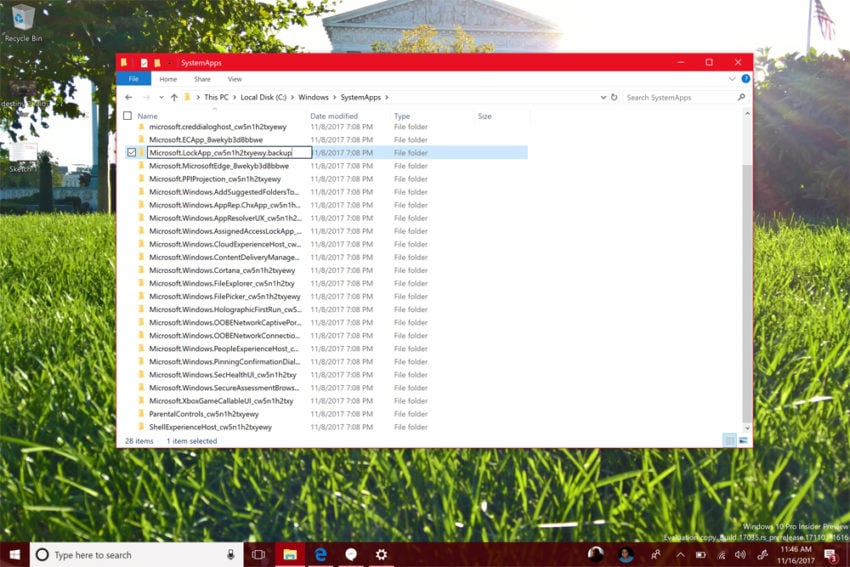 Once the change goes through, it's time to test whether your efforts to turn off the Windows 10 lock screen have worked. Press the power button on your PC to put it to sleep. Press the power button again to wake the device up. Your PC should take you directly to the Windows 10 sign in screen instead of the lock screen. Again, this method for going straight to the sign in screen only works when you wake your PC from sleep or hibernation.
If Windows doesn't take you to the sign in screen, you may have renamed the wrong folder. Try the tutorial again.
Because you're just renaming a folder inside Windows 10 with this method to turn off the Windows 10 lock screen, don't worry about it destabilizing your system or ruining other features. That being said, Microsoft could break this workaround at any time. Plan to turn off the Windows 10 lock screen using this method after every major update to Windows 10, like the Anniversary Update, Fall Creators Update and Creators Update.
How to Turn Off Windows 10 Lock Screen Features
If you don't mind the lock screen but want it to do and reveal less about your appointments and messages, open the Settings app from the Start Menu.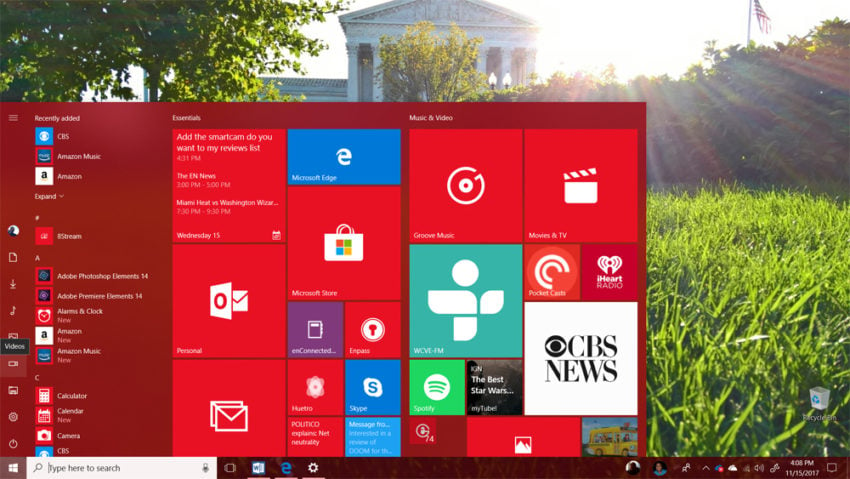 Click on Personalization.
Now select Lock Screen from the menu on the left side of your screen.
Scroll past the option to choose your lock screen background. Use these toggles to start turning Windows 10 lock screen features off. Flip the switch for Get fun facts, tips and more from Windows and Cortana on your lock screen to off.
Under Choose an app to show detailed status, click the app icon and select None from the pop-up menu. Do the same for every slot under the Choose apps to show quick status area.
Finally, click on the Cortana lock screen settings link at the bottom of the window.
Turn off the switch under Use Cortana even when my device is locked. This will keep the personal assistant from surfacing on your now empty Windows 10 lock screen.
5 Best Windows 10 Laptops Under $500 in 2018
Dell Inspiron 15 3000 - $429.99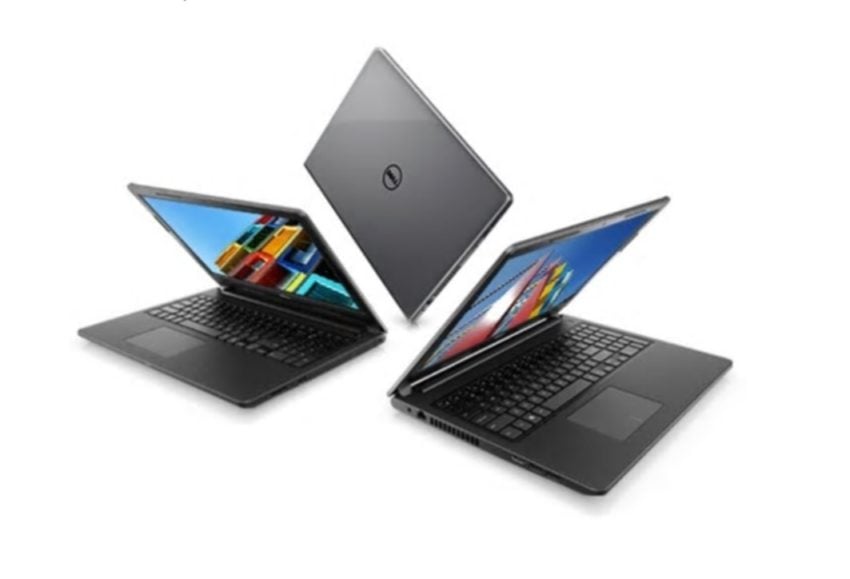 One of Dell's cheapest Windows laptops ever, the Dell Inspiron 15 3000 is for classic laptop lovers. Its 15-inch screen will never leave you wanting to connect an external display and it has plenty of ports and an all-too-rare DVD drive.
You get to choose whether you want the lowest possible price or a more well-balanced machine that costs a little more. The $299 model has 4GB of DDR3 RAM, a 500GB hard drive and an Intel Celeron Processor. Exchanging those for a more performance friendly Intel Core i3 processor, 6GB of RAM and 1TB of internal storage for photos, videos documents and videos brings the price to $429. The $499.99 model has an Intel Core i5 processor and 8GB of RAM.
Every Dell Inspiron 15 3000 has an SD card reader, headset jack, USB 2.0 port, lock slot, Ethernet port USB 3.0 port and a HDMI port. At 8 hours between charges, they should all last through a day of classes or casual browsing at your favorite coffee shop.