VAVA MOOV 28 Review: Best Bluetooth Headphones Under $30
The VAVA MOOV 28 bluetooth headphones are a bargain at under $30, and part of your essential gear now that the iPhone doesn't have a headphone jack and it looks like the Note 8 may skip one too.
You don't need to spend $100 on wireless earbuds to get good sound without wires. Unlike many budget bluetooth headphones, the VAVA MOOV 28 sound very nice and include a super useful feature to keep them in place when you aren't listening to them.
You're not going to find better Bluetooth headphones under $30.
[letsreview]
VAVA MOOV 28 Sound
The VAVA MOOV 28 headphones sound way better than you would expect for the price. And that's a real feat considering most headphones in the $20 range sound like someone made them out of tin cans and twine.
It would be great to have a little more bass, especially when listening to Kanye West's Love Lockdown, but you can get a decent amount of the bottom end by adjusting the volume on your iPhone and on the headphones. I was surprised by the soundstage that the MOOV 28 headphones delivered.
One oddity with these headphones is that the volume control on the remote adjusts the volume of the headphones, but doesn't change the volume on your iPhone. You'll want to crank up your iPhone volume and then control your adjustments on the headphones for the best experience.
Listening to Amber Rubarth's Good Mystery you'll hear a wider soundstage than most budget headphones are capable of delivering. Instruments sound like they have a real place in the room, not simply smashed together.



Moving on to Run the Jewels, and other music that gets me moving the headphones sounded good. They aren't at the same level as AirPods and high end earbuds, but they let me rock out while working in the yard or prepping for an alumni soccer game. The headphones seal good to block outside noise easily.
One downside is that the call quality isn't as good as you'll find on more expensive headphones, wired headphones or dedicated headphones for making calls. The caller sounds good, but they reported we sounded worse than on a traditional call. The quality is good enough for quick calls to friends, but you won't want to use them to dial into conference calls daily.
VAVA MOOV 28 Design & Features
Despite the cost, the VAVA MOOV 28 headphones don't feel like most headphones in this price range. The cord is soft touch rubber and it's a flat cable that helps reduce the tangling when you put them in the included pouch or more likely stash them in your pocket or bag.
I love the magnetic earcaps that allow you to connect the headphones together in front of you when you aren't listening. It's perfect for quick breaks to talk to people while working in the yard or working out with someone.
The earbuds fit well, and there are a variety of sizes so you can find a fit for you. These don't seal up as much as the Jaybird X3, but the don't move around while working out or running thanks to small hooks that keep them secure in your ear. The sweatproof design means you don't need to worry about any damage from using them for a heavy workout or in a light rain.
The remote control is easy to use with multi function buttons. You can control volume, skip tracks, answer calls and even activate Siri without taking your phone our of your pocket. Expect about eight hours of battery life and easy charging with Micro USB.
Best Wireless Headphones & Earbuds
Bose QC35 Wireless Noise Cancelling Headphones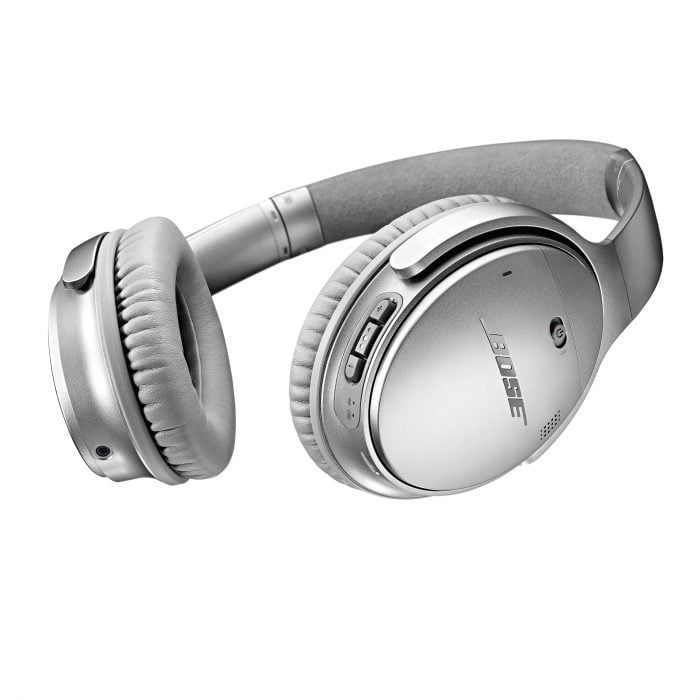 Bose sets the standard for noise cancelling headphones, delivering an instant reprieve from the noise and distractions at home, in the office and on an airplane. Now, the Bose QC35 bluetooth headphones offer this all without the need to plug a wire into your iPhone or Android smartphone. Sound quality is impressive and the range is great.
The Bose QC35 headphones are comfortable, block out distracting noises better than any other headset on the market, deliver 20 hour battery life and an option to use wired after the battery dies. Excellent call quality even in windy or noisy environments.
$349 at Amazon in Black and Silver