Verizon iPhone 6s Early Upgrade Offers Start
Select customers are eligible for Verizon iPhone 6s early upgrade offers that allow customers on a contract to upgrade to a new phone early, including the iPhone 6s and iPhone 6s Plus.
Verizon plan changes over the last several years and even more so in the last few months dramatically changed the early upgrade options for iPhones, but this year Verizon is going on the offensive to avoid losing users to switching offers at AT&T and T-Mobile with an early iPhone 6s upgrade offer for select users.
[contextly_sidebar id="LplA8jOegRhqliEWSUO1PZiLRvymdDx8″]
To go along with the iPhone 6s early upgrade offer from Verizon users must trade in their current device and choose the new Device Payment plans.
Here's what you need to know about the Verizon iPhone 6s upgrade offers and what you need from Verizon to participate.
The downside to this offer is that the early iPhone 6s upgrade offer is not available to everyone on Verizon. You will need an email from Verizon to let you know that you can participate, and even users on the same account who upgraded on the same day are not always getting the email.
Verizon sent out an email on late Tuesday to select users telling them to "Get Ready for a new phone!" While this email does not specifically mention the iPhone 6s release date or an early iPhone 6s upgrade, the email makes it clear that this is usable on upcoming devices.
The email teases, "Early upgrade. Easy choice.", and spells out the details of this offer. Here's what the email offer says;
Thank you for being a valued Verizon customer. We're always looking for ways to make your wireless experience even better. One way we do that is by bringing you special offers, like this one.

Simply trade in your current phone and you'll get an exclusive opportunity to upgrade early with our Device Payment option. Take your pick of any new phone in our lineup—or wait just a bit longer and get the next highly anticipated phone when it's available.
The new Verizon Device Payment Plan is a 24 month payment plan. With this plan users can expect to pay $27 a month for the iPhone 6s or $31.24 a month for the iPhone 6s Plus on this new plan.
With this new way to buy the iPhone 6s or iPhone 6s Plus, users will need to choose a new Verizon plan that starts at $30 a month for 1GB of data an unlimited talk and text up to $80 a month for 12GB of data for standard sizes, but there are also higher capacity plans for some users. On top of that price users must pay $20 per smartphone line.
To figure out the total cost after using the iPhone 6s early upgrade offer users need to add the plan price, the smartphone access price and the monthly iPhone payment amount.
For a 3GB plan and a 16GB Verizon iPhone 6s the cost would be;
$45 for 3GB Data
$20 for one smartphone line.
$27.08 a month for the iPhone 6s 16GB
Total of $92.08 before taxes and fees.
Users must choose the new Device Payment Plan and Verizon Plan with this Verizon iPhone 6s early upgrade offer.
While this sounds similar to the new Apple iPhone Upgrade plan, Apple's option includes AppleCare+ and an option to upgrade every year. For that convenience users pay $32 a month for the iPhone 6s and $37 a month for the iPhone 6s Plus.
The iPhone 6s and iPhone 6s Plus include a new Rose Gold color option and a new 3D Touch feature that allows users to tap, press and press deeper to trigger different actions. The iPhone 6s also includes a new 12MP rear facing camera and a 5MP front facing camera with a new Retina flash.
iPhone 6s vs iPhone 6: What's New
3D Touch Display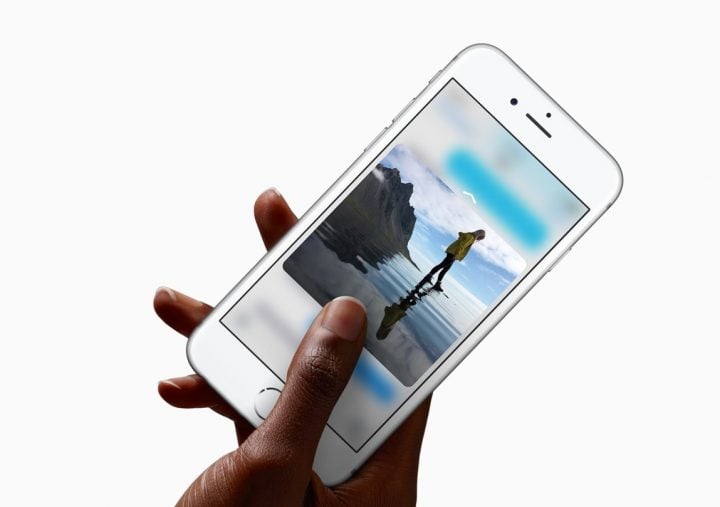 The new 3D Touch display on the iPhone 6s and iPhone 6s Plus makes a plethora of features possible, some of which we will break out into sections.
In short the new iPhone 6s display is the same size and resolution as the iPhone 6 display, but it can now tell the difference between a tap, a press and a deeper press. This allows users to call up secondary actions in many apps and on the home screen as well as in games.
The video above shows the new 3D Touch display on the iPhone 6s and iPhone 6s Plus. Even though the iPhone 6s display looks very similar to the iPhone 6 and both phones run iOS 9, you cannot use these new features on the old iPhone because the technology is not there.
3D Touch display actions work on the home screen, in Apple apps and in third-party apps.

As an Amazon Associate I earn from qualifying purchases.