What's new in iOS 8.4.1? That's a good question and the answer is a lot of fixes for Apple Music and changes that are important for jailbreakers to know.
Apple introduced Apple Music in iOS 8.4, and refines the experience with new iOS 8.4.1 features that focus on Apple Music. There are also a number of security upgrades in iOS 8.4.1.
We don't see as wide of a range of bug fixes as with earlier iOS 8 updates, and that is something we expected considering the looming iOS 9 release date that is likely coming in September.
As of today the iOS 8.4.1 update is available on the iPhone, iPad and iPod touch. This free update works on any device that runs iOS 8 including the iPhone 4s and newer, iPad 2 and newer and the iPod touch 5th generation and newer. Apple also delivered a new iTunes update and a new OS X 10.10.5 update.
It's unclear if there are any other small bug fixes that could solve iOS 8.4 problems. We sometimes see Apple fix other issues that are not listed, but we are still looking for any small features that did not make the list, but arrived with iOS 8.4.1.
Read the Gotta Be Mobile iOS 8.4.1 installation guide to learn how to update and check out other important information about iOS 8.4.1. It is possible to downgrade from iOS 8.4.1 to iOS 8.4 for the time being if you do run into any problems.
What's New in iOS 8.4.1
Apple only calls attention to Apple Music fixes in the iOS 8.4 change log. The company addresses problems with Apple Music features and with the iCloud Music library that keeps your information in sync. Here are the six major changes to Apple Music in iOS 8.4.1. Unless you are an artist, only five will apply to you.
Resolves issues that could prevent turning on iCloud Music Library
Resolves an issue that hides added music because Apple Music was set to show offline music only
Provides a way to add songs to a new playlist if there aren't any playlists to choose from
Resolves an issue that may show different artwork for an album on other devices
Resolves several issues for artists while posting to Connect
Fixes an issue where tapping Love doesn't work as expected while listening to Beats 1
The company also outlines a collection of iOS 8.4.1 bug fixes that target security issues. This includes over 40 security fixes, many of which tie into the iOS 8.4 jailbreak process. With these changes there is no iOS 8.4.1 jailbreak at this time.
For users who rely on Apple Music as their main way to stream music, this is an important update as it delivers a better user experience. It also suggests that future Apple Music updates will only come with iOS updates, which points to other small and focused updates coming after iOS 9.
If you are upgrading from a version before iOS 8.4, you can see what else is new in the recent iOS 8.4 update.
What's New in iOS 8.4
Apple Music Streaming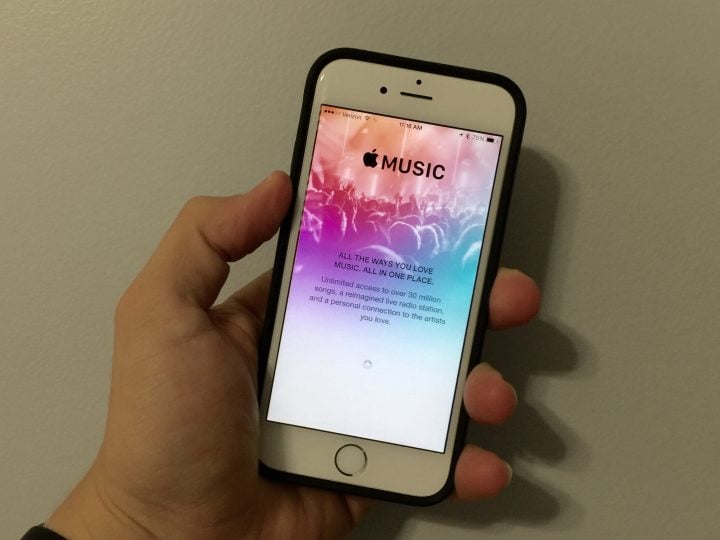 The new Apple Music app includes the new Apple Music streaming service designed to take on Spotify, Pandora and other services. The iOS 8.4 update enables this new app and includes a free three-month trial of the Apple Music service.
With Apple Music you can pay $9.99 a month for an individual or $14.99 a month for a family of up to six members and enjoy full albums on demand and save music for offline playback.
Apple Music uses your musical tastes to pick new music that you might enjoy listening to in a new For You section of the music app that will help you find new music to listen to. The video above shows how this works.
This new app replaces the Music app from iOS 8 and earlier. Apple is not adding another app you cannot install from the iPhone or iPad, just updating one that is already on your device.

As an Amazon Associate I earn from qualifying purchases.