Where to Find the Walmart Black Friday 2015 Ad First
Are you already looking for the Walmart Black Friday 2015 ad to plan out your shopping trip on Thanksgiving Day and Black Friday 2015? Walmart shares a new teaser telling shoppers where to look and what to do to be among the first to see the new Walmart Black Friday 2015 deals.
You don't need to sign up for an email newsletter and you don't need a newspaper — but you will need an iPhone or Android smartphone to get an update on the Black Friday 2015 and Cyber Monday 2015 deals at Walmart.
If you want to be one of the first to get the Walmart Black Friday 2015 ad, you need to download the new Walmart app for iPhone or Android. This is a free app that allows you to shop right from the app, and it will let you know when the Walmart Black Friday 2015 ad release arrives.
You can download the Walmart App from the Apple App Store or from Google Play to your smartphone.
When you install the Walmart app, allow notifications if prompted and you will be set up to get a notification when the Walmart Black Friday 2015 ad is released to the public.
If you already have the app installed on your iPhone, and want to check to see if you will get a notification, here's what to do. Open the Walmart app, Tap on More and make sure Notifications shows a green toggle. If not, tap on the switch to turn on Notifications and choose to allow them if your iPhone asks.
On Android, tap in the upper left corner and then tap on Settings. Here you will see the various types of notifications you can turn on or off.
Shoppers who install this app should get a notification as soon as the Walmart Black Friday 2015 ad is available to see. There is a chance that a Walmart Black Friday 2015 ad scan will leak early, but the company is normally out in front of leaks.
Last year the Black Friday ad arrived on November 11th, so there is a very good chance we will see the Walmart Black Friday 2015 deals this week.
We may see the return of One Hour Guaranteed In Stock deals and big Walmart Black Friday 2015 doorbusters.
You can check out our Black Friday 2015 savings hub for more on the latest deals and ads or click on the slides below to see deals from popular retailers.
Best Black Friday 2015 Deals & Ads
Walmart Black Friday 2015 Ad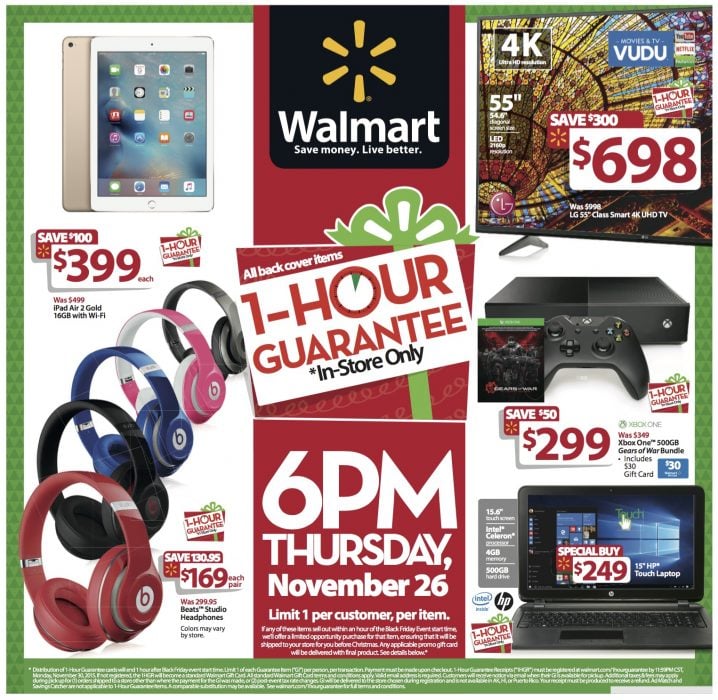 The Walmart Black Friday 2015 hours start online at 12:01 AM Pacific on Thanksgiving Day and in store at 6 PM local time on Thanksgiving. Make sure you check out the online Walmart Black Friday 2015 deals.
Today we are able to see the Walmart Black Friday 2015 ad, and it is available on the iPhone or Android before the general web. The ad includes over 300 Black Friday 2015 deals across a variety of categories.
Read: Are 1 Hour Guarantee Black Friday 2015 Deals Worth Buying?
Walmart confirmed the return of the 1 Hour Guarantee that promises availability of five big deals in the Walmart Black Friday 2015 ad. If Walmart runs out, shoppers who are in line at the right time will get an option to buy these items for delivery by Christmas. These deals include;

iPad Air 2 Gold 16GB Wi-Fi for $399 ($100 savings)
Beats Studio Headphones for $169 ($130.95 savings)
LG 55" Class Smart 4K UHD TV for $698 ($300 savings)
Xbox One 500GB Gears of War Bundle with a $30 Walmart Gift Card for $299 ($50 savings)
15" HP Touch Laptop for $249 (special buy)

Check out more about the Walmart Black Friday 2015 ad to see the deals.